Drawing on experience to raise dementia awareness through art
Losing a loved one can be the hardest struggle but sometimes a positive may still be drawn from it. Fiona Madden speaks to an artist raising understanding through her work.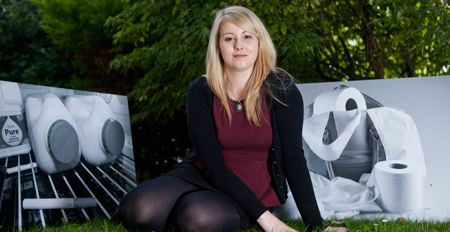 Colchester art student Rebecca Rawlings was very close to her grandmother Betty Baker, who passed away three years after being diagnosed with dementia. Rebecca, now aged 21, turned her grief into a positive by dedicating her final coursework to Betty in order to raise awareness of dementia and its effects.
Rebecca's artwork focused on highlighting some of the everyday things that people with dementia might do due to memory problems. All were things her grandmother had done, such as putting on two pairs of slippers or leaving a lone cigarette in the fridge next to the milk.
She says,
'Having had personal experience with the disease, it is a subject I feel incredibly passionate about. I'm a firm believer that there isn't enough help, support or awareness and this is something I'm trying to change.'
Increasingly forgetful
Rebecca and her mother first noticed changes in Betty's behaviour as she became increasingly forgetful.
'She could never find her keys. We told her they were in her bag but she would say they weren't and when we looked they were always there.'
She attempted to toast her Mother's Day card and got lost one day while trying to return to her childhood home, which resulted in a kind stranger taking her to a local care home.
After the diagnosis Rebecca and her mother became Betty's carers with some outside support. She spent the next three years juggling her art degree with looking after her grandmother.
'We introduced her homecare workers as our friends who were helping us. She reacted well to most of them because they were calm and she liked that, and she absolutely adored one - she would do everything he asked and laughed at anything he said. It was so lovely to have the help and see her happy.'
However Rebecca was surprised at how many different carers Betty had and believes the new faces confused her. She became a lot happier once she recognised them, but this took time because they changed so often.
Rebecca explains,
'It shocked me how little time they had with each person and how much they were required to do. In about 20 minutes they had to get Nan washed, dressed and fed, and people who have dementia can be quite stubborn. This is where I feel there isn't enough help and support. People with dementia need time, love and care, not to be rushed around and panicked.'
Frightening
Rebecca also thinks there was a lack of awareness among the medical professionals who dealt with Betty.
'The doctors always assumed Nan was deaf so they used to shout at her and frighten her. There was nothing wrong with her hearing and it made everything worse.'
On one particularly distressing GP visit Rebecca was told to keep Betty still for a blood test, which was a hard feat at the best of times, resulting in her grandmother flinching and being left with a needle hanging from her arm.
Rebecca empathises,
'It's not their fault. I know how hard it is to look after someone with dementia. I just wish they had more training.'
Eventually Betty was unable to swallow or talk and she was being fed with a syringe, but this was time consuming. Rebecca and her mother were asked to come in and help her eat because of a lack of staff at the hospital.
Fortunately Rebecca's mother was able to do this, but she fears for other people in a similar situation. Another concern was the level of care home fees.
'They work all their life to earn their money and then have to spend it all on being looked after.'
Emotional release
Rebecca studied dementia during and after Betty's journey with the condition before dedicating her degree and her final shows to her. She describes it as a natural process and an emotional release.
She has since worked with sixth formers, who were very interested and involved in the topic and produced paintings for a local care home in Clacton-on-Sea. Rebecca says that raising awareness brings her closer to Betty.
'My nan was the most amazing person and this disease has to be the most heartbreaking thing I've been through. I guess this is why I want to raise awareness so much. It's something I'm not going to stop doing now. I feel dementia is a massive part of my life.'