A group of people with dementia in Sussex try out products that use sound to relax and entertain.
Known as the Rusty Brains, this service user review panel meets monthly to discuss and influence the work of Alzheimer's Society and others. We visited them with three products that use sound in different ways.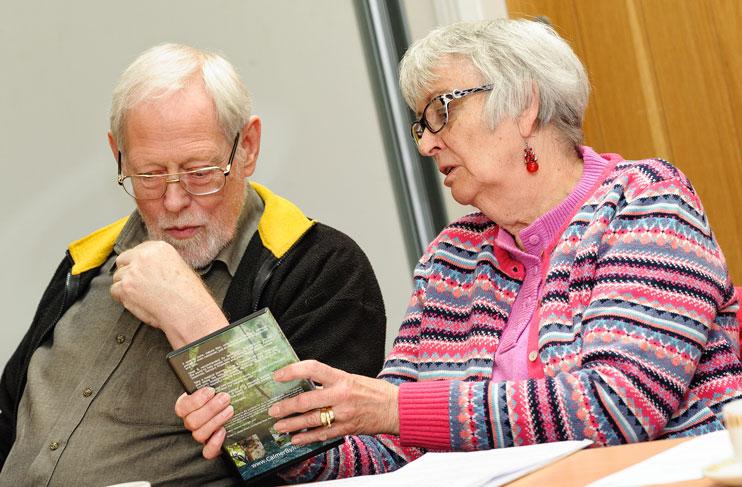 Soothing sounds
Designed to help people relax, the Soothing Sounds device plays a selection of nature sounds such as rain, ocean and rainforest, or melodies with names like calm, tranquil and ambience.
Tony switched the dial to the first of 12 sounds – a crackling campfire noise.
'Fire!' said Nick immediately, though Tony joked, 'It sounds like someone peeing outside!'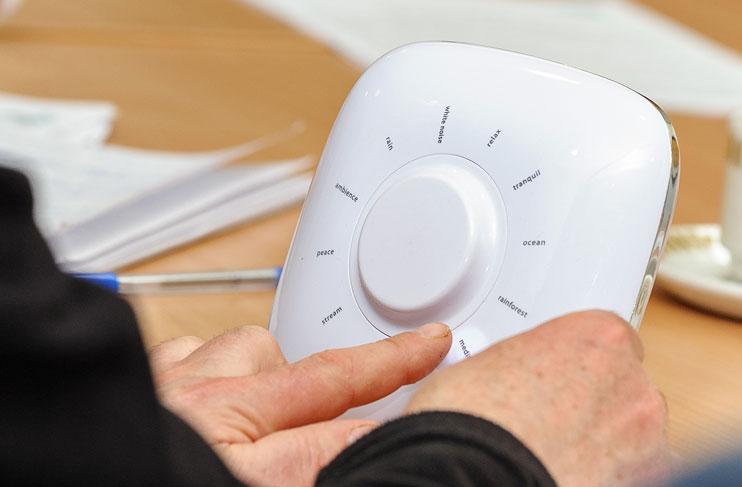 Sue didn't like the rain sound. 'I was hoping to hear birdsong. I get lots in the garden where I live,' she said.
The group agreed that they preferred some of the calmer sounds on offer. 'I can cope with that,' said Nick after hearing one of these.
Group leader Tim suggested that someone could listen to one of the more peaceful sounds while in the bath, or nod off to sleep to it.
Tony said the dial was 'quite easy to use', though Tim felt the text on it wasn't very big. He also wondered if a direction arrow would make things clearer.
Calmer by nature
Next up was a DVD called Calmer by nature, which plays sights and sounds from the natural world.
There are three DVDs in the series and the picture on one of the cases immediately caught Sue's eye. 'This one looks interesting,' she said.
The group listened to the audio on one of the DVDs and soon heard the sound of birdsong, which pleased Sue.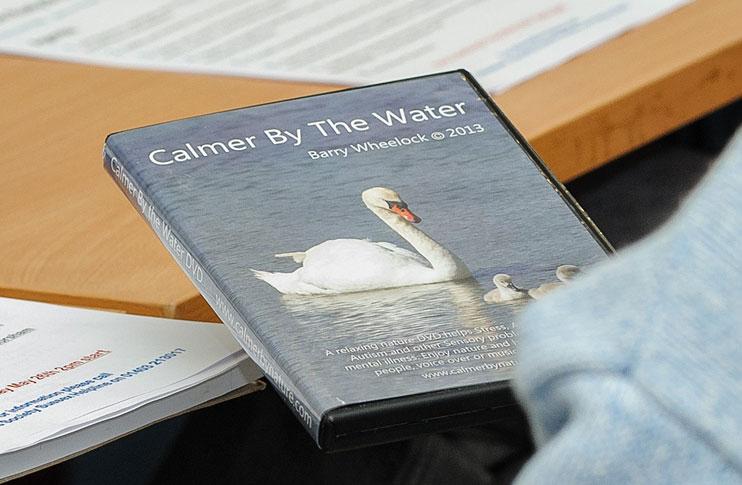 This was followed by animal noises including cows, which Leslie loved in particular.
Discussion followed about the noises you might hear out in the country, with Peter noting that not all of the noises he hears in his local area are pleasant.
The soundtrack prompted plenty of conversation and discussion, though the group weren't all convinced they'd want to relax to the audio at home.
As Tim put it, 'They were interesting noises but you wouldn't necessarily think about putting it on as background sound.'
Animal audio bingo
The group ended the session with a game of Animal audio bingo.
'I last played bingo many moons ago,' said Colin, as cards and counters were handed out.
Each bingo card features a different combination of animal pictures, which players covered with a chip when they heard their animal's noise played on a CD. Joana, who works on our online shop, also held up a picture of the animal in question, which the group agreed was helpful.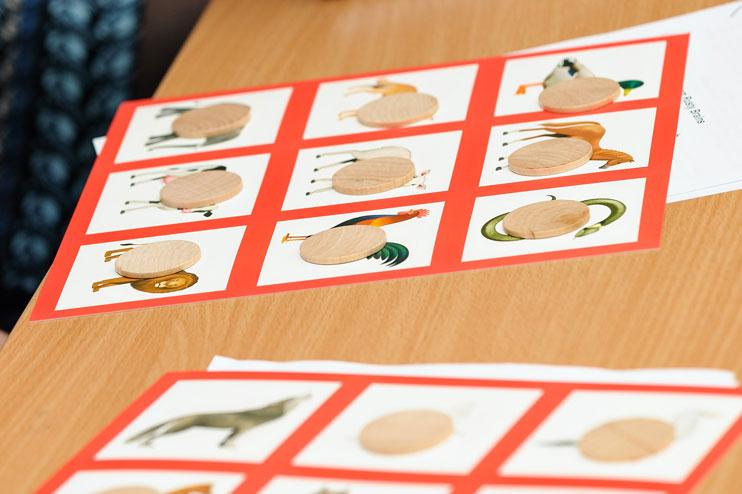 Everyone became increasingly engrossed as sheep, cat, lion and even snake noises played out, though Leslie didn't feel that some of the sounds were especially accurate and Eddie joked that the dog sounded 'a bit sick'.
One of the noises was that of a parrot.
'It's actually a macaw,' said Nick.
'Not to split feathers!' laughed Brenda.
The players found the counters and cards large and clear enough, while Sue and Leslie agreed that the game was good fun.
Eventual winner Tony concluded, 'It's better than just watching TV!'
Soothing sounds costs £30.99, each DVD in the Calmer by nature series is priced at £16.95 and Animal audio bingo is available for £29.99 (or £24.99 with VAT relief for people with dementia or other long-term conditions).
Next steps
For these and many other products, see our online shop.
Dementia together magazine: June/July 17
Dementia together magazine is for everyone in the dementia movement and anyone affected by the condition.
Subscribe now
More from Dementia together magazine: June/July 17:
Dementia together magazine is for everyone in the dementia movement and anyone affected by the condition.
Subscribe now