People with dementia and carers in north London try out a range of women's clothing designed for easier dressing.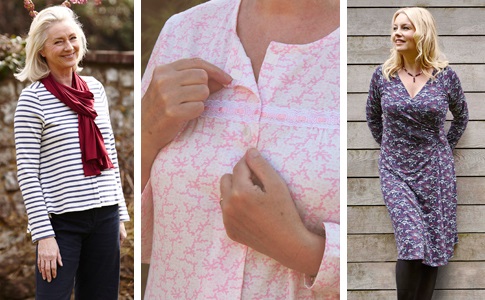 ​
We took a selection of womenswear, newly available in our online shop, to two north London groups – a service user review panel in Haringey and dementia café in Enfield. Katie Ellis, who founded the Able Label, was on hand to answer people's questions.
A former buyer at fashion chain White Stuff, Katie saw the need for clothes that make dressing and undressing easier after her grandmother developed Parkinson's, and later Parkinson's disease dementia. Katie knew that clothes were important to her gran, and wanted to help maintain her dignity and sense of self even as everyday tasks became more difficult.
Two rules
The Able Label range includes tops, dresses, skirts, vests, trousers and nightwear. Instead of buttons or zips, clothes are fastened with special velcro pads that are accessible from the front, with no need to raise arms over shoulder level.
Katie said,
'We have two rules. No overhead dressing and no fiddly fastenings.'
Sue immediately saw that the clothes would be useful not only for her, but also for people who faced greater difficulties dressing. She said,
'A lot of people have got no one to help them. What a lovely idea!'
Johanna said,
'I've not seen anything like this range before. They're very good – not the frumpy stuff you usually see.'
The velcro pads have to line up for fastening, and some of the clothes have decorative buttons so you can tell where each pad is. People tried out simple techniques to make this easier, including doing top and bottom pads up first, making the ones in between line up automatically. On items that would not usually be fastened down the front, pads are cleverly hidden behind borders and strips of lace.
Strips of colour – lime for left and red for right – are used inside to give people visual targets for each arm when putting clothes on, which Anne and others said was very useful.
Katherine asked about how washing affected the velcro, and Katie assured her that as long as pads were closed before each wash, they would last as long as the garments did.
A number of people pointed out the need for similarly designed menswear, and Katie said they want to explore this once this range has become established.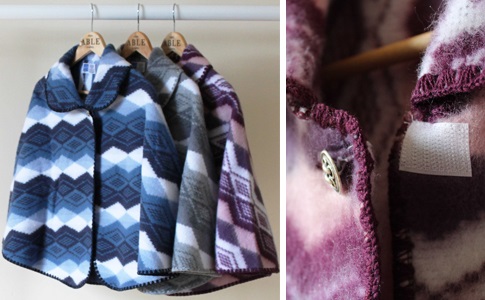 ​
Style and comfort
The range is designed to look good and be comfortable to wear, with an eye on current fashions and cuts that suit a variety of shapes.
Sue's daughter, Claudia, liked the inclusion of Breton stripe designs, saying,
'You don't want to have to compromise on style.'
Although Rene joked that, at 93, she 'didn't need any more clothes', Carmel insisted that she still loves buying new things to wear.
Capes, the latest addition to the range, were particularly popular, as were maxi and below-the-knee skirts that can be pulled on as well as wrapped and fastened, depending on what the person finds easier.
Mary was keen to try on the blue cape, finding and securing the velcro after a couple of goes, and Doreen and Anne agreed it looked lovely.
John, a carer who was a tailor on London's Savile Row for 47 years, approved of the clothes' quality.
He had adapted some of his wife's clothing and was pleased this range is available.
Bernard observed that the colours were darker overall than those worn by women at the dementia café that day. Katie highlighted that coral and cream items can be mixed and matched with the darker 'core' colours, adding that new pink and lime items will be introduced next season.
Although the prices – ranging from £47.50 for tops to £59.95 for dresses – aren't as cheap as some stores, people agreed they matched the clothes' quality. VAT is also not payable if they are bought for people with dementia or other long-term conditions, meaning a 20 per cent discount
Dementia together magazine: Dec 16/Jan 17
Dementia together magazine is for everyone in the dementia movement and anyone affected by the condition.
Subscribe now
More from Dementia together magazine: Dec 16/Jan 17:
Dementia together magazine is for everyone in the dementia movement and anyone affected by the condition.
Subscribe now