Engaging people with dementia
Engaging people with dementia is a skills-based course for health and social care staff, which follows on from our Step inside programme.
One day course from £695 for up to 16 people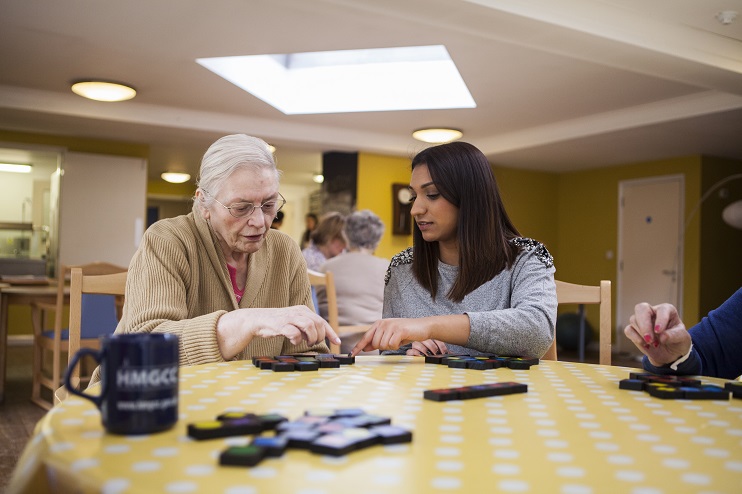 Participants learn how to make a baseline assessment of patients' experiences in their own work setting and how the assessment approach can be used to measure the impact of practice development.
In addition, participants explore techniques to help them to connect with people with dementia; including how to use person-centred planning and risk management tools to support people with dementia to retain their independence through meaningful occupation.
To book a course or for more information, please contact the Training and Consultancy team on 01904 567909 or email [email protected]. Alternatively, please make an online enquiry and we'll get back to you.
Key information
Who should attend? It is suitable for anyone working or volunteering in the health and social care sector.
Pricing: Our training is flexible and cost-effective - we do not charge VAT. We run training in your workplace and can offer bespoke consultancy.
Our pricing is dependent on your sector:
Social care and third sector organisations: £695 excluding expenses
Health care and statutory sector organisations: £795 excluding expenses
Private sector organisations: £895 excluding expenses
Course level: Intermediate
Course category: Specialist practice and development
Course duration: One full day
Delivery style: Interactive face-to-face training
Pre-course requirements: Step inside dementia or equivalent previous dementia knowledge and/or experience.
Delegate numbers: 8-16. An extra charge of will apply for additional delegates up to a maximum of 20.
Learning outcomes
The course will equip participants to:
Recognise the need for meaningful occupation
Identify ways of providing occupation to support the needs of the individual
Recognise the importance of an individual's background when planning activity
Identify barriers to achieving meaningful occupation and how to overcome them
Demonstrate the importance of good communication, and the value of conversation
Describe ways of identifying and managing risk in a respectful way