Exhibition opportunities 2020
Find out about the organisations that exhibited at our 2019 conference, and register your interest for the exhibition at the Alzheimer's Society Annual Conference 2020.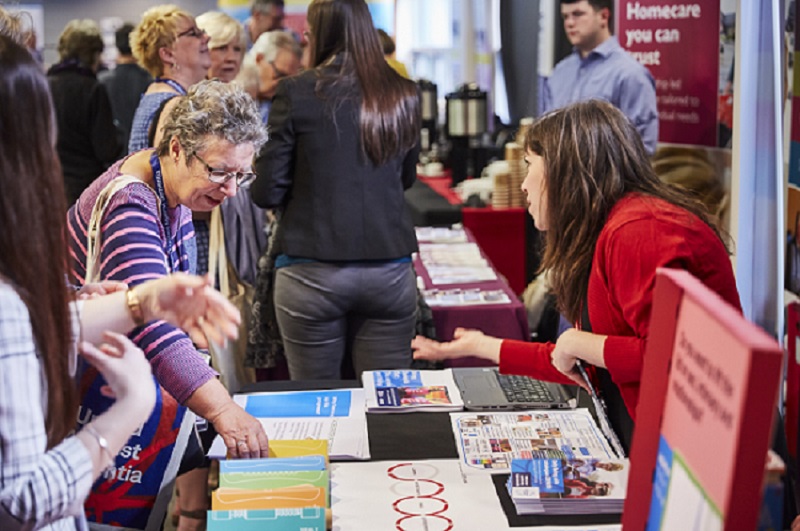 ​
What is the Alzheimer's Society Annual Conference?
The 2019 Alzheimer's Society Annual Conference was our biggest yet.
The two-day conference took place on Tuesday 21 May and Wednesday 22 May and hosted an exhibition and poster hall. This was the central location for all networking and breaks for the event.
Audience
Up to 500 delegates attended on each day. These were a mix of:
Academics and researchers.
Research network volunteers.
Local dementia researchers/organisations.
Leading influencers in health and social care.
Central and local government.
Members of our Dementia Friendly Communities Programme.
NHS and third sector organisations.
Providers of community health services.
Exhibitors
Our 2019 exhibitors included:
OM Interactive
Coordinate My Care
Imperial College London, CHARIOT register
Exemplar Healthcare
Health Education England
Ludlow Street Healthcare
Elysium Healthcare
Find Memory Care
One Housing - Season Senior Living
Home Instead
Young Dementia Network
UK Dementia Research Institute
National Dementia Action Alliance
BBC
Innovations in Dementia
Join Dementia Research
National Institute for Health Research
Brains for Dementia Research
3 Nations Dementia Working Group
Benefits of exhibiting
Raise the profile of your organisation, products and services.
Meet the key influencers and decision makers within Health and Social Care and the future scientific leaders within dementia
Gain access to the conference sessions to hear about the latest developments in dementia research, care and support.
Scheduled lunch and refreshments will take place within the Exhibition Hall, allowing you to network and establish links directly with the delegates.
If you are interested in exhibiting at our conference in 2020, please register your interest with our team.
Email us