Exhibition opportunities 2018
Find out how to get an exhibition space at the Alzheimer's Society Annual Conference 2018.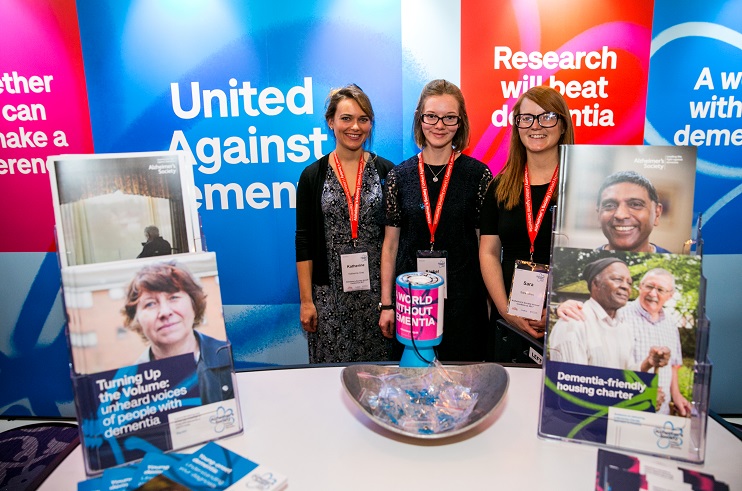 Alzheimer's Society Annual Conference 2018 will be our biggest yet. The two-day conference on Tuesday 22 and Wednesday 23 May 2018 will host an exhibition and poster hall which will be the central location for all networking and breaks for the event.
Benefits of exhibiting
Meet the key influencers and decision makers within Health and Social Care and the future scientific leaders within dementia.
Target your products or services to the delegates and to interact directly with them. Scheduled lunch and refreshments will take place within the Exhibition Hall.
Join the conference sessions alongside delegates, to hear from experts on our themes; rights and entitlements, care and support, a movement for change and research for the future.
Exhibition package
The exhibition package includes:
Exhibition stand including a 6ft table to display your materials and two chairs, with space for one pull up banner.
Two complimentary delegate passes for the staff who will represent your organisation on your stand.
50-word company profile and logo in the conference brochure.
Delegate list prior to the conference (name, job title and organisation only).
Insert in the delegate pack.
Discount delegates rates for your guests.
Electricity supply available on request (subject to availability).
Cost of exhibition package - for 2 days
Charity/Third/Public Sector - £950.00 + VAT
Private Sector - £1450.00 + VAT
Audience
There will be up to 500 delegates attending on each day who will be a mix of:
leading influencers in health and social care,
central and local government,
NHS and third sector organisations,
providers of community health services,
Alzheimer's Society funded researchers,
Research network volunteers,
local dementia researchers/organisations,
members of our Dementia Friendly Communities Programme.
How to apply
To apply for an exhibition space at the Alzheimer's Society Annual conference 2018, please complete our application form.
We have just 2 exhibition stands remaining for the conference. Deadline for applications has been extended until the end of March 2018.
Exhibitors
Our 2018 exhibitors include:
UK Dementia Research Institute
Brains for dementia research
Stroke Association
Marie Curie
Findmemory care
GES
Tilney
3 Nations Working Group
Enquiries
For more information, please contact [email protected] or call 0207 423 5164.