Exhibition opportunities 2020
Find out about the sponsorship and exhibition opportunities at the Alzheimer's Society Annual Conference 2020.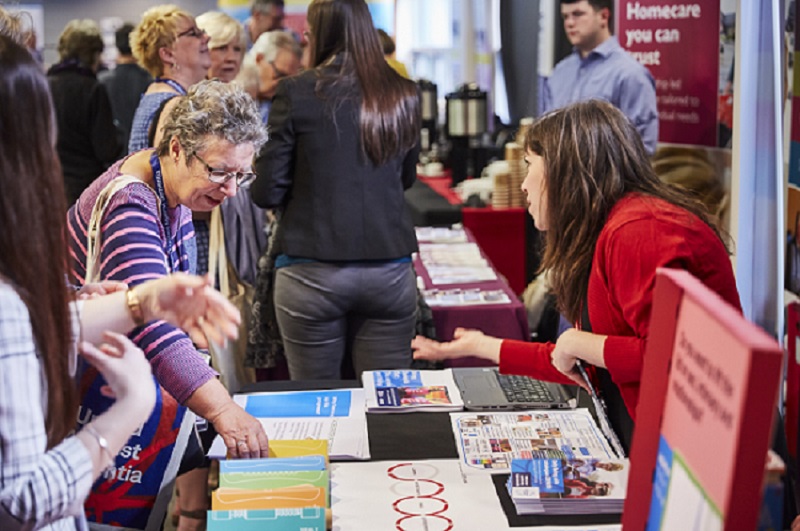 ​
What is the Alzheimer's Society Annual Conference?
The 2020 Alzheimer's Society Annual Conference will be our biggest yet.
The two-day conference will take place on Monday 18 May and Tuesday 19 May at etc.venues, 133 Houndsditch, London. This is an exciting new venue for us.

It will host an exhibition area and poster hall which will be the central location for all networking and breaks for the event.
Sponsorship and exhibition opportunities
We have opportunities for corporate sponsorship for this educational and informative event at two key levels – Lead Sponsors and Sponsors.
Beyond that we have a whole series of different sponsorship and exhibition options to suit all requirements and budgets.
Benefits of sponsoring/exhibiting
Raise the profile of your organisation, products and services.
Meet the key influencers and decision makers within Health and Social Care and the future scientific leaders within dementia
Add your voice to the dementia debate and influence change: Your involvement will not only help raise your company's visibility, but it will also help propel dementia to the top of the health agenda.
Scheduled lunch and refreshments will take place within the Exhibition Hall, allowing you to network and establish links directly with the delegates.
Recognition as being part of the Dementia Movement.
Our exhibition packages
What's included:
Prime location, 3x2m space (table and chairs available on request)
3x delegate passes
1x 13 amp plug socket (included)
Speaking opportunity – product demonstration in the exhibition hall (this is subject to confirmation by the programme board. The final decision on inclusion rests with the Alzheimer's Society).
Listing in the conference guide, app and website
Push notifications about your organisation on the app
Logo to appear on venue screens
Optional leaflet in delegate pack
Insert in the delegate bag
Early bird price: £2,250+VAT
Standard price: £2,500+VAT
Early bird price available until 31 December 2019
What's included:
Good location 2x2m space (table and chairs available on request)
2x delegate passes
1x 13 amp plug socket (included)
Listing in the conference guide, app and website
Optional leaflet in delegate pack
Early bird price: £1,350+VAT
Standard price: £1,500+VAT
Early bird price available until 31 December 2019
What's included:
6ft tabletop
2x chairs
Space for 1 pull-up banner
1x delegate passes
Electricity on request (additional cost)
Listing in the conference guide, app and website
Early bird price: £999+VAT
Standard price: £1,150+VAT
Early bird price available until 31 December 2019
Full brochure and application details
Our 2019 exhibitors included:
OM Interactive
Coordinate My Care
Imperial College London, CHARIOT register
Exemplar Healthcare
Health Education England
Ludlow Street Healthcare
Elysium Healthcare
Find Memory Care
One Housing - Season Senior Living
Home Instead
Young Dementia Network
UK Dementia Research Institute
National Dementia Action Alliance
BBC
Innovations in Dementia
Join Dementia Research
National Institute for Health Research
Brains for Dementia Research
3 Nations Dementia Working Group