A Dementia Friends Champion using resources with black, Asian and minority ethnic communities
A Dementia Friends Champion has been helping to develop resources for sessions with black, Asian and minority ethnic communities.
David Truswell has years of experience in black, Asian and minority ethnic (BAME) community health, and he's been putting this to excellent use since becoming a Dementia Friends Champion.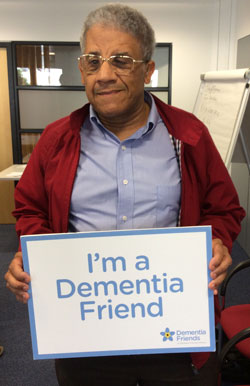 He says,
'I'm a huge fan of Dementia Friends. It's important that ordinary people get to know more about dementia, and get out and talk to others about it.

'I know the research – there's going to be a greater increase in rates of dementia among BAME people in the UK than others.'
New resources
David had already been working with the Chinese National Healthy Living Centre (CNHLC) in London to raise dementia awareness among the Chinese community.
New resources are now available for Dementia Friends Champions to use with BAME communities, and David helped to review and test them with CNHLC staff.
David says their involvement has been vital.
'They get the word out and get people along. A lot of community groups have health information sessions, and we're doing Dementia Friends sessions as part of that.'
Game show
David imagines himself as being like a game show host to keep people engaged throughout sessions.
'Wherever you go in the world they have game shows! We use question-and-answer sections, with points for the right answers – it brings an energy into the group.'
His advice for people who are considering becoming a Dementia Friends Champion?
'Become a champion, just get on with it – stop prevaricating!'
Find out more about Dementia Friends.