Creative ideas for people with dementia during the festive period
People with dementia can enjoy being involved in creative ideas for the festive period, including making a photo frame as a gift.
Creative activities can have a positive impact on our physical and mental health and wellbeing. They can also help us regain a sense of self. With the festive season upon us, there are many things that you can get involved with.
Arts and crafts are an enjoyable way to be creative while involving the family, particularly children. Making a picture or photograph frame is something fun to do that could also produce a nice personal gift.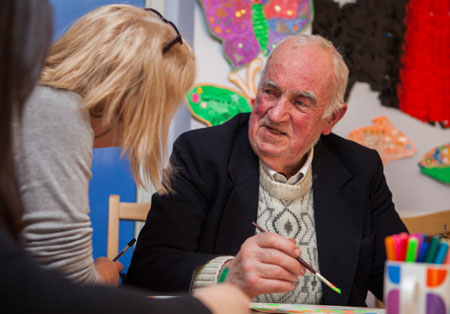 You can make your own photo frame using a few simple materials such as strong card or cardboard, buttons, glue and glitter. Cut a picture frame shape from the card and glue any desired ornaments around the edges.
Adding colourful tinsel can add a festive touch. Once your photo frame is finished, print your favourite pictures of family or friends and display inside.
Remember to use non-toxic materials, and to take care when using sharp tools such as scissors.
More ideas are included in our guide Taking part: activities for people with dementia, currently on sale for £22.50 plus postage via our online shop.