A book by a man whose mother had dementia is both heart-breaking and heart-expanding
Readers describe this issue's book as both heart-breaking and heart-expanding, and we invite you to read People with dementia speak out for next time.
Thank you to everyone who shared their comments about The little girl in the radiator by Martin Slevin, which Janet Baylis, our Dementia Knowledge Centre Manager, describes as,
'A true story written by a son caring for his mother, who has dementia.'
She adds,
'Martin has a real gift for story-telling and many of his tales will resonate with carers while helping others to understand more about dementia in a very personal way.

'I defy you not to laugh out loud or be reduced to tears while reading it.'
Already a popular book with carers, it is also recommended by the Reading Well Books on Prescription for dementia initiative.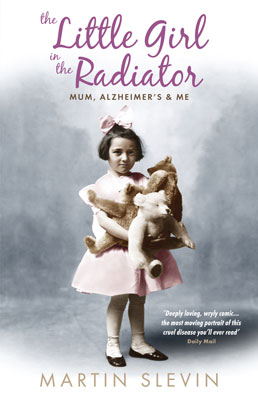 No reservations
Joanne Gent in Lancashire had no reservations in recommending it.
'This book is certainly the best one I've read on the subject of dementia. It was easy to read and I related to all the issues raised.

'Well done to the author for sharing your experience of caring for a loved one with dementia.'
Beate on Talking Point describes the story,
'His mum used to talk to a little girl trapped in her radiator – when she moved to a care home, it moved with her.

'It took him years to understand that the little girl was his mum in younger years, helplessly trapped in a situation she did not understand.'
She adds,
'I've finished the book in a day. It's utterly absorbing, funny, heart-breaking and recognisable.'
Honest appeal
Ann Mac on Talking Point says she found the book's honesty appealing.
'With many books I've read, the authors come across as almost saint-like. Martin openly acknowledges that on some occasions his responses to his mum's behaviour were driven by frustration, exhaustion or simply not understanding.

'That's human, that's real and it's reassuring I think for other carers to realise that others also can struggle to always respond in what's considered to be the best manner.'
Lyn Cesarz, Dementia Support Worker in south England, agrees,
'It is quite a good educational resource, as it is a true depiction of what someone goes through caring for someone with dementia.'
Carrie Holmes, Memory Support Manager in Dorset, says it could also challenge broader attitudes.
'It addresses the stigma so wrongly placed on people living with dementia, and allows the reader to sit within a perspective they may not have thought of.'
Compassionate
Another Talking Point member, chrisdee, says,
'What appealed to me was that Martin cheerfully, for the most part, did his very best, and accepted his mum's strange behaviour, and I now think was the very model of compassionate communication.

'He did not shy away from the realities of her health towards the end of her life and that really connected with me.'
Hayley Horton, Engagement and Participation Officer in west Wales, says,
'It has one true important message: each of us has a history and an identity that makes us individual. Sometimes this can become clouded by dementia, but it is never taken away, just a little harder to find.'
While many accounts speak honestly about caring for a person with dementia, Donna, Helpline Adviser in London, says,
'Where this book differs is that it beautifully illustrates how funny, beautiful and heart-expanding living with dementia can be too.'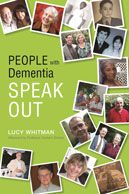 Your turn
For the next issue, we invite you to read People with dementia speak out by Lucy Whitman, Jessica Kingsley (2015), 304 pages, £14.99, ISBN: 9781849052702.
We have five copies to give away – please email [email protected] by 31 December 2015 quoting 'Speak out' for a chance to win one.
Let us know what you think of this book by 11 January 2016 so we can share it in the next issue – email [email protected]