World Cup legends Sir Geoff Hurst and Gordon Banks OBE unite against dementia in a tribute to their teammates living with the condition.
Dementia doesn't care who you are. With someone developing the condition every three minutes, it's likely that dementia will affect you, your family, friends, or even your heroes.
That's why 1966 World Cup legends Sir Geoff Hurst and Gordon Banks OBE have united against dementia in a tribute to their teammates living with the condition - Nobby Stiles, Martin Peters and Ray Wilson.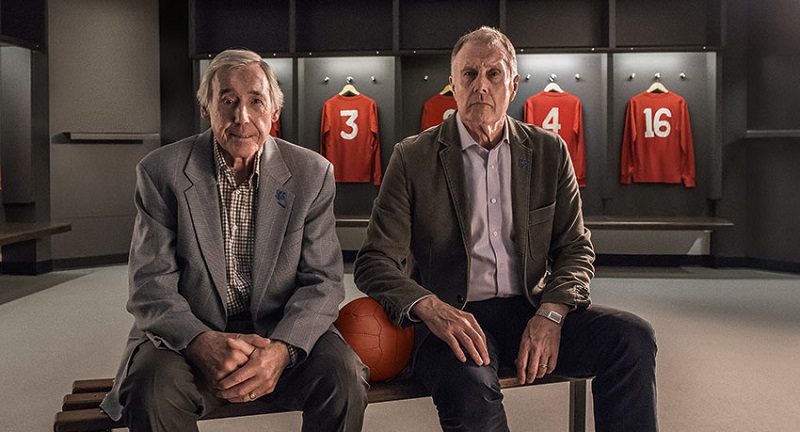 ​
Senior Celebrity Liaison Officer, Paul Allen, talks about filming our new fundraising advert at Wembley with 1966 World Cup stars Sir Geoff Hurst and Gordon Banks OBE .
It's over 50 years since England's greatest sporting triumph but the World Cup final win over West Germany at Wembley continues to be a source of national pride, regardless of whether you're a football fan or not; whether you were even born to witness the event.
The men who lifted that famous trophy instantly became heroes and, as time passed, legends. Unfortunately, three of that legendary team are now living with dementia.
Uniting against dementia
To support the Society's United Against Dementia campaign, we wanted to highlight how dementia can affect anyone regardless of their background, age or profession, including our sporting heroes, like the 1966 World Cup winners.
To help support their teammates and raise awareness and funds for others affected by it, including their World Cup-winning teammates, Sir Geoff Hurst and Gordon Banks OBE agreed to front the fundraising advert asking the nation to get behind the team once more and unite against dementia.
Gordon has supported Alzheimer's Society for a number of years as his brother had dementia so it's an issue very close to his heart and once he heard of the campaign, he was very much in support of it.
We had never worked with Sir Geoff before, but once we'd told him of what we wanted to do and why, he was passionate about making it happen.
Heading to Wembley
I've been to Wembley a few times before, usually to see my team, Sunderland, lose in various soul-destroying circumstances, but on this occasion, I was hoping it'd be a lot more enjoyable experience and it was humbling to see two icons returning to the scene of their most famous victory in support of their teammates.
After going through security, who jokingly asked who Geoff and Gordon were (at least I hope they were joking), we were escorted to the changing rooms - we passed iconic images of past England greats during their finest moment wearing the Three Lions – David Beckham's free-kick against Greece to send us to the Euros; John Barnes' wonder goal against Brazil in the Maracana; Stuart Pearce's penalty against Spain at Euro '96 and, of course, Geoff's third goal in the World Cup final as well as Gordon's wonder save from Pele's header in the 1970 World Cup against Brazil.
The shoot itself was a long day but even from what we were able to see being filmed you could sense it was a going to an iconic, powerful and emotive advert.
Sitting in the dugout watching stadium tour groups come out of the tunnel and seeing who would realise that Geoff and Gordon were just a few feet away was great fun – the guides were quick to point out that they were very lucky and this doesn't happen every day.
My personal highlight of the day was walking back in to the changing rooms which had been transformed in to the 1966 World Cup team line-up complete with the iconic red strips on the pegs and seeing Geoff and Gordon's reaction when they walked in was a great feeling.
It was a day that I'll treasure for a long time and I'm sure the campaign will be a huge success in raising funds and awareness for people affected by dementia.
Unite now
Dementia is coming for our families, our friends and our heroes. Unite with us now and help us find a cure and improve the care of those living with dementia. Text UNITE to 70677 to donate £3 a month or visit alzheimers.org.uk/donatetoday
---
Texts will be charged at your standard network rate. Alzheimer's Society receives 100% of your donation. Obtain bill payers permission. Customer Care 0330 333 0804. Charity no. 296645. Reply 'NOCALL' at any time if you would not like to be contacted by phone in the future.