During the 2016 Mayoral elections Alzheimer's Society championed the rights of people affected by dementia.
Since Sadiq Khan's victory in the May 2016 London Mayoral elections, policy-makers and health and social care professionals in the capital have continued their ground-breaking work on joining up our health and social care services (a grand project referred to as 'integration').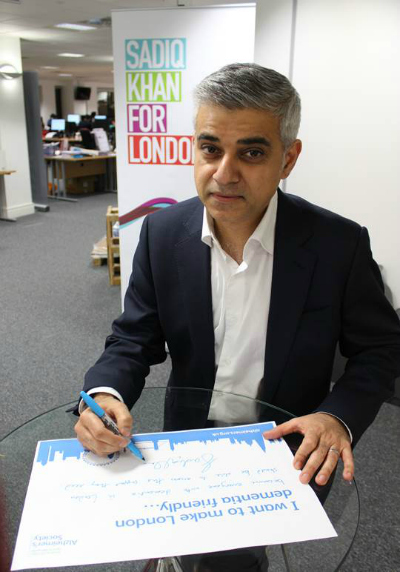 ​
The Mayoral elections were a fantastic opportunity for us to champion the rights of people affected by dementia and have a really positive effect on their lives, by ensuring that their voices are heard at a pivotal moment for the capital.
Over the last few months I have had the opportunity to meet many people across London living with dementia and hear of the issues they face on a daily basis. The variation in care is often staggering and it can't be right that your home address often determines the level of support you receive. I have heard countless stories about the length of time it takes for people to be diagnosed and then being left in the lurch. It is absolutely not acceptable that this is happening.
Across London there are more than 72,000 people living with dementia. People with dementia and their carers face many challenges, but for Londoners, getting access to the right kind of care and support can depend on the borough you live in and the communities that you are a part of. The support in boroughs ranges hugely from some places offering a full package of support to those who offer a limited package. Living well with dementia should not come down to a postcode lottery.
At Alzheimer's Society, we believe that we can change this through developing a London-wide dementia strategy. We want to challenge health inequalities and see a city where every person with dementia – no matter who they are or where they live – can live well and access the right support, at the right time, in the right way. We want London to become the world's first dementia-friendly capital city.
Our vision of a strategy to make London dementia-friendly falls in to five broad categories:
risk reduction and early intervention,
ending the postcode lottery of dementia diagnosis and post-diagnosis support,
improving the quality of care,
creating an integrated health and social care system,
and engaging the wider community and organisations in London in dementia research and innovation.
In February we launched our campaign for a dementia-friendly London and on September 22 2016 we will be holding a global launch event at City Hall to highlight what we have done to date and our exciting plans for the future.
This will be an opportunity to hear from a host of speakers including a person with dementia, Alistair Burns. Members of the London Assembly and to set out our plans for the next phase of dementia-friendly London.
If we really want to make a change we all need to get behind it and make sure that we maintain the momentum. The time is now, and we need your help to make London Dementia Friendly.
Unite with us to make change happen