Martin ran the London Marathon, raising funds for Alzheimer's Society. He tells us about the support he received and fundraising tips.
"I foolishly entered the ballot for the 2017 London Marathon thinking: 'Ha! I don't stand a cat in hells chance of getting into that!' A few months later I got an envelope advising that I'd got a place!"
Entering the ballot is easy but what happens if you are one of the lucky few who get a place in the London Marathon? Martin Abby shared the highs and lows of his marathon journey with us.
To say I was speechless would be an understatement to say the least! I've never run a marathon before so this would be quite some personal challenge.
I decided to put the 'once in a lifetime' opportunity to good use and try and raise some funds for the Alzheimer's Society. Alzheimer's is a horrible, cruel condition that I have experienced in my own family. I felt that any funds that could help fight/cure this illness would be obviously amazing to the Society!
Looking back, I'm so pleased I did it! It meant undertaking four and half months of training and living and breathing running but it was so worth it. Running the marathon for the Alzheimer's Society made it extra special as well their support and encouragement helped me get through both the training and on the big day.
Training for the big day
Finding a training plan that worked for me was the first step in terms of preparing for my first marathon. After lots of research and discussing with others that had run a marathon I finally found a plan which looked like it would work for me.
The plan involved four runs per week with some cross-training built in as well. I was also very fortunate to be part of a running group (Shepperton Running Group) and have a friend at work, Pete who was a very experienced marathon runner and helped me with training sessions and regular advice on my plan.
I would not have been able to achieve my training without the support of my lovely wife who put up with me being out many hours training, evenings and weekends!
Support from Alzheimer's Society
I then thought about the fundraising side of the marathon and how best to approach that. Whilst I'd got my place via the ballot, I still wanted to try and raise as much money as possible to help the Society and its work. Thankfully the Society was incredibly helpful with lots of advice and tips including ideas with creating my own 'Just Giving' page.
In terms of ongoing support, the Society also provided all its runners with the opportunity to attend a training day at its London office. This day was organised in conjunction with 'Running With Us' and hosted by coaches Nick (Anderson) and Mel (Wilkins).
Both Nick and Mel were fantastic and gave so much helpful advice and information on preparing for the marathon. They also included a training run during the day which was an added bonus! The team from the Society also gave us some great information and ideas with fundraising which really helped.
Fundraising tips
In terms of fundraising ideas, I took a very simplistic approach and used both social media (Facebook, Linkedin etc) and word of mouth to promote my cause. I also decided to utilise my 'Just Giving' page as a blog posting regular updates and photos about my training and progress.
My top fundraising tip to anyone would be, use all the modern tools to raise awareness of what you're doing and why you're doing it! Also, keep people informed with your progress and how both your training and fundraising is going.
Finally, if you can, involve others with your marathon 'journey'. I had many training runs where my friends and work colleagues ran with me as well and it really made them feel part of the experience. A number of them have since gone on and entered the 2018 London Marathon ballot!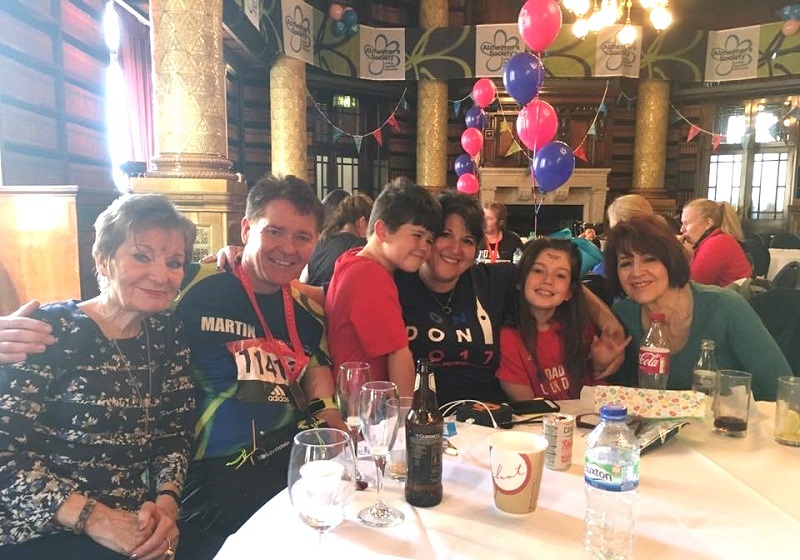 Looking back on an amazing experience
When it finally came to the race day, well it was one of the most amazing experiences of my life. I've lived it many times over again since and it's something that will live with me forever. The thousands of runners, the crowd, entertainment, seeing my family in the crowd etc is something that has to be experienced to be believed.
Also, the support from the Alzheimer's Society both during and after the race was brilliant as well. Their teams were stationed at a number of locations and I'm sure their cheers were the loudest! The post marathon reception hosted by the Society as well was wonderful and allowed me to meet my family and celebrate in true style. My young children were made so welcome as well at the reception by the Alzheimer's team which really rounded off a perfect day.
Finally, any advice to anyone considering running the London Marathon and doing it to raise money for the Alzheimer's Society? Do it! It will be such an enriching and enjoyable life experience and you will also help raise vital funds to help the Society carry out its critical work against Alzheimer's.
Good luck!
Martin x
Join our team