Meet two of our researchers, Dr Rita Guerreiro and Dr Josh Stott, representing two sides of dementia research. But what are the differences between the two?
If you are familiar with Alzheimer's Society's research programme, you'll know that we fund both 'care' and 'cure' research.
But what are the differences between the two? Who better to explain the details of these research jobs than the researchers themselves?
Meet two of our researchers, Dr Rita Guerreiro and Dr Josh Stott, who represent two different sides of dementia research. Here, they chat about their work, discussing the differences—and surprising similarities—between their roles.
First of all, let's introduce you both
Rita: My name is Rita Guerreiro, I am a lecturer at the Institute of Neurology at UCL and part of the UK Dementia Research Institute. I'm also a senior research fellow for Alzheimer's Society. My research is more in the 'cure', or biomedical field.
Josh: I'm Josh Stott, a clinical psychologist and senior clinical tutor on the clinical psychology doctorate at UCL. I'm also an Alzheimer's Society research fellow. My work focuses more on the 'care' side of things.
Tell us about your project
Rita: My Alzheimer's Society project is to identify genes and genetic risk factors that are involved in rare forms of dementia. I then study those genes in the most common form of dementia, Alzheimer's disease. What we are trying to find are genetic factors that influence the risk of disease.
Josh: I'm looking at psychological therapies in people who have both dementia and anxiety or depression. This is because the impacts of anxiety and depression on people living with dementia are particularly severe.
Medication-based treatments that work in people without dementia may be less effective in people living with dementia. My specific project is looking at how we might best adapt cognitive behavioural therapy, which is a type of psychological therapy that has been used for people without dementia, to help with anxiety and depression for people with dementia.
What does your typical day look like?
Josh: It's hard to describe a typical day and that's one of the beauties of doing my job. It might be that I spend time sitting in front of the computer and doing data analysis or problem-solving around issues that have arisen.
Some of the stuff I do involves getting data from big trials, then reanalysing it to try and answer important questions around how we measure anxiety and depression in dementia.
Rita: That's not very different from my day! At least my morning – data analysis is a big part of what we do. In my case it's DNA-related data, mostly. Writing research papers, grants - that's all part of it too.
It's a very good thing not to have a standardised day – every day will be different and you'll just have to deal with what happens!
Josh: Yeah – some of the stuff will be about data, but there are also days when I go and do some teaching.
The course I work on is for professionals who work with people with mental health problems, including those with dementia. I do quite a lot of teaching about how they might best work with people affected by dementia and their carers.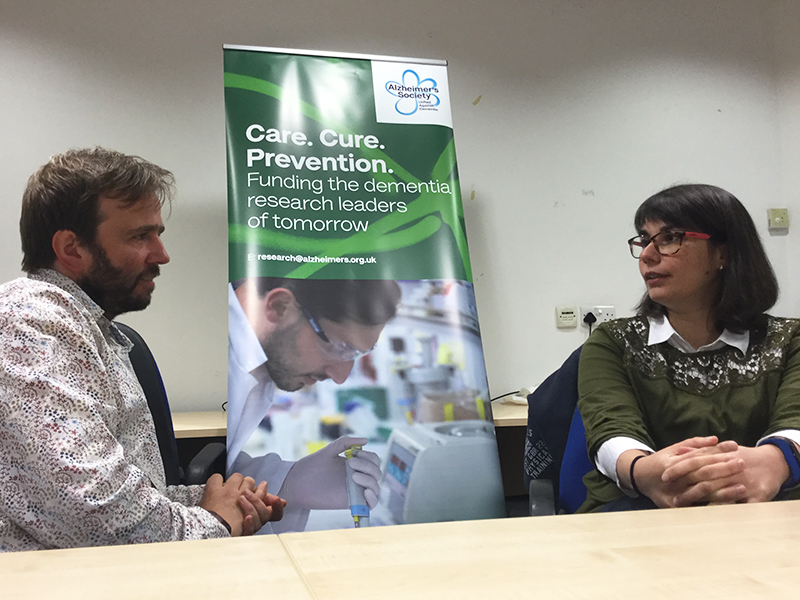 ​
What does your day involve if you're supervising or teaching?
Rita: When I'm supervising students, we do a lot of PCR – polymerase chain reactions and DNA sequencing.
We get pieces of DNA that we are interested in and we amplify it in a way that we can read all the letters that make that piece of DNA. We compare the genes between the people affected by dementia and the ones unaffected.
This allows us to identify genes that cause disease. When we do find a gene that causes disease, that's always one of the best things to happen as it means we are making progress and understanding more.
Josh: My teaching involves translating the findings from my and others' research. I also draw on my experience in clinical practice. I question the meaning of the evidence that we have, and explore how to adapt and use what we know in a way that is helpful to people in a real life setting.
There's also skills-based teaching. That involves doing a lot of role play, getting people to try things out and sometimes doing demos myself. I also use a lot of multimedia technology to try and help people to see things and visualise best practice in real life.
What's your favourite part of your job?
Josh: I think it's probably finding something out that someone hasn't necessarily thought of before, thinking about something in a new way.
Rita: I think it is a very powerful thing when you are the one person in the world that knows that thing and no one else knows it at that moment. Hopefully it will become common knowledge, but it is an interesting feeling.
I think the part of my work that I enjoy most is interpreting the results that come through from the genetic data.
What are the similarities and differences between your roles?
Josh: What's struck me is that actually there are quite a lot of similarities. I think a lot of the skillsets that you need are very similar.
You must be able to manage and co-ordinate other people to do things as you can't do everything yourself. You have to be able to collaborate with people who work in different disciplines. You also have to analyse and understand data.
I think the big difference that I've noticed is my role involves more talking with and seeing people with dementia directly.
Rita: I agree, our lives are very similar! Of course the type of data that we get is different. We get a lot of DNA-related data coming from the lab directly, while Josh will get more qualitative patient-related. But it's much more similar than what I would expect!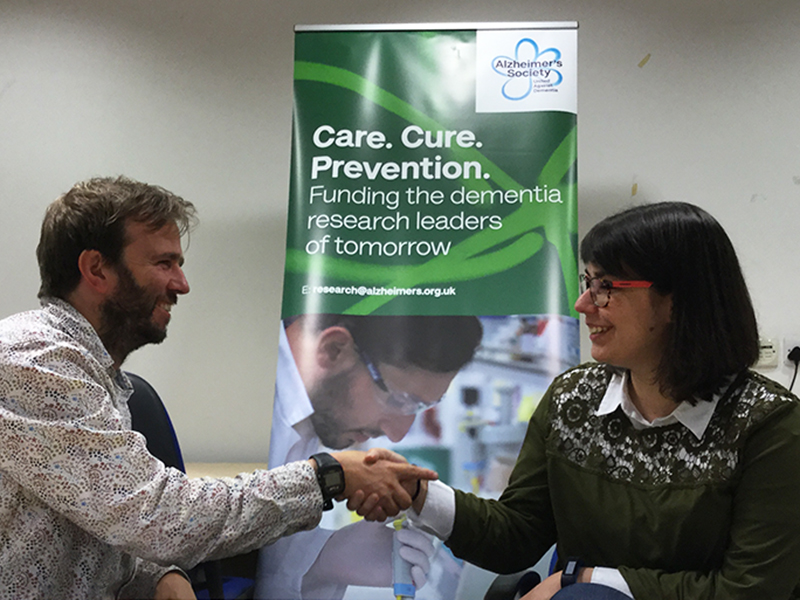 ​
In summary
Like many people, Rita and Josh have realised that although they may seem very different on the surface, when you dig down you find a lot more similarities than differences.
The major similarity is of course that both of them are supported by Alzheimer's Society to work towards improving the lives of people affected by dementia.
Next steps