Billie Negus, Public Affairs and Campaigning Assistant, discusses the dementia-friendly Parliament initiative and the success of the event that took place last month
We want parliament to be accessible, supportive and inclusive for anyone affected by dementia. That's why last week we held a parliamentary reception to mark the third anniversary of our dementia-friendly Parliament initiative.
Our Chief Executive, Jeremy Hughes, unveiled our plan to create a toolkit for MPs to help them become more dementia-friendly. We will launch the toolkit next year meaning that MPs can lead the discussion on dementia in their communities. Jeremy also highlighted our international activities, such as our work with the World Health Organisation to create a Global Dementia Action Plan.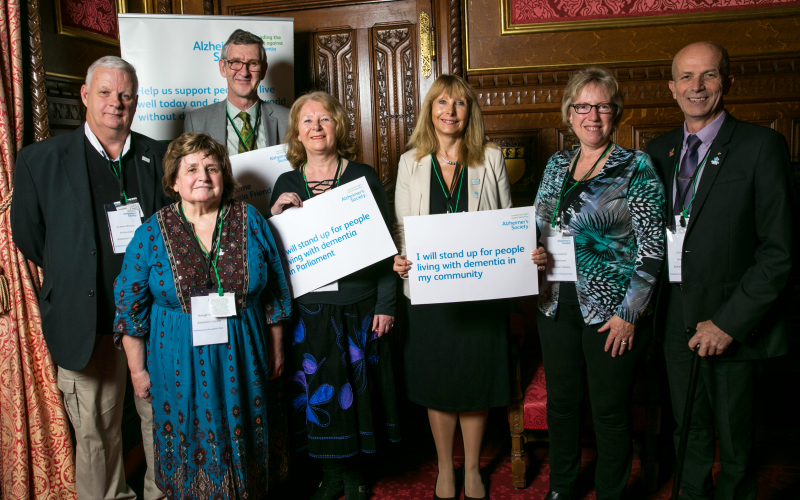 MPs heard first-hand from Shelagh Robinson about her personal experience of living with dementia and passion for campaigning to change the lives of others like her. Shelagh's speech was powerful and moving, and I hope that all of the guests felt motivated to carry on with their work to improve dementia awareness.
We also had several international guests at the reception, including the Ambassador of Japan, who heard about the work the UK is doing to lead in dementia awareness, support and research across the world. Jeremy Hughes and David Mowat MP, the Minister responsible for dementia, had a chance to speak with the Ambassador about the work we are doing together and the future of international collaboration in dementia. We were delighted to hear from David Mowat; it's great that the new minister is already committing to making sure dementia is a priority and is keen to learn more about our work in Parliament.
This was the first event that I have planned for the Society and I am so pleased with the result. Almost 100 people came from all across the country to be there. From people living with dementia to community leaders, Dementia Friends Champions to GPs and nurses, the event was a chance for people who are all championing the rights of people living with dementia to share their experiences and learn from one another.
I was really pleased to have met with so many outstanding people who are working in different ways to raise awareness of dementia. It is uplifting that we have such great members of community who want to make a change and I am proud to be a part of that.
Do you want to be part of our Campaigns to change the lives of people with dementia for the best? Then sign up and we will send you different ways to get involved, from signing a petition to emailing your MP and more!