Have you ever wondered what happens when you take part in dementia research? This series of research videos will help to show what it's like.
Have you ever wondered what it's like to take part in dementia research? A large number of dementia research studies rely on participants who kindly give up their time to take part, but they often find it difficult to reach enough people.
Today, Alzheimer's Society launches our new video series that follows three individuals; Martin, Eva and Gary, as they undergo five common in dementia research assessments.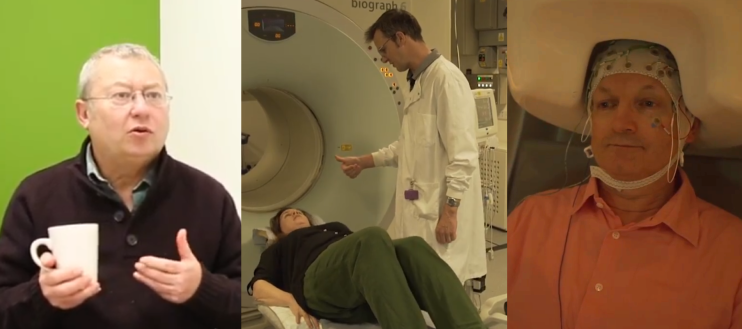 ​
We received funding from the Medical Research Council and National Institute for Health Research to make these videos as part of a study called 'Deep and Frequent Phenotyping'.
We hope they will show people who are thinking about taking part in research what the experience is really like. The idea came from the Research Network volunteers who advised on the study's development.
The videos are designed to support people to make an informed decision about whether they can help with research. For the participants that means there are no surprises, and for the researchers it means people are likely to happy and comfortable with what they're asked to do.
You can watch the video about electroencephalography and magnetoencephalography below. These are techniques that provide precise information about the timing of brain activity.
Designing suitable studies
Finding suitable people to take part in research studies can be difficult for researchers, and it is really important that people know what's involved before they sign up. Some research studies require a lot of commitment from participants and if people don't know what to expect they may drop out of the study.
Professor Simon Lovestone at the University of Oxford is leading the Deep and Frequent Phenotyping study, and has taken an innovative approach to making sure the study will be as comfortable as possible for the participants.
The study is designed to try and find markers or tests that are able to show change in people before they actually have dementia. Such tests are really important to help scientists do clinical trials of drugs to slow down or prevent dementia.
Professor Lovestone and his colleagues carried out a small test study and worked with Matt Murray, Research Engagement Manager at Alzheimer's Society, to understand how acceptable the different assessments would be for participants.
Although the main study will recruit people without dementia, the initial feasibility study involved people with early symptoms of the condition because some people may develop dementia as the main study continues over a number of years. Also, if it's acceptable for people with mild dementia hopefully people without dementia would also be likely to find it acceptable.
'People were mostly worried about the lumbar puncture to sample spinal fluid,' says Matt. 'So we checked people's expectations of procedures against their actual experiences.
For the lumbar puncture, all but one had a better experience than they had expected.
'I interviewed six of the participants and each of them gave valuable feedback which has influenced how the larger study will be carried out. An example of this is shortening the time spent in some of the brain scanners as some people with dementia fell asleep while in there and this could be upsetting. The researchers were confident that they could still get the data they needed with a shorter scan.'
Even simple things can help - during the electroencephalogram (EEG) you have to wear a cap with electrodes attached, which can make your hair very messy. By doing the EEG later on in the day, people didn't have to spend the day feeling embarrassed about their messy hair.
The feasibility stage showed that the study would be acceptable to participants, and was practical to run, so the full Deep and Frequent Phenotyping study will start later this year.
The five assessments in the videos are used by many different studies across the UK so we hope people will use these videos to find out what's really involved in dementia research, and will consider taking part themselves.
An easy way to register your interest in research
Alzheimer's Society supports a service called Join Dementia Research that matches people with research studies looking for participants. Anyone over the age of 18 can sign up, whether they have a diagnosis of dementia or not.You can sign up online, or chat to our trained helpline advisers by calling 0300 222 11 22. For research to be successful it's essential that people can find studies that they can join, and that researchers can find enough volunteers.
Working together we can speed up research and build the knowledge needed to improve the lives of people living with dementia in the future.
Register your interest in taking part in research through Join Dementia Research online or through our helpline (0300 222 11 22).
What's it like to take part in research?
Watch all five videos about different research assessments, including a lumbar puncture and MRI scan.
Watch the videos