From Brighton to Northern Ireland to Hull, we want to say a huge thank you to every single person who took part or volunteered at Memory Walk 2017.
Over 110,000 people walked for a world without dementia at this year's Memory Walk.
With every pound you raise, you are funding new research, and providing precious support to more people, wherever they are, whatever they are going through.
One supporter, whose 'love' has dementia, has written a poem about the Liverpool Memory Walk and why the event is so important to him and his family.
So take a read and be sure to have a look at our Flickr photo albums – you might just spot yourself in there!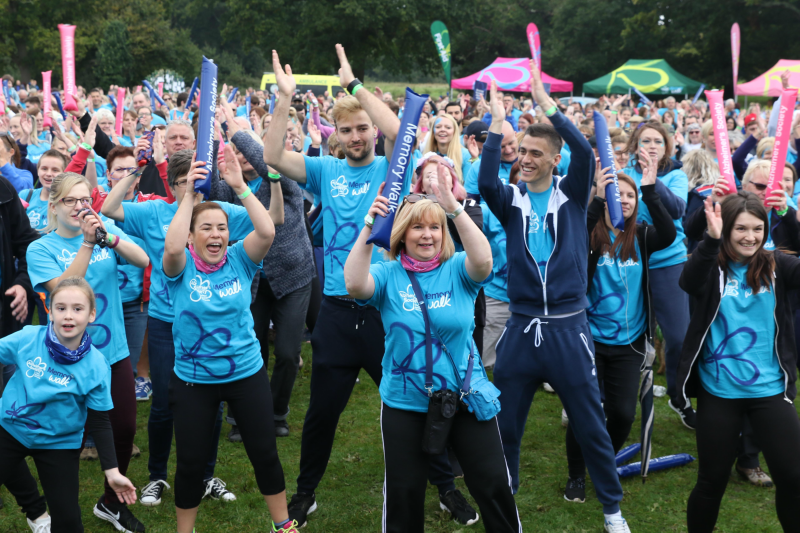 ​
Walkers warming up at our Southampton Memory Walk
Memory Walk, by Harry Pleavin
What a wonderful day at Croxteth Park,
On the Memory Walk I made my mark.
Near £500 in sponsorship I did raise,
For a good cause I did it, never for praise.
But I do feel proud for doing my bit,
For Alzheimer's Society and getting fit.
4 miles I walked in just 75 minutes flat,
One for each year I've lived and I'm proud of that.
Prouder still of my love who has Alzheimer's disease,
Who stood in the rain in spite of aching back and sore knees.
With camera poised she patiently stood,
As with 3,000 others I walked through the wood.
She got the photos she wanted for her memory pot,
Knowing this day will in time be forgot.
Along with other memories of family and friends,
Of special occasions, holidays and such odds and ends.
Unforgettable moments forever forgot,
With sadness she knows that this is her lot.
But still she stood there, feeling sorry for others,
Walking for mothers and fathers, sisters and brothers.
How many she said have been touched by this thing,
Relentlessly stealing their lives and such despair it will bring.
Yes it was of others she thought and their pain did she feel,
Whilst fearing their futures how they might survive their ordeal.
She hides the fears she must have for our future and time,
Of worsening days as all around does decline.
But stubborn and determined and grounded is she,
As she talks of my future and tells how she worries for me.
—
What next?
If everyone who walked in 2017 donates, we hope to raise £9 million for people affected by dementia.
So please help and be sure to pay in your sponsorship. Already excited for next year? You can sign up to Memory Walk 2018.