Steve was a carer for his mother in law, Dorothy, who had vascular dementia. After she died, Steve wrote a musical comedy called Paradise Lodge that encourages people to think about the person behind the condition.
I only really knew Dorothy in her later years. She was generous and thoughtful of others. Her family meant everything to her. She loved Barry Manilow and the Grand Prix.
I used to take Dorothy to the garden centre (as well as the dentist, opticians, doctors, hospital, hairdresser and out shopping). She loved flowers and her garden. I have fond memories of her sitting among her well-tended garden, spotting weeds for me to get rid of.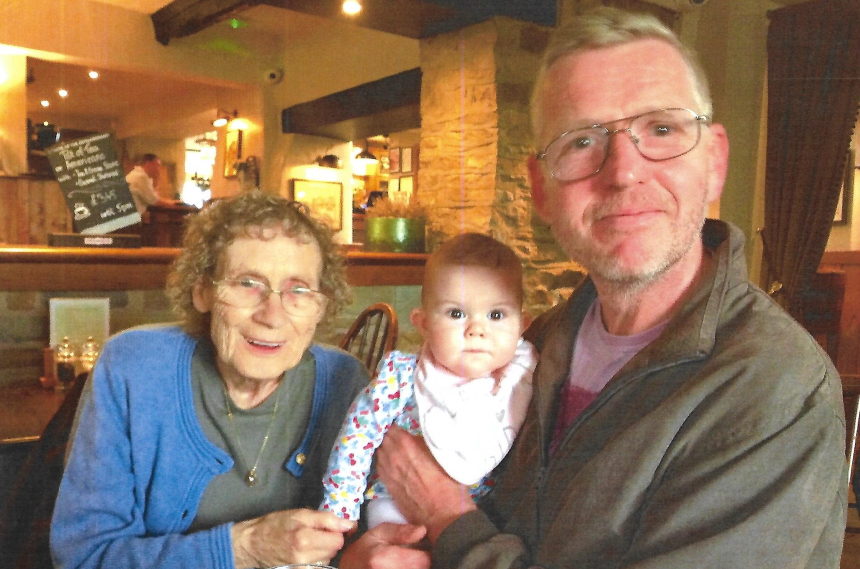 ​
With Dorothy and her great-granddaughter, Aurora
How I began writing a comedy about dementia
Dorothy and I were together so much I started making notes, trying to make some sense of it.
After we lost her, I went back to my notes. Soon, a story began to take shape.
In the play, there are two main characters. Eric and Kylie, who form a musical duo called The Doodlebugs. The story is set on their first gig together, which takes place at a fictional care home called Paradise Lodge.
Within 60 minutes, we transport the audience back to a time when the care home residents had their whole lives in front of them – when they thought they would live forever.
The play explores identity, reality and loss with heart-wrenching flashbacks and comical songs from the war years. All the scenes are taken from real experiences, sometimes word-for-word.
'I wanted to ask some questions and get people talking about dementia, because people don't talk about it enough. Everyone's relearning when they have someone living with the condition.'
I thought, let's get it out in the open, speak about dementia and do something that answers questions about what can be done.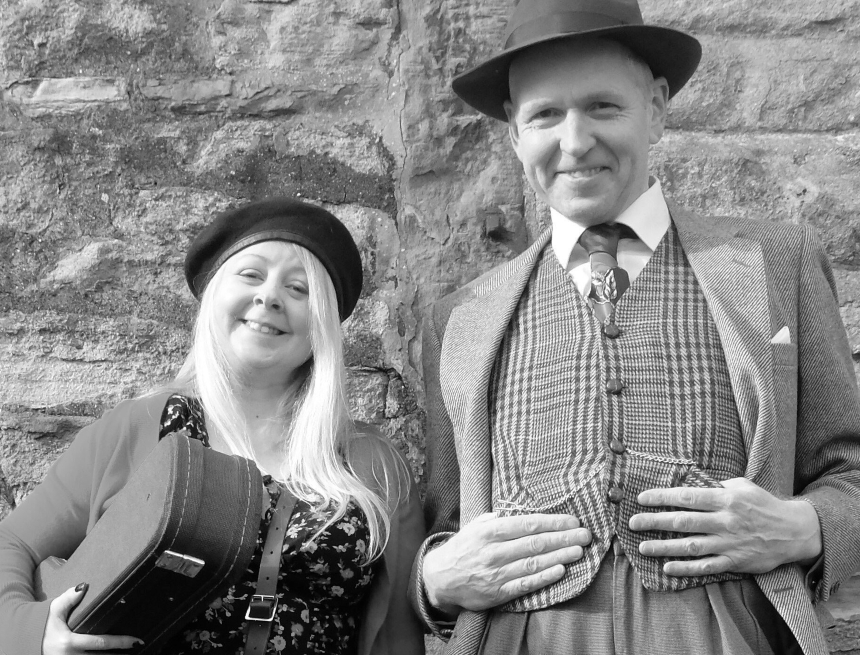 ​
With fellow actor, Sophie Osborne, as The Doodlebugs
Shared experiences with others affected by dementia
For the past few weeks, performances of Paradise Lodge have been taking place at Edinburgh's Fringe Festival.
Audience reactions have been really touching. People who were apprehensive that the show might bring back painful memories have said they needn't have worried. They felt they had already witnessed every scene and took some reassurance from learning that they weren't alone.
People living with dementia, their families and carers have watched it together and each seems to find something that speaks to them. And they all end up singing!
'People with dementia might forget their past, their children, what day it is; but start a song off and they know every word. They are back in the room.'
My message to other people currently caring for loved ones with dementia is: you are not on your own. There's nothing to be ashamed of. You haven't lost them, though their reality has shifted; they are still there.
Learn more about Paradise Lodge
With thanks to care home residents and staff from Letham Park Nursing Home in Leith for the main picture.