Sarah is a 30-something, full-time carer for her mum who has Alzheimer's disease. Here she looks back to her old life and the one that lays ahead.
In the final part of our three-part blog series, Sarah looks back to her old life and the one that lays ahead for her and her mum.
Sarah is a 30-something, full-time carer for her mum who has Alzheimer's disease. You can read the beginning of her story in her first post and second post.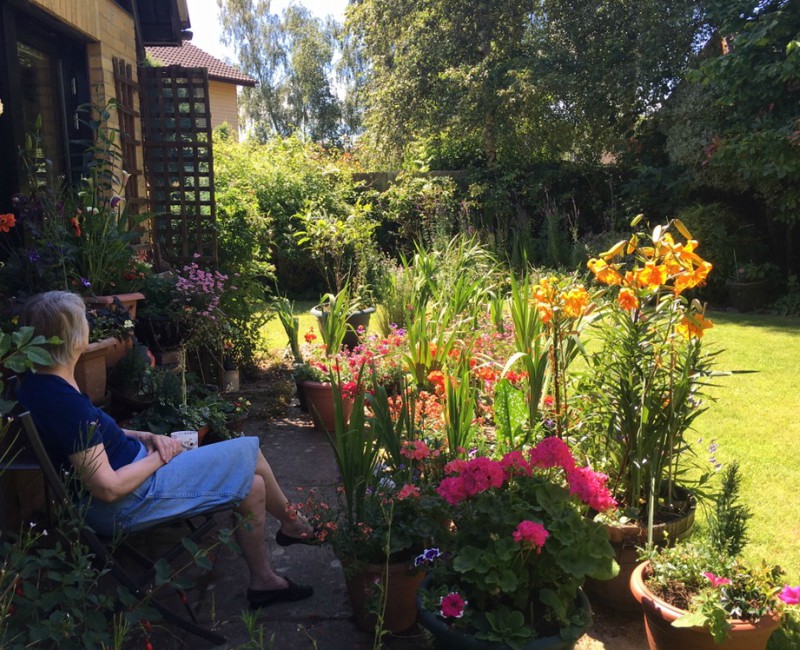 ​
Sarah's mum in their lovely garden
Sarah's story
On the occasions I've reached a saturation point and chosen to talk to someone about my stresses and exhaustion, I find it hard to articulate.
I feel myself sounding ridiculous and actually, any advice given back in response is always directly linked to my mum ('why don't you bring in a carer?', 'have you thought about what the next steps will be?') and not anything to help me.
I don't want to ask for help personally as I feel like it's saying that I cannot cope. Which I can, I just need time off, guilt-free time off where I don't have to worry about her as I know she's in the best hands.
And the same can be said for mum, she is visibly terrified any time I say I am going anywhere so to alleviate the guilt associated with that would be incredible.
Talking to other people
I've realised that I just need to talk to the right people - who understand actually what it's like to be a live-in carer, who don't even necessarily know my mum but can completely appreciate where I am coming from and the emotions involved when you can't go 'home' and rewind in private.
Someone who understands the grief of having your entire life change, whilst watching others carry on, seemingly unaffected and in blissful ignorance of what's happening to us daily. I don't want sympathy, far from it in fact. I'm not a martyr but sometimes just some acknowledgement and empathy.
An attempt to appreciate the stress involved for me instead of just offering practical advice and unintentionally criticising: 'you should just do this...' or 'you make things hard for yourself…' I spend all of my time thinking about what I can do to make things easier for mum at home.
That's why anyone who asks how mums doing generally gets a blanket response, as how can I possibly explain all of the highs and lows and difficulties we've experienced over the past few weeks when just a day is hard enough to explain.
How long can I do this for?
I don't honestly know, but I do know that that I will do this for as long as I physically and emotionally can manage it.
I know the care I give her is the best possible care for her and she is at her happiest. I don't want to look back with regret that I could have done more or I've let her down when she still knows who I am and enjoys everything I do with her.
I have created so many incredible memories with her and it's important for me to keep doing that, so that this disease doesn't entirely consume her life until we have no choice.
Yes, I miss my old life, having my own home and own things around me, sitting in my living room with a glass of wine, flicking through the channels alone.
I miss deciding on the night what I fancy to eat, I miss my independence, being able to make plans and nip out without impacting someone else, my old job and financial security from a career I worked bloody hard to get to the top of.
Do you know one of the things I miss the most? I miss the conversation. Being able to talk to my mum, as my mum, discuss what's happening in a programme we are both watching with a level of understanding, to have that level of like-mindedness we always used to have. General chit-chat!
That's what I miss the most and is hardest to explain as it's incredibly isolating. I also feel guilty for feeling all of this. I feel guilty for the feeling of resentment that sometimes creeps in because it's then overwhelmed by pride and how lucky I am to be able to do this.
To be in a position to make such a positive impact on someone's life is an honour. Would I choose to do this again? In a heartbeat.
Sharing your story
Writing and sharing a story about how you or a loved one has been affected by dementia can offer some relief for both writer and reader. Visit our Your story page if, like Sarah, you'd like to share your journey. For information, support or advice about dementia, please call our National Dementia Helpline on 0300 22 11 22.