Anna Grinbergs-Saull, Research Engagement Manager at Alzheimer's Society, reflects on the achievements of some of our our Research Network volunteers.
The Research Network was set up 18 years ago to reflect our belief that people with dementia and carers can make a unique and valuable contribution in every stage of research. The group now consists of over 280 people with dementia, carers and former carers who help us shape our priorities and strategies, help us to decide what research to fund and work with our researchers to help them understand the experience of people with experience of dementia.
The Research Network is a great example of how we can be united against dementia.
When we work with people affected by dementia and understand their experiences, we ensure that our research programme is relevant to those who need to benefit from it. It also represents a great opportunity for our researchers to connect and collaborate with the people who they are ultimately working to help.
We're delighted that the hard work and contribution of two of our Research Network members, Andrew Cornwall and Peter Riley, has been recognised at the recent People Awards. These awards celebrate the incredible contributions our people make through their work and volunteering to improve life for people affected by dementia.
Andrew Cornwall – Outstanding Contribution

Andrew Cornwall accepts his award from HRH Princess Alexandra
Andrew joined the Research Network in 2011, having cared for his father. Andrew, who now cares for his mother, is an active and enthusiastic member of the team, providing regular reviews of our research applications and sitting on our lay review board. Other members of the board have commented on how Andrew goes out of his way to make them feel welcome and help them to understand how dementia research works.
As well as helping with our research programme, Andrew is also very committed to our Dementia Friends initiative. He works at the Natural History Museum and has created over 200 Dementia Friends there. His determination to make the Natural History Museum dementia friendly, as both a place for people to visit and as an employer, particularly impressed the judges.
Andrew says:
'I am so pleased that I can contribute so much to the work of Alzheimer's Society. The views and experiences of people affected by dementia are vital to make sure we can get the best out of research, which is why being united is so important.'
Peter Riley – Realising Potential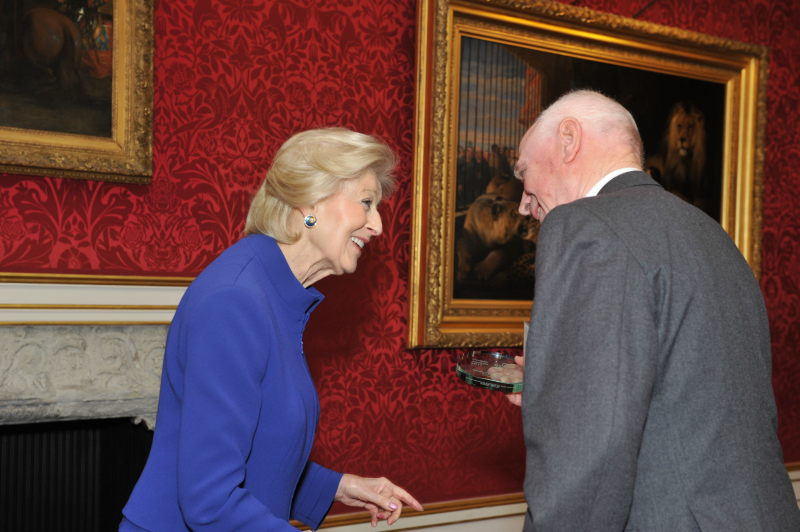 Peter Riley accepts his award from HRH Princess Alexandra
Peter, who cared for his wife, also joined the Research Network in 2011. As Area Co-ordinator for the East Midlands, Peter is passionate about recruiting other people to the Network. He is also a great mentor and the judges felt that his encouragement of other volunteers to take on roles that suit their abilities deserved to be celebrated.
Peter says:
'I like to do whatever I can to help researchers to do their best work so that they can help people us further down the line.
'Participation in the Network has enabled me to understand aspects of the cause and care of people with brain disease and has provided me with an absorbing activity that enabled me to remain in control while caring for Myra thus allowing her to stay at home to a peaceful end.
'I am honoured to receive this award and for the recognition from Alzheimer's Society, and hope that the work of other Research Network volunteers will continue to be recognised and celebrated.'
Uniting to improve research
The generous contributions of our volunteers and supporters help us to maintain our ambitious research programme and we have big plans for the future. This is why we need more people than ever to unite with us against dementia.
It is through the actions of amazing volunteers like Andrew and Peter that we can ensure that our research programme remains relevant to people affected by dementia. Their passion and enthusiasm inspires us and our researchers to do everything we can to find a cure, improve care and offer help and understanding for people affected by this devastating condition.