Three years after being diagnosed with vascular dementia, Peter is as active as ever. Hear why he's joining the dementia movement on World Alzheimer's Day.
Dementia is the biggest health crisis facing society. Someone develops the condition every three minutes and too many are facing it alone, without adequate support.
Today is World Alzheimer's Day, an opportunity to raise much needed awareness and share the issues facing people affected by dementia every day.
Following part one and part two in this blog series, Peter Lyttle describes overcoming a difficult diagnosis and why he was inspired to help other people in a similar position. Watch his full journey to see how he's playing his part in the dementia movement.
Together we can transform society so people with dementia are included, understood and supported to live a life they choose.
Peter's story – part three
Three years after being diagnosed with vascular dementia at the age of 58, Peter is as active as ever. Passionate about supporting Alzheimer's Society, he is helping out in almost any way he can, from speaking at special events to training up staff.
And if that wasn't enough, Peter has also set up his own cafes for people living with dementia, Fresher's Young Dementia Café.
Identifying the large number of young people with Alzheimer's or dementia, this activity and social group is aimed at people of 40 plus and their partners. And Peter is continuing to expand, with more groups in Lancashire, his home county.
Volunteering with Alzheimer's Society
Living with dementia, Peter takes each day as it comes. But says it's his volunteering that's helping him thrive:
'Volunteering has given me a whole new lease of life, which is ironic.'
'It gives me a focus and I do it because I don't want anyone to go through what I did and not have anyone to turn to or to support them.'
'When someone comes to a group and feels safe and relaxed enough to speak for the first time in a long time, that's just wonderful. Seeing their partner's face light up when all a sudden the person they love starts to come to life again – that's worth a million pounds to me.'
Peter admits he's never been busier and is showing no signs of slowing down. Perhaps what's most inspiring is that Peter's motivation is other people – he says his work has never been about him. It's simply that he doesn't want anyone else to go through what he went through.
'I think I'm a lucky man to be in the situation I'm in, because I know I can help people. I'm trying to help as many people as I can. And I think in this life if you can do something like that, it's brilliant.'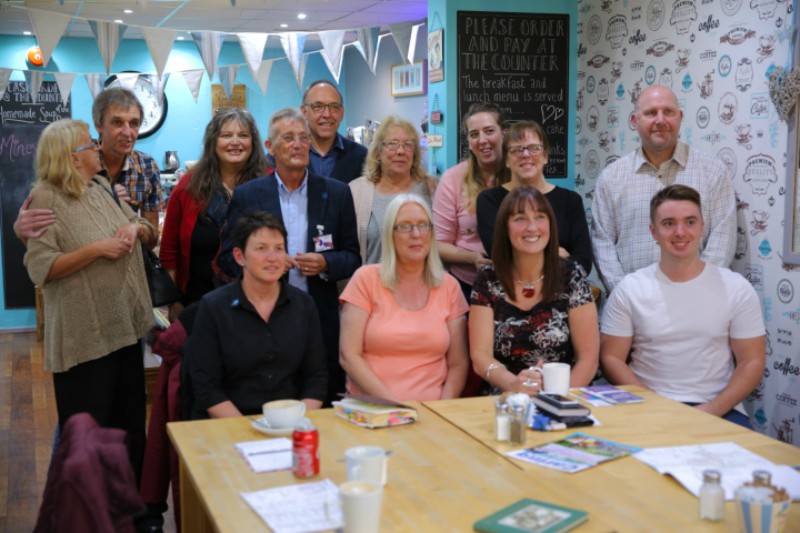 Peter at one of his dementia cafés
Unite against dementia
Globally, dementia is one of the biggest challenges we face. There are nearly 50 million people living with dementia worldwide, and an estimated 850,000 people living with dementia in the UK.
Help us reach everyone affected by dementia by donating this World Alzheimer's Day.
If you need dementia information, support or advice, please call our National Dementia Helpline on 0300 222 11 22.