Many people feel a dementia diagnosis means their life is over, and to start with Peter was no exception. Read his full story this World Alzheimer's Day.
21 September is World Alzheimer's Day. There are 850,000 people with dementia in the UK and many still face the condition alone, without adequate support. We want to reach everyone affected by dementia whoever and wherever they are, so they feel included, understood and supported to live a life they choose.
Diagnosed with vascular dementia at the age of 58, Peter found himself in a dark place, depressed and suicidal.
This World Alzheimer's Day, we're sharing Peter's full story in a three-part blog series. Read the first edition below to find out about his initial diagnosis and how this left him feeling vulnerable and alone.
Peter's dementia story - part one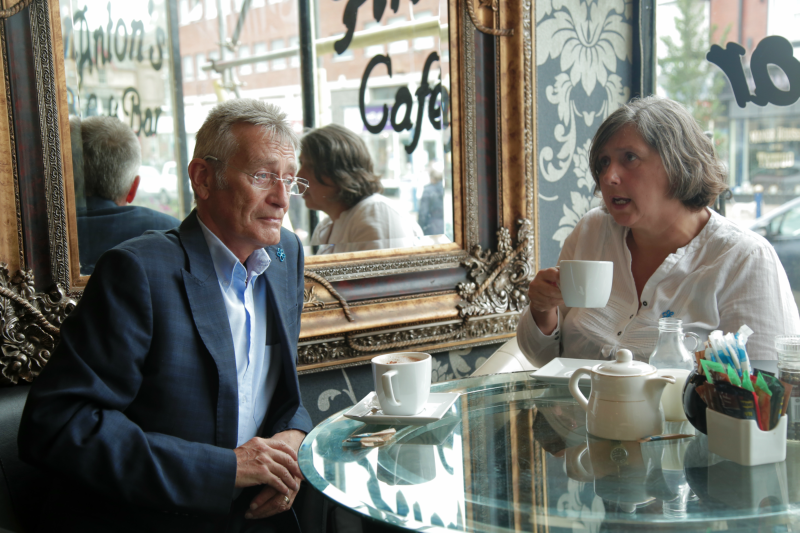 It all started after a catalogue of incidents made Peter suspect he had a problem.
He ordered some clothes online in completely the wrong size. He made arrangements to meet friends only to show up a week early. Then one day standing at the cashpoint, he found himself with his bank card in his hand but with no idea what the machine he was looking at actually was.
'I found myself standing in front of the strange looking instrument built into a wall and in my hand I was holding a piece of plastic. I felt scared, really scared. There were people queuing up behind me and they were making not very nice remarks.'
Seeking a memory test
Peter went for a routine blood test and asked the nurse if he could have a memory check too. He was told not to worry – he was too young for anything to be wrong. They eventually let him take the test, which he failed. The next morning he repeated the memory test with his GP and got the same result.
Peter assumed his memory loss might be a side effect of the medicine he was taking for arthritis, though he was told that was unlikely. After being referred to a memory clinic, they found his recall to be well below average and so was finally ordered a brain scan.
Over six months had passed, but Peter didn't breathe a word of his ordeal to either his friends or family.
I didn't want to worry anyone unnecessarily,' explains Peter.
Peter visited his family for Christmas but still didn't tell them anything. He kept his fears about what the New Year might hold to himself.
Waiting months for a diagnosis
A couple of months later and Peter was at the hospital for the results of the brain scan.
'I can tell you word for word how it went,' Peter recalls.
'The doctor said, unfortunately, we found a growth on the back of your neck and it's attached to your spinal cord.'
Peter was trying to process that bombshell when the doctor added:
'There's no damage to the back of your brain, or to the middle of your brain, but there's a lot of damage to your frontal lobes and you have vascular dementia.'
The damage to the brain was similar to that seen in patients who have been through chemotherapy, which Peter had not. The doctor said he was sorry but that there was nothing they could do. The appointment was over and the doctor got up and ushered Peter to the door. Outside the office, Peter demanded a prognosis.
'You've seen my results, so where do you see me in five years' time?' he asked.
The doctor replied that Peter wouldn't be alive in five years, and advised him to pick up some leaflets about his condition.
'I just stood there on my own and felt there was nobody there to help me. I'd stopped smoking for six months then – it was a big thing for me – and the first thing I did was I went and bought 20 cigarettes.'
'I was scared, confused. I felt so bad and so down.'
Feeling alone after diagnosis
Peter felt like there was nobody to help him and was struggling to deal with his diagnosis alone.
'I started spiraling out of control so I decided, and I'm so ashamed now, that I was going to end it all. I was feeling very low and suicidal.'
But that same week a letter landed on the doormat from Alzheimer's Society. It invited Peter to a coffee morning for people with dementia.
To be continued…
Follow Peter's dementia story in part two, where he attends an Alzheimer's Society coffee morning and starts getting his old confidence back. If you need support and advice after receiving a dementia diagnosis, our National Dementia Helpline is available on 0300 222 11 22.
---
Unite against dementia
Sadly Peter's diagnosis journey is not uncommon. People often have to wait years before receiving a final diagnosis, often leaving them feeling desperate and alone. Help us reach everyone affected by dementia this World Alzheimer's Day. Unite against dementia today and donate.