Read about our amazing winners and presenters at the 2016 Dementia Friendly Awards that took place on 30 November at Church House in London.
The awards celebrate organisations, communities and individuals who make outstanding contributions towards improving the lives and experiences of people with dementia.
The ceremony was hosted by Alzheimer's Society ambassador Angela Rippon. Winners include Gatwick Airport for their work towards becoming a dementia-friendly airport and the East of England Co-Op, who won Dementia Friendly Organisation of the Year.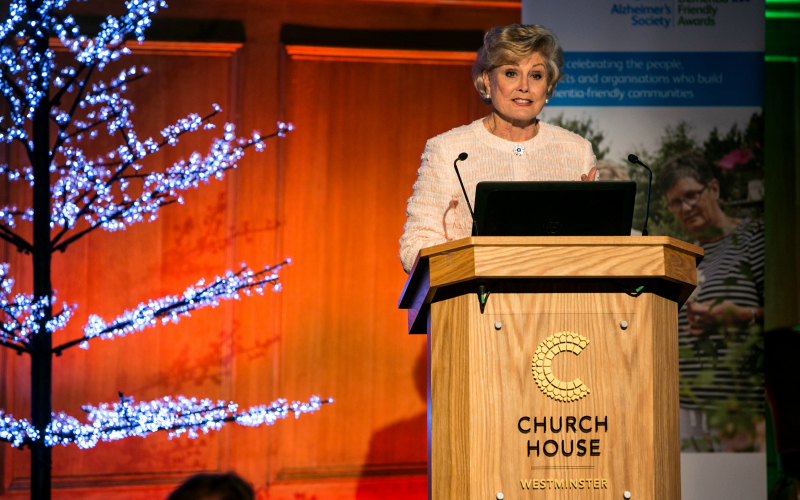 ​
An Inspiring Individual
This year there were nine categories and fourteen awards in total. Four categories were newly introduced for 2016, including Inspiring Individual, which was awarded to Ernie Malt by Secretary of State for Health, Jeremy Hunt.
Following his diagnosis of mixed dementia, Ernie secured funding to run a dementia café for a year and organised other fundraising opportunities to support the café. He worked with Virgin Trains East Coast to help them become more dementia friendly, and was the face of a media campaign promoting Durham & Darlington Fire & Rescue's Safe and Wellbeing programme.
Ernie said 'I really didn't see this coming but it's very flattering. I know I instigated the Dementia Café but I couldn't have done it without the support of people around me. There was so much positivity when people heard about my plans, which was great – and it got people to come out of the woodwork to make it a success. They inspired me and I'd like to think I might have inspired people who are living with dementia to know they can take action themselves.'
Secretary of State for Health, Jeremy Hunt, said 'I am honoured to present the 'Inspiring Individual' award to Ernie Malt, who is proof that it is possible to live well with dementia. I want to congratulate Ernie on his achievements; ensuring people with dementia can continue to feel part of their local community.'
'The Dementia Friendly Communities programme has led to inspiring action, raising awareness of this condition and supporting people to live well. Dementia is a priority for this Government and I am inspired by the work of the individuals here today who are leading the way in making their own communities dementia friendly.'
Award-winning journalism
Another new category for 2016 was the Dementia Journalism award. The award recognises media professionals who portray dementia in an accurate and sensitive way, help to highlight issues and tackle misconceptions. Daily Mirror reporter Warren Manger won the national category, and Emma Clayton, features editor for the Bradford Telegraph & Argus, won in the regional category.
It has never been more vital for communities to work together to make a difference to the lives of people with dementia. There are 850,000 people in the UK living with dementia, predicted to rise to over a million by 2021. Myths and misunderstandings still contribute to the stigma and isolation felt by many people living with the condition.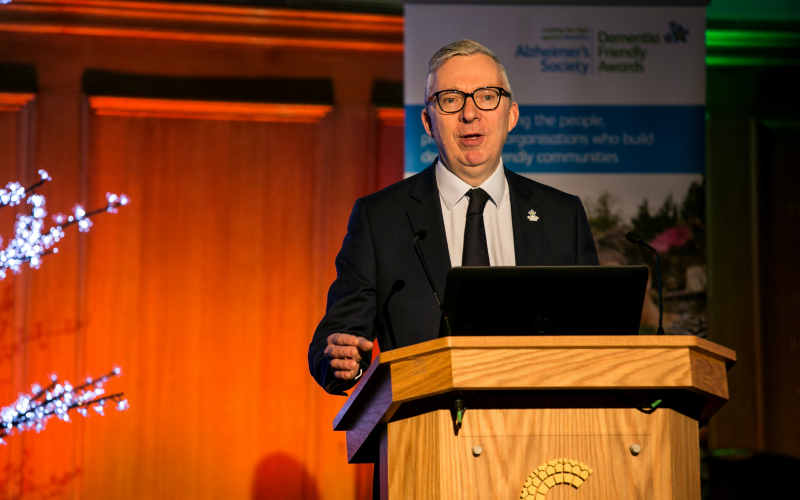 ​
Jeremy Hughes, Alzheimer's Society's Chief Executive, said 'dementia is the biggest health and social care issue facing our society and there's no question that it has a profound and devastating impact for many. The actions of all our winners and others like them are helping to raise better awareness, break down stigma and make our communities more dementia friendly.
'What makes our winners so remarkable is the way they use their imagination, energy and enthusiasm to inspire others. They have gone that extra mile to make a bigger difference in their community for people with dementia and they will inspire others to follow their example in all walks of life.'
And the winners are...
Dementia Friendly Community of the Year (City) – Dementia Friendly Plymouth
Dementia Friendly Community of the Year (Rural) – Honiton Dementia Action Alliance
Dementia Friendly Community of the Year (Town) – Wigan Borough
Dementia Friendly Innovation of the Year – Gatwick Airport Limited and OCS Group Limited
Dementia Journalism of the Year (National) – Warren Manger
Dementia Journalism of the Year (Regional) – Emma Clayton
Dementia Friendly Organisation of the Year (Health & Social Care) – Bradford District Care Trust Community Dental Service
Dementia Friendly Organisation of the Year (Private and Public Sector – small & medium) – Theatre by the Lake
Dementia Friendly Organisation of the Year (Private and Public Sector – large) – East of England Co-op
Dementia Friendly Partnership of the Year – NHS England (Cheshire and Merseyside) Dementia Friendly Dentistry Programme
Inspiring Individual of the Year – Ernest Malt
Dementia Friends Champion of the Year – Gina Awad
Young Persons Contribution of the Year – Llanfaes C P School
Outstanding Contribution of the Year – Nick Conrad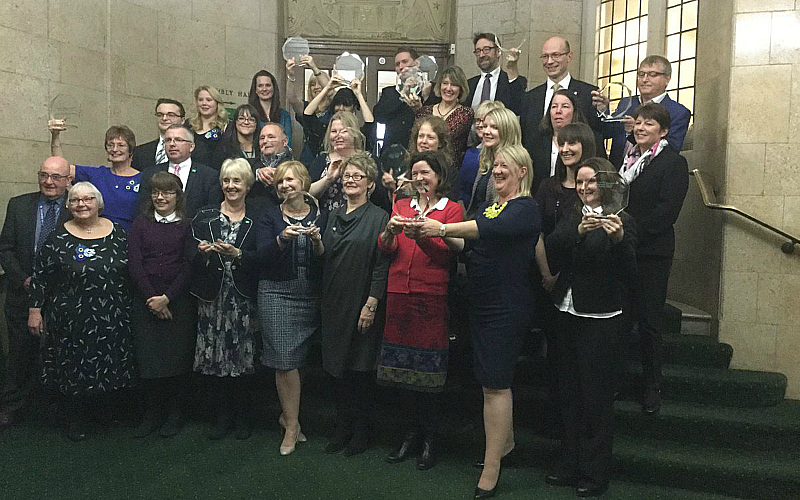 ​
The Dementia Friendly Awards are part of Alzheimer's Society's Dementia Friendly Communities initiative, which aims to ensure people affected by dementia feel understood and included in all aspects of community life. There are now 1.7 million Dementia Friends and over 200 Dementia Friendly Communities supporting people with dementia at a local level.