Last week, Alzheimer's Society got one step closer to creating a Dementia-Friendly parliament. Rosie Leatherland, Public Affairs and Campaigning Officer, explains more.
On Tuesday, our Chief Executive, Jeremy Hughes, delivered a Dementia Friends session to all of the permanent secretaries of the government departments.
Being in a room with the most senior civil servants across government was a fantastic chance to share the country's progress so far as a world-leader in dementia, and to move forward our ambition to create the first dementia-friendly parliament in the world.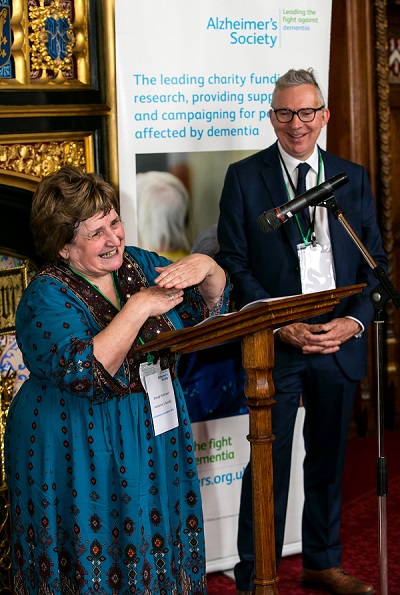 Alzheimer's Society - Parliamentary Reception Speaker's House - 25 October 2016. © Pete Jones
But what does a dementia-friendly parliament look like?
Creating a dementia friendly parliament means having a parliament that recognises dementia as one of the key issues of our time and considers people living with dementia when making policy, from MPs to civil servants. It also encompasses the parliamentary estate and makes the environment a safe and welcoming place to visit and to work. Our campaign looks at three areas:
Dementia Friendly parliamentarians
Alzheimer's Society is immensely proud of the Dementia Friends programme; the largest health social movement of its kind in the UK. There are now over 1.8million Dementia Friends in the UK, and we are committed to reaching 4million Dementia Friends by 2020. Parliament and government departments play a vital role in meeting this target, and setting an example to others across the country. There are over 150 MPs who are Dementia Friends. We hold a Dementia Friends session for staff and parliamentarians every other month.
Parliamentary estate
We have been working with the visitor's services team at the Houses of Parliament to think of ways to make visiting the estate a good experience for people living with dementia, for example, we have provided guidance on new signage on the tour route, and over the next year they will be rolling out updated accessibility information online. We are also working with the tours office to ensure that all tour guides will become Dementia Friends by the end of the year. Currently there are over 300 Dementia Friends in the Houses of Parliament working in security, in the kitchens and as tour guides. By the end of 2017 we expect this figure to double.
Whitehall
At our most recent count, government departments have made over 23,000 Dementia Friends through the civil service e-learning module. We will now be working with the Permanent Secretaries to identify a champion from each department to drive this campaign in-house.
Next steps
We are also developing a Whitehall Charter to develop this work and to enable us to spread best practice across Whitehall. This will set out high level guidance to support government departments and bodies to meet their commitments as part of the Prime Minister's Challenge on Dementia 2020.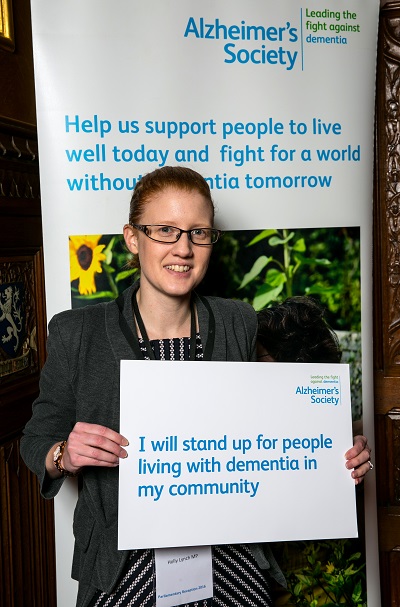 Alzheimer's Society - Parliamentary Reception Speaker's House - 25 October 2016. © Pete Jones
It is fantastic to have achieved so much towards creating a Dementia-Friendly Parliament, however it is essential that we continue the momentum behind this so that people with dementia can expect to be supported by those around them.