Billie Negus, Public Affairs and Campaigning Assistant, talks about her experience at this year's Conservative Party Conference and our award-winning conference stand. 
As someone who has always been interested in politics, it has long been a dream of mine to go to a Political Party Conference.
This year, I was finally able to do it. I went to Conservative Party Conference in Birmingham with one key aim: to engage all delegates in the desperate need to defeat the stigma and discrimination that surrounds dementia.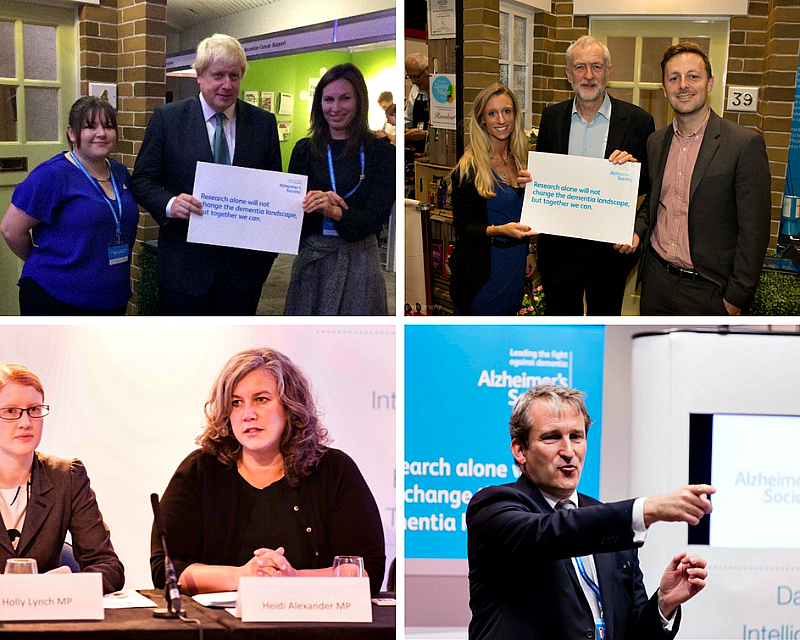 Billie Negus (top-left)
Alzheimer's Society had a stand at both Labour and Conservative conferences this year and this was a great way for me to see how we engage with politicians, local activists and other charities. Having previously worked for an MP, I was curious to see how influencers would react to our stand.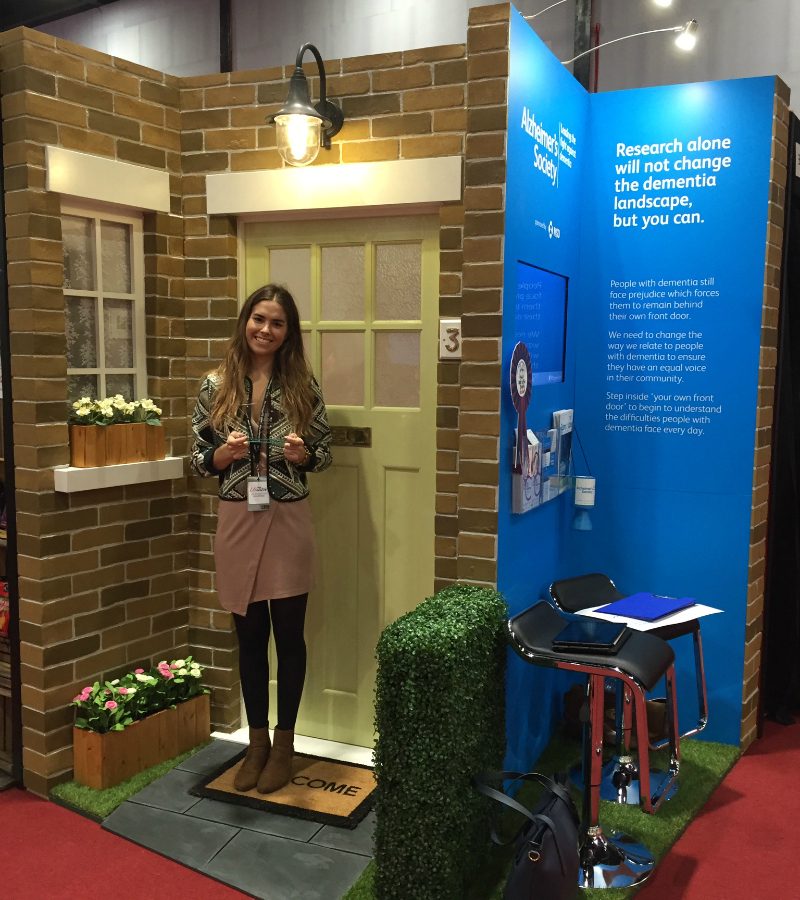 Rosie Leatherland, Public Affairs and Campaigns Officer
Our stand mimicked a house front door and we were asking delegates to carry out an everyday task that most of us complete without a second thought, opening your own front door.
The activity went down a treat and we won the prize for Best Third Sector Stand! I was really glad to see how receptive MPs were to the fact that while this is a task we all do every day, it can be very challenging for someone living with dementia. Many delegates didn't know that dementia is not just about losing your memory; it can change a person's motor skills, communication, and importantly for this task, their perception of their environment, making it a challenge to undertake everyday tasks.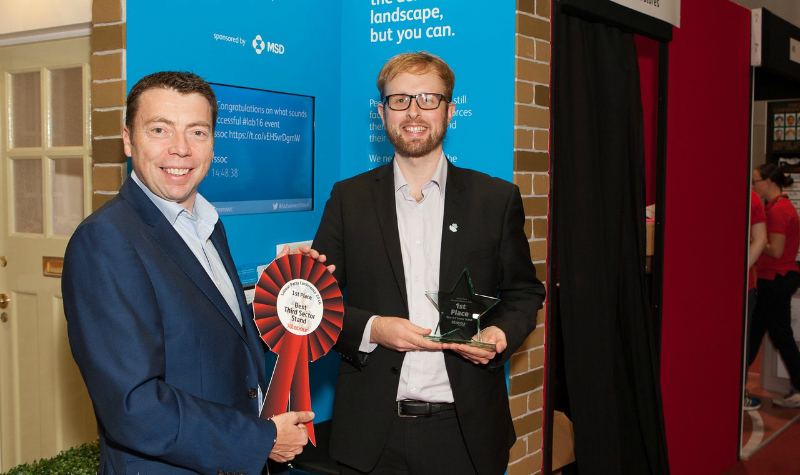 Sam Carney, Public Affairs and Campaigns Assistant
We had visits from influential MPs at both conferences, including Opposition Leader Jeremy Corbyn, Shadow Minister for Care Barbara Keeley, Secretary of State for Communities Sajid Javid, Health Secretary Jeremy Hunt and Foreign Secretary Boris Johnson!
How to make 1.5 million friends in 45 minutes
In addition to manning the stand, I also helped out with organising an interactive Dementia Friends session, delivered by Damian Hinds MP at Conservative conference, and Holly Lynch MP at Labour conference. We were also really lucky to have local speakers, Ken Howard and Jack Coutts, talking about their experiences of living with dementia and their campaigns. At both conferences, we made 100 new dementia friends!
I left Conservative Conference feeling very proud that we delivered our message – that it is our responsibility as a community to champion the rights of people with dementia. I felt really positive for the future, so many MPs visited our stand and told us about their involvement in their local community and it was fantastic to see so much enthusiasm for our movement. I hope that this will maintain the momentum MPs are demonstrating and inspire them to do more and stand up for people with dementia in the community.
You helped make this a reality
Dozens of MPs who visited our stand at party conference did so because their constituents asked them to. Over 1,500 people emailed their MPs asking them to make dementia a priority at this year's Conferences and it worked. This shows how strong our supporters are and how they make a difference with every email sent.
So join our movement today and be part of the change we are delivering for people with dementia.