The newly named Department of Health and Social Care shows Government is keen to prioritise social care as an issue. But how much will actually change?
Ele Yorke, Public Affairs and Campaigning Assistant, lays out what the recent changes at the Department of Health and Social Care means for people affected by dementia.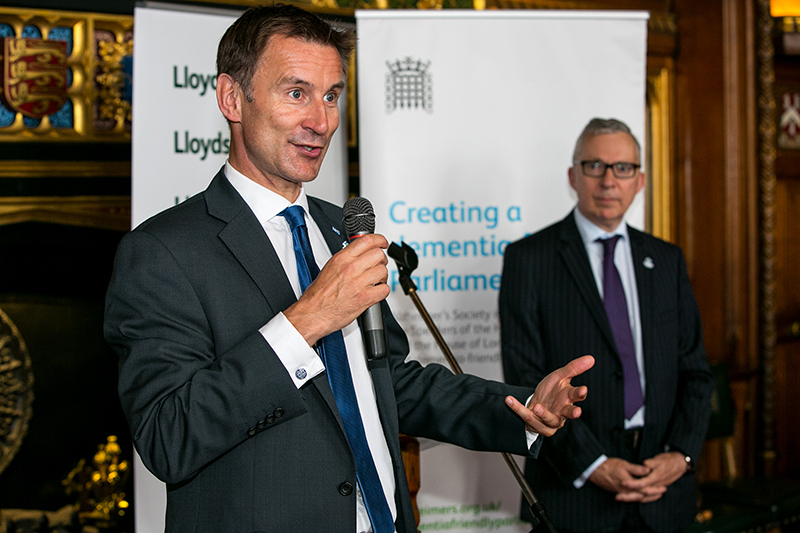 Secretary of State for Health and Social Care, Rt Hon Jeremy Hunt, with Jeremy Hughes, Chief Executive at Alzheimer's Society. © Pete Jones January has already been busy for social care. In Alzheimer's Society's Campaigns team, we are keeping a close eye on developments from Government to reform the system for good. One of the things on our radar this month was the renaming of the Department of Health to the Department of Health and Social Care (DHSC). With this new title, and the appointment of Caroline Dinenage as a dedicated Minister for Care, the Government are clearly keen to show the priority they are giving to social care as an issue. But how much will actually change under the newly named department?
While the title is new, the Department of Health has long held responsibility for the workings of social care system. However, responsibility for its funding has been with the Department of Housing, Communities and Local Government, and Local Authorities. This arrangement is not set to change, suggesting that little will be different under the new department title. It is our role as campaigners to make sure that the rebranding of DHSC is not in name only. We need to hold the Government accountable and ensure that social care is given the priority it so desperately needs.
What does this mean for social care?
In recent years, there have been increased calls to integrate health and social care under one department. Social care has been identified as one of the key problems causing the winter pressures that the NHS face each year. In our recent campaign we highlighted that 1,400 people with dementia were stuck in hospital over Christmas. This was due to lack of social care rather than issues within the NHS itself. Health and social care are clearly intimately linked, but often treated in silo. The new department title is a welcome step towards the necessary integration of the two.
Shortly after the General Election last year, and the outcry over the dementia tax, the Prime Minister promised to consult on a new social care system. This will take the form of a Green Paper (a formal consultation led by Government). A further change that has come out of the renaming of DHSC is the move of responsibility for this Green Paper from the Cabinet Office to Jeremy Hunt, now Secretary of State for Health and Social Care.
What needs to happen next?
With your support, we have demonstrated to key decision makers time and time again that social care is drastically under-funded and under-resourced. With an ageing population, these problems are only set to increase. The Green Paper has enormous potential to allow the Government to address the needs of people with dementia. This could make 2018 the year that social care is fixed for good.
While dementia is a medical condition, people with dementia receive most of their support from our social care system. People with dementia make up 60 per cent of those using homecare and occupy 70 per cent of care home places.
While little appears to have changed with regards to the process behind social care, the newly named Department of Health and Social Care is still a positive step by the Government to prioritise social care.
It is clear that, with the Green Paper due this Summer, 2018 will be an important year for social care. Alzheimer's Society will continue to work hard to make sure the voices of people affected by dementia are heard.
How you can help
We can't do it without you – email your MP and ask them to support our campaign to Fix Dementia Care. Sign up to our Campaigning updates to hear more about the consultation on reform and additional issues. Learn more about social care reform from our recent blogs: