Adjusting to life after diagnosis is challenging for people living with dementia and their carers. Meg Wilkes explains the impact of her husband's diagnosis of dementia with Lewy bodies in this personal story.
Meg Wilkes explains how her husband's condition affected their independence and relationships.
Read part one of Meg's story.
'We look like any normal couple of our age, but life was far from easy'
When my husband's illness was diagnosed as atypical Parkinson's, he was afraid that he would be written off by friends and colleagues, so we kept it a secret for a couple of years. My husband is a walk-away man, I am a talk-it-through person. What had once been a happy mix was painful exaggeration.
We were becoming strangers. We kept up our public image, but home was a cheerless place. The medication helped him physically. When he did share his news, people judged his condition by their knowledge of Parkinson's and assumed that he was little affected, particularly as he showed none of the expected tremor.
I tried to share my worries of his dementia symptoms but it was always the same - people dismissed them with 'explanations', hinting that I had unreasonable expectations. I questioned my own perceptions.
Shrinking worlds
At work, colleagues' apparent expectations put an enormous strain on him. It all became such an effort for him that he shrank his world to what he saw as the essentials. He tried so hard.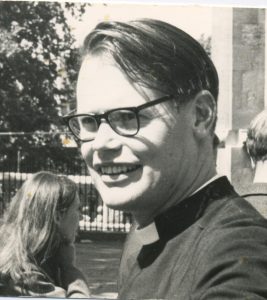 ​
Keith in younger days, enjoying life and work
It was a relief when he decided to take early retirement. It would have been a bitter blow for him to have continued until he was asked to stand down.
It was a difficult and painful decision for him, as his work brought him into contact with interesting and stimulating people. It was his life, not just a job.
He was scarcely aware of his declining ability and planned to write another book in his retirement. The book was never written.
Losing touch
A few years into his illness, as well as avoiding eye contact, he told me he didn't like me touching him. Even holding hands as we walked or accidental contact indoors was unpleasant for him. I must just watch him if he fell, not try to help him up. He told me all this in a light, matter of fact way as though it was a trifling matter.
It persisted for years except for an occasional time when he denied it all and said I must be mentally ill to say such things. There were times when I felt the need of some comfort and asked him if he would give me a hug. He couldn't. I found it acutely painful.
To me, touching is a way of expressing love. It felt like a punishment, banishment, an over-harsh reaction to my shortcomings.
He did some potentially dangerous things - shattered a glass dish by using it on the gas cooker, turned on an electric fire too near to furniture, took my medication. I couldn't relax for a moment.
He walked out of hospital in a snowstorm, without a coat, the day after he was sent for investigations following collapse and was missing for five hours. At home, he would set off to do something, apparently forget before he got there, forget that he had forgotten and later assure me that the job was done.
Dramatic moments
The worst example of this was his once-regular chore of keeping the rainwater drain from the roof free of debris – a tricky job he insisted on doing himself. Very soon after it was 'done,' we had a heavy downpour in the middle of the night. Ceilings on the top floor collapsed, the water poured down the stairwell.
As I clambered about on the flooded roof in nightie and wellies and my husband rested calmly in bed, I realised that in many ways I was now on my own. I raged to the night sky but resolved to survive. It was a dramatic moment, now a strengthening memory when things get hard.
He did remember later that he had 'forgotten' to do the job. I think it's more likely that he couldn't bring himself to admit that it was beyond him. Poor, dear, once vigorous and talented man.
My deep and shameful regret is that he shared so few of his fears with me. Male friends have told me that he would have seen it as a matter of pride, of not wanting to worry me, wanting to go on being the supportive husband he wished to be. I shall never know.
Next steps
Read part one and part three of Meg's story.
Need support with dementia care? Talk with members in our online community, Talking Point, or contact our helpline on 0300 222 11 22
-- Please note: This blog is taken from a chapter written by Meg for the 2005 book 'Dementia with Lewy Bodies: and Parkinson's Disease Dementia' edited by John O'Brien, David Ames, Ian McKeith and Edmond Chiu. It is reproduced here with the kind permission of Meg and the publisher, Taylor & Francis.