In the third and final part of her story, Meg Wilkes explains the impact of her husband Keith's move into residential care, following his diagnosis of dementia with Lewy bodies.
Read part one and part two of this series for more of Meg's experiences caring for her husband with Lewy Body Dementia.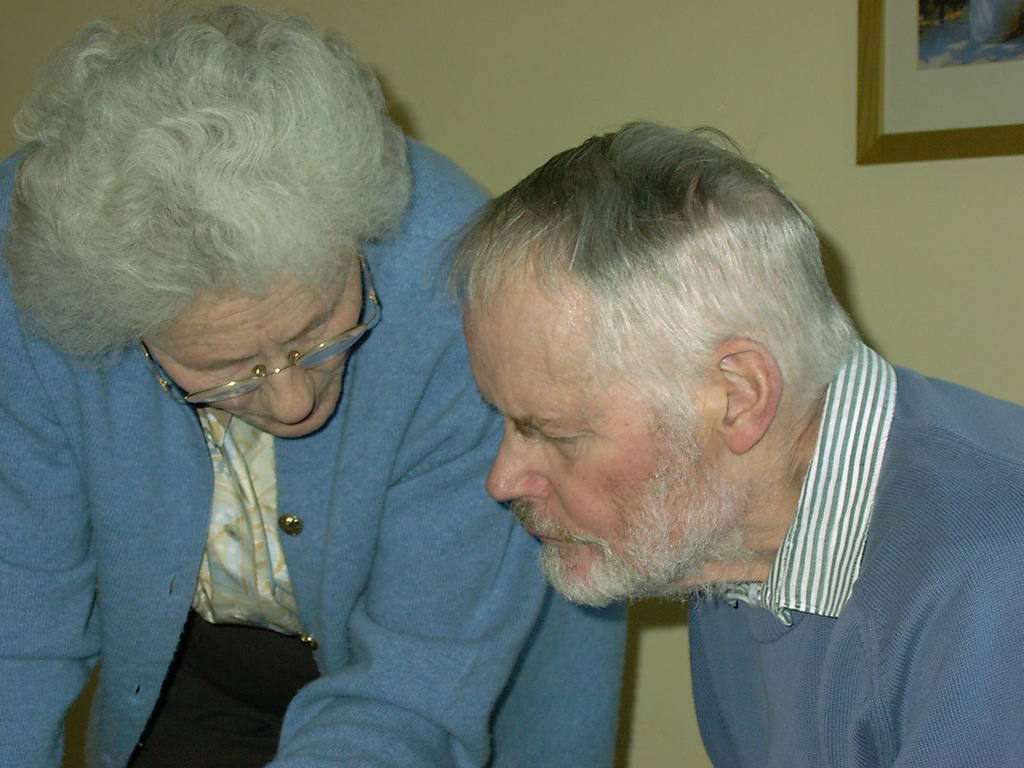 Meg visiting Keith at the care home, just a few weeks before his death.
A frequent response to my husband's move to residential care was 'you must be so relieved that he is being well cared for'. I am hugely relieved that there was a vacancy, as I could not have managed caring on my own for much longer. But relief is only part of it.
It is a profound and heart-rending change; the most difficult decision I have ever had to make. It was the end of our life together.
On the sidelines
Suddenly there is no privacy. We are lucky that he has a single room, but the staff have to come in and out with laundry, tablets, cups of tea. Their sudden arrival can feel like an intrusion. That room is our home now. No longer our 'castle'.
My husband has lost all the comforting, familiar things that we have shared for so long. The things I like to be busy with are elsewhere. There are innumerable changes that seem to rob me of my wifehood. My husband is in strangers' hands. They are making decisions on his behalf and I am on the sidelines.
He has difficulty in communicating and I see him being misunderstood. His gentle politeness can give the impression that all is well. The carers in the home can't know - they have not been with him for 48 years, as I have.
Losing closeness
Very little is said about sex and residential care. Photographs in brochures show smiling elderly people holding hands, the wooden arms of their chairs between them.
Partners who have shared their bed for over half their lifetime may or may not have been 'having sex' but may still crave the comfort of closeness, the feeling of their skin against their partner's. A 'Do Not Disturb' notice is as difficult to use as it would be to hang a notice on the gate at home, telling all passers-by that they and their partner are having a special time together. We have lost the possibility of a natural, comforting closeness.
It is certainly easier, though not always better, to be a carer with no emotional involvement. But this truism can spill over into another dimension, that of avoiding the expression of emotions at all costs. A passive patient sitting quietly is not necessarily a contented one; they may be just enduring. They are vulnerable and dependent. There can be fear behind their compliance.
It is tempting to dismiss patients' bizarre utterances as meaningless, easy to make a thoughtless, patronising response. We must surely find a way to relieve their palpable frustration as they try to communicate from their confused worlds. I dream of a time when there will be skilled and unhurried listeners for them.
A whole-person disease
Dementia with Lewy bodies is a whole-person disease. It is heartening to hear of all the work being done towards understanding it and lessening its devastating effect. Correct diagnosis is vital for the best treatment. Carers are a rich source of immensely valuable and otherwise unobtainable information. If this is left untapped, knowledge of the patient's state of health will be poorer, diagnosis possibly delayed and an opportunity lost to learn of the patient's personhood. On all counts, pooling our knowledge makes good sense. It is the least we can do for those living with this horrible illness.
-- Meg's husband Keith sadly died in 2003, aged 73.
Next steps
Please note: This blog is taken from a chapter that she wrote for the 2005 book 'Dementia with Lewy Bodies: and Parkinson's Disease Dementia' edited by John O'Brien, David Ames, Ian McKeith and Edmond Chiu. A portion of the chapter is reproduced here with the kind permission of Meg and the publisher, Taylor & Francis.