Our Dementia Friendly Awards recognises, celebrates and promotes the inspirational achievements of those making a difference to people living with dementia.
Dementia devastates lives. By 2021, 1 million people will be living with the condition.
Today our Dementia Friendly Awards 2017 united communities and individuals across the UK to recognise, celebrate and promote the inspirational achievements of those making a real difference to people living with dementia.
The award ceremony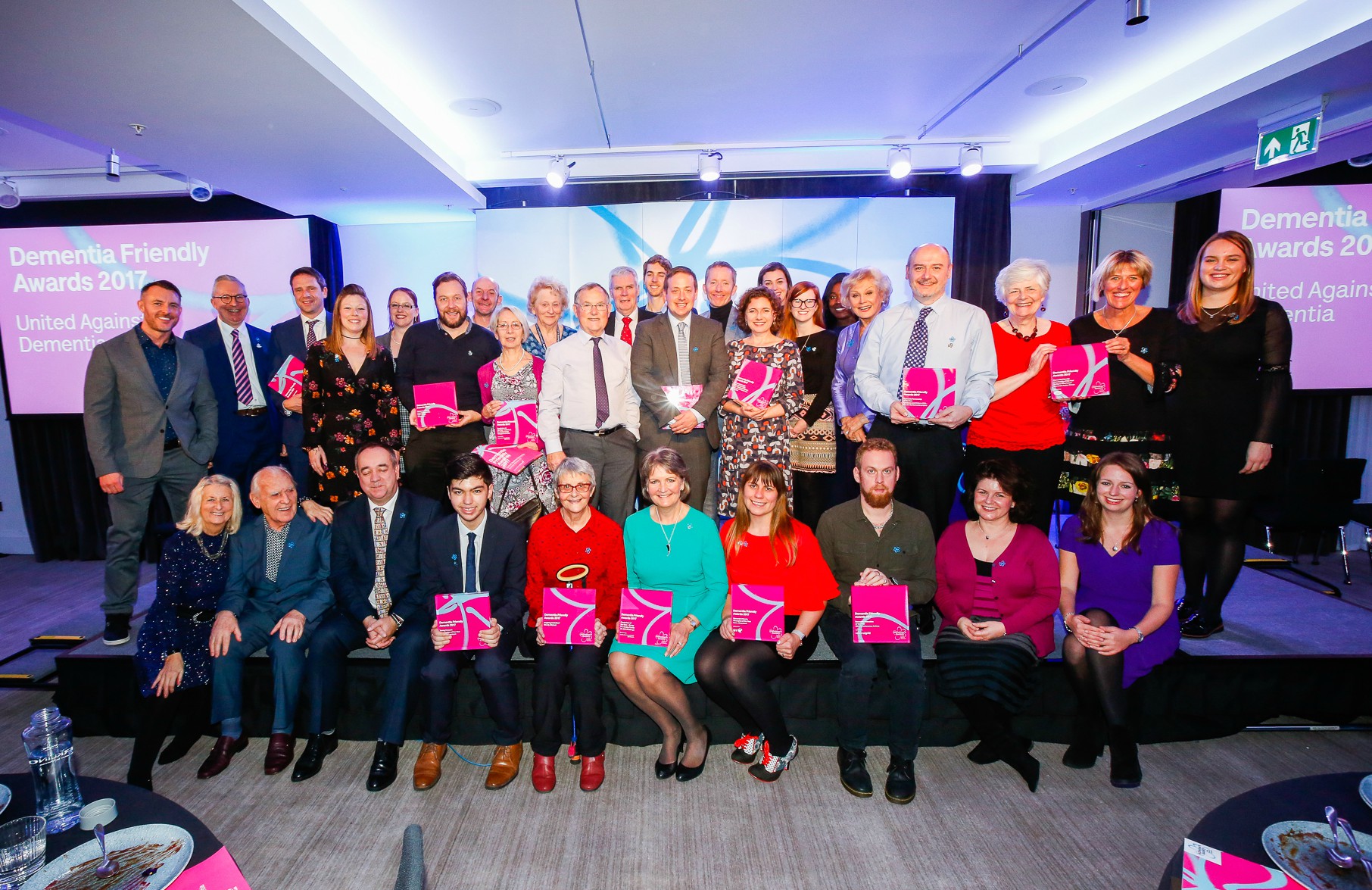 The winners of our Dementia Friendly Awards 2017 The ceremony, sponsored by British Gas, took place at etc.venues County Hall, London and was hosted by our brilliant Ambassador, Angela Rippon CBE.
This year, there were 13 awards across 10 categories. Winners included 'Songaminute Man' Teddy Mac and his son Simon for Fundraiser of the Year award, BBC Reminiscence Archive for Dementia Innovation of the Year and the Bournemouth Symphony Orchestra for Dementia Friendly Organisation of the Year (small and medium).
It's been a fantastic day celebrating the outstanding achievements of individuals and communities standing up for change so that people with dementia are better understood and supported.
See the full list of winners and read about Valerie below, the winner of our United Against Dementia - Outstanding Contribution 2017 Award.
Meet Valerie, the winner of our 2017 Outstanding Contribution Award
An ex-carer, Valerie has been supporting the Alzheimer's Society for 28 years and counting!
From volunteering to fundraising to raising awareness about Dementia Friends, Valerie has gone above and beyond to raise awareness about dementia and change attitudes in her local town, Oswestry.
Meet the amazing Valerie in our winner's video.
So, why did Valerie win?
It goes without saying that Valerie is a fantastic advocate for volunteering and Alzheimer's Society. Committed, hardworking and passionate about dementia awareness, her contribution to improving the lives of people with dementia is truly outstanding.
Here are just some of the ways she has united against dementia:
Setting up the Whitchurch Carers Support group, providing vital respite and support for people caring for a loved one with dementia.
Helping to found the Shrewsbury Volunteer Fundraising Group who regularly fundraise on our behalf. Valerie recruits new volunteers, helps out at events (even at short notice!) and is the go-to person for fundraising support in the area.
Organising the first ever Shrewsbury Memory Walk, which raised over £2000 in the first year! Plans are already underway for 2018…
Raising much-needed awareness by encouraging her local community to become Dementia Friends, even running many of the sessions herself.
Creating valuable links with local businesses and organisations. For example, she encouraged staff at her local Sainsbury's to become Dementia Friends and fundraise for us. They have since chosen Alzheimer's Society as their charity of the year!
A big thank you to our finalists
A huge thank you to Valerie and every single one of our finalists for uniting against dementia. Every hour, pound and moment you give, and every time you demand people affected by dementia are heard, you make a life-changing difference. See the full list of winners.