Meet Bryn, our four-legged Side by Side project volunteer who has been putting smiles on people's faces in Wales dementia services.
Hello, my name is Bryn. I am a border collie and I am 6½ human years old.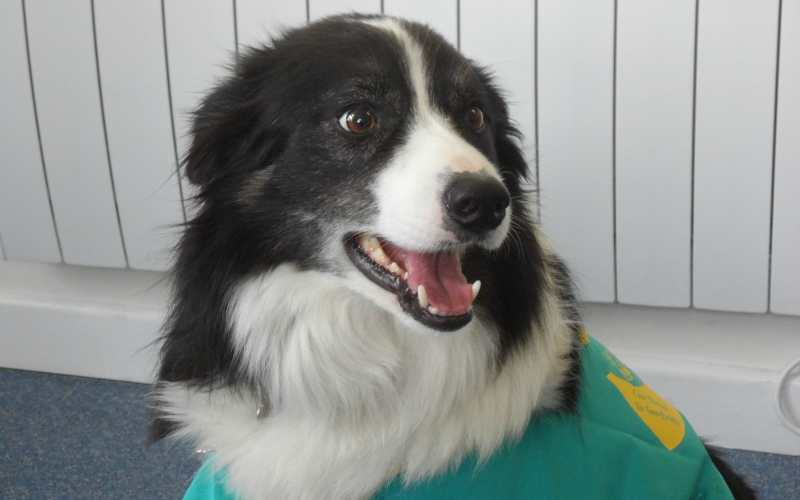 ​
My furry parents both work sheep on a farm near Lampeter and when I was a little pup I thought that would be my future too. However I have really fallen on my paws in life! When I was twelve weeks old some nice people came and chose me and I went to live on a smallholding near Llandeilo, where I love helping my mum to move the sheep from field to field. Most of the time though I live in the house, with lots of hugs and a warm spot to relax by the woodburner.
I have always loved people and go pretty much everywhere with my mum, so when her nanna went to live in a nursing home a few years ago I used to tag along for visits too. I thought it was a great afternoon out because the people living there made a lot of fuss of me and gave me biscuits. My mum used to comment how many of the ladies would remember me more than her, and that's how she had the idea for me to become a therapy dog …
First I had to go to the vet for something called an assessment. The vet was having a bit of a funny day and kept dropping things on the floor and making loud noises, then she wanted to fuss me and brush my coat, but of course it didn't faze me. Nothing much does. At the end she said I would make someone a lovely friend - which I could have told her anyway - and we were ready to start.
The next step was for me to meet some of the lovely people who work at the Alzheimer's Society in Ammanford, who arranged a special coat so that people know I have passed my assessment to be a Carmarthenshire Therapy Dog. And then came the best bit of all, when they arranged a new friend called Rhiannon for me to visit every week.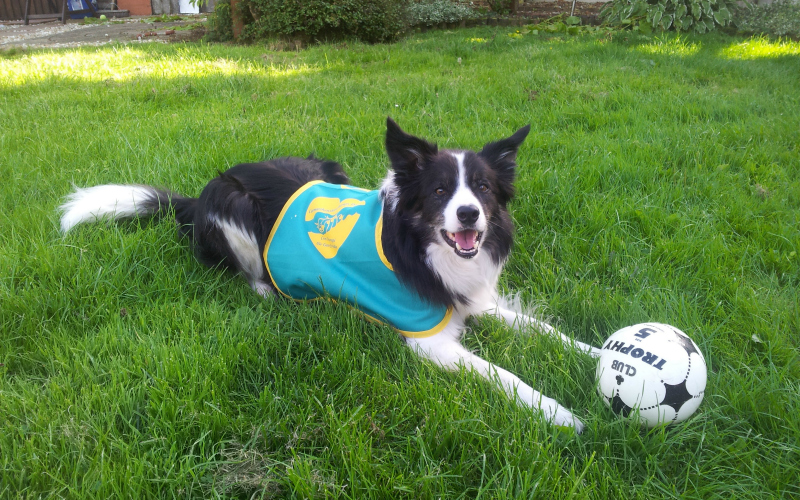 ​
I love going Rhiannon's house. It's right up there with fetching the sheep! As soon as mum starts getting ready I know where we are going and I always get to Rhiannon's front door ahead of her. Rhiannon is a lovely lady who has had a really interesting life. When we arrive she gives me some of my favourite treats and makes a huge fuss of me. After that I'm usually ready for a snooze while mum and Rhiannon talk about what they have been up to - they can't half chat! Then it's back to me again for more fuss before we go.
When we are driving home, my mum always says it's one of the highlights of her week and then she takes me for a really long walk as a reward. I could tell her that seeing my new friend is enough of a treat, but who am I to turn down two such lovely outings in one day?
Further information