Meet our Dementia Friendly Awards 2016 winner, Ernie Malt, who works hard to help people living with dementia in his community, and continues to inspire with his hard work and dedication.
Modest pensioner Ernie Malt has become something of a celebrity in his village of Evenwood, County Durham.
The 70-year-old, a former Chief Petty Officer in the navy, has notched up a string of impressive achievements.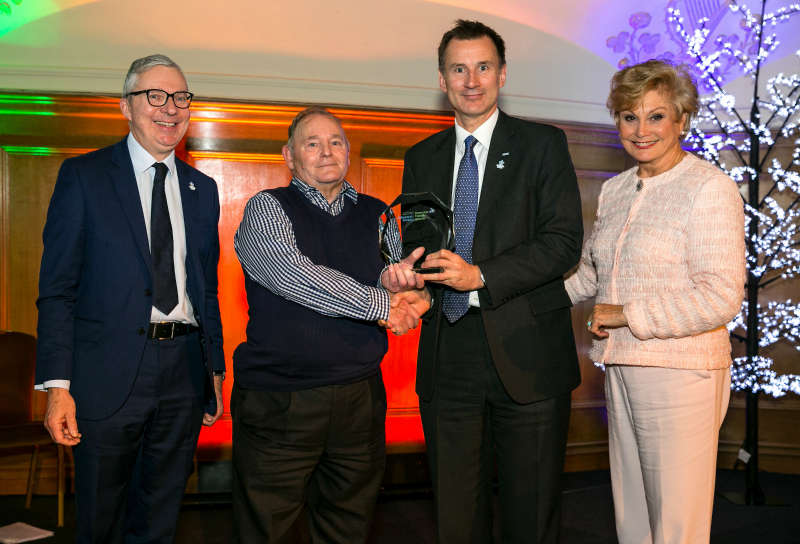 ​
He was the driving force behind the launch of the village's Dementia Café.
He became the 'face' of a high-profile media campaign to promote Durham and Darlington Fire and Rescue Service's Safe and Wellbeing programme.
He assisted Virgin Trains in evaluating its Dementia Environment Audit Tool.
And he secured local authority funding to help create a sensory garden in the village, even contributing to the pot himself with money he received for his birthday.
Incredibly, he has done all of this in the past year despite being diagnosed with Vascular Dementia in 2014.
Award winning Ernie!
Ernie, who also has type 1 diabetes, topped an incredible 2016 when he was named Inspiring Individual of the Year at our Dementia Friendly Awards in London, receiving his trophy from Health Secretary Jeremy Hunt.
And on December 22 last year, at the Dementia Café he made possible, locals turned out in force to pay tribute to his achievements.
Dementia Support Worker Rowena Carr presented him with framed photographs and press cuttings, and said: 'What Ernie has achieved is nothing short of miraculous – he has the drive and enthusiasm of someone half his age.'
Meanwhile, Andrew Ball, the region's Dementia Action Alliance Project Manager, said: 'I don't think of dementia when I think of Ernie – I think of inspiration, boundless enthusiasm and of someone who is, quite simply, an outstanding ambassador for Alzheimer's Society.'
Two of the region's newspapers covered the event. Alex Metcalfe, a reporter for the Teesdale Mercury, revealed: 'We wouldn't have missed this for the world. Ernie has become a real celebrity in these parts – we even have a special folder for him at the Mercury. That's when you know you've arrived!'
Ernie, however, remained as modest as ever, and told well-wishers:
'I accepted the award in London but it wasn't for me…it was for all those who have supported me and for everyone else living with dementia.

'I feel touched and humbled by all the warmth that has been shown to me. I just want to keep on doing what I can to improve the lives of people living with dementia for as long as I am able to.