The All-Party Parliamentary Group on Dementia has launched an inquiry into dementia and disability. Find out what it means for people affected by dementia.
This month marked the launch of a major new inquiry into dementia and disability.
Working with Alzheimer's Society's Ella Robinson, the All-Party Parliamentary Group on Dementia will seek to understand how dementia is seen in our society in relation to disability.
Find out how you can play a key role in shaping the inquiry.
What is the All-Party Parliamentary Group on Dementia?
All-Party Parliamentary Groups are informal groups run by and for Members of the House of Commons and House of Lords. The APPG on Dementia is chaired by Baroness Greengross, Debbie Abrahams MP and Edward Argar MP.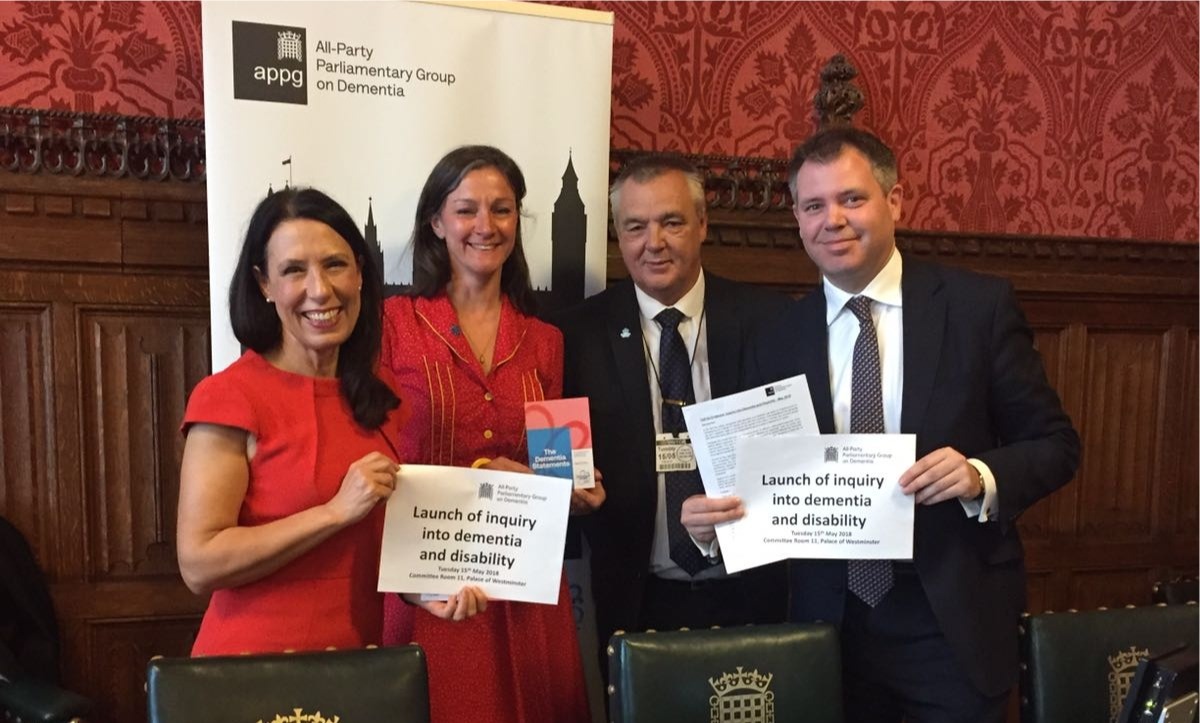 ​
Left to right: Debbie Abrahams MP, APPG Co-Chair; Sally Copley, Director of Policy, Campaigns and Partnerships at Alzheimer's Society; John O'Doherty, living with dementia; and Edward Argar MP, APPG Co-Chair
Why disability and dementia?
Dementia falls within the legal definition of 'disability' within domestic and international law. However, the public, organisations and people affected by dementia may not view it this way.
The APPG on Dementia is interested to look at how people view dementia and what it means to identify dementia as a disability.
It's clear that people with dementia face certain challenges in having their rights upheld across all areas of life. These might include access to healthcare services, the right to vote or being able to live independently in their community. Such challenges may stem from dementia being considered as a 'hidden' or 'invisible' disability.
The APPG on Dementia will investigate the barriers that people with dementia face in having their rights met. It will also look at the impact of these barriers on their daily lives. We know already that people experience challenges in a range of areas. People we have spoken to have told us:
'People are surprised when I say I have dementia – they say 'what, can't believe it' – it doesn't stand out like something else might'
'I've thought of doing voluntary work, but as soon as you say to somebody 'I have dementia' you won't get that voluntary work, because they know they can't leave you alone… they know that there's a liability there, you are a liability'
'The assessor looked at the body – focused on the arthritis but didn't want to hear about the mental problems. They ignored what I said I found difficult'
Have your say
The APPG has opened a 'call for evidence' where they want to collect opinions into dementia and disability.
We want to hear from you! Submissions are welcome from a wide a range of organisations and respondents, including people affected by dementia, third sector organisations, healthcare professionals and service providers.
The APPG is seeking evidence on the following questions – you do not have to answer all of them:
Please describe your views on dementia being identified as a disability
Do you feel that people with dementia are treated differently to people with other health conditions or disabilities? Please expand on your answer
How have people with dementia been supported to live well and what else do people need in order to continue to live well?
What do you think are the main challenges that people affected by dementia face in day-to-day life (for example using transport or in employment)?
What support currently exists to address these challenges and what future action do you think needs to be taken to address these challenges?
We are hopeful that through this inquiry we can create meaningful change for people with dementia. As a result of the call for evidence, The APPG will publish a report in Autumn 2018.
Keep an eye out on our channels, as we'll be sharing the report once it's released.
How to submit
Please be aware of the following guidelines when making your submission of evidence:
Please make your submission by Friday, 20 July 2018.
Submissions should be no more than 1,000 words
Please state clearly who the submission is from, i.e. whether from yourself in a personal capacity or sent on behalf of an organisation
Include a brief description of yourself or your organisation