Ma is the mother of Dilly's husband (Mr B), she was diagnosed with dementia in 2012. Ma agreed to let Dilly write about the family's life and experiences in the Life with Ma series.
Towards the end of last year, Ma left her northern home to stay with us for a party. We celebrated various birthdays and spent time with Ma's three-week old great-grandson.
She remembered some of the house from living here a few years back. Ma enjoyed the familiar faces and her old room, which we've kept the same.
Interactions with the baby
Ma was delighted to hold the baby and chatter away to him – a surprise, as when our daughter was born she was reluctant to hold her, saying, 'I prefer them when they're older.'
After settling in well, she was confused and tearful in the morning, trying to make sense of where she was and, I suspect, worrying that this was a permanent move. Her granddaughter cheered her up and reassured her, fortunately also finding spare Alzheimer's medication to replace the pills that had not arrived with her!
Back in her northern home, another visit by the baby has affected the whole family.
Holding her great-grandson clearly brought back Ma's memories of having twins and 'a very absent husband', as she put it.
Seeing her talking to the baby and reciting This little piggy (with some unusual words), her other son said it felt very special having Ma around, as it made him appreciate what a great mum she was. Once again, we are grateful that she continues to live so well.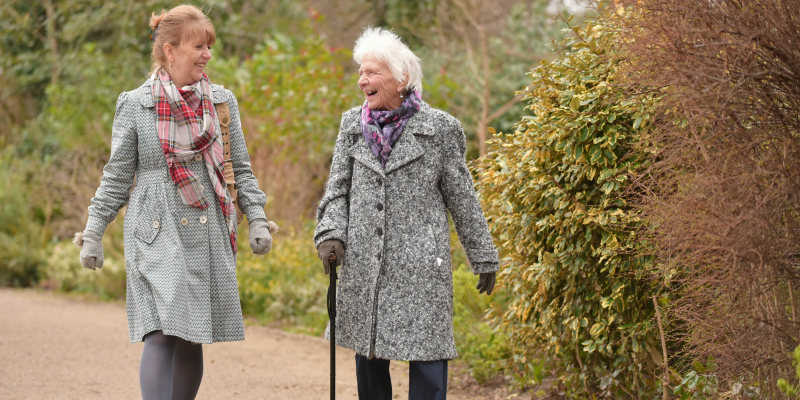 ​
Sorting through unused clothes
When Ma had returned to her northern family home, we decided we ought to send her fabulous but unused clothes to the charity shop for someone else to enjoy.
She could never resist new outfits and has always had great dress sense, so there's a lot in her wardrobe. I save some scarves and jumpers and a few pairs of shoes, though her bunions now require special footwear. We remember her wearing her favourite clothes in happier times, so sorting through them like this makes us sad.
Although Ma's memory is poor and she's not keen on changes to her routine, the frailties of old age seem to hamper her most.
She has macular degeneration and needs bright light to see. Yet she remains energetic, finding her way to the ironing board, where she indulges her passion to iron everything in sight, and always willing to walk to the park, hugging onto our arms to keep steady.
I met up with Sue, a friend who still calls in and takes Ma out from time to time. Sue set up a thriving neighbourhood group for older people, but Ma declined to take part, saying, 'I don't want to spend time with old people.'