Ma is the mother of Dilly's husband (Mr B), she was diagnosed with dementia in 2012. Ma agreed to let Dilly write about the family's new life and experiences in the Life with Ma series.
Dilly's story continues...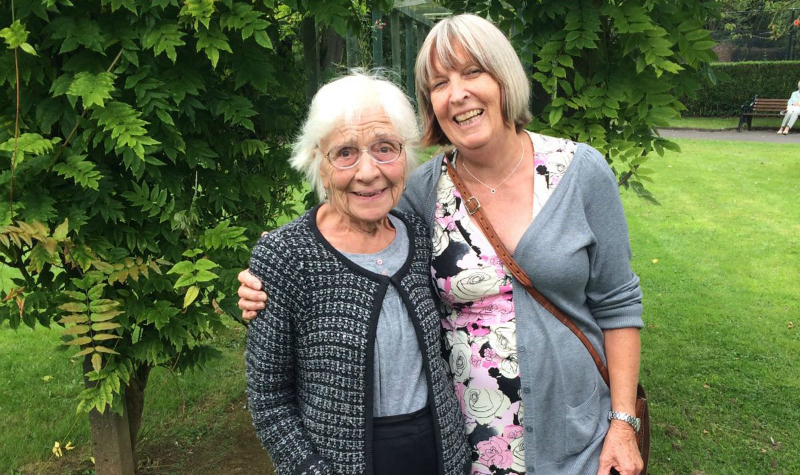 ​
A visit to Ma while she stays with the northern branch of the family found her much her same cheerful self, to our relief.
Her wicked sense of humour has not deserted her. When trying to get her to come out for a walk – always a struggle – she proclaims, 'Am I a problem?' and puts a bag over her head.
A gift of chocolate is always welcome, and there are two rounds of, 'What's in the bag? Ooh chocolate!'
Ever the flirt, she's delighted to see her granddaughter's new husband and declares, 'I'm feeling really irresponsible!'
Thankfully, she still engages in our lively conversation round the table. Some facts may be a bit muddled, but not to her.
She happily describes recycling systems during the war along with clear details of her upbringing, and when reminded she is 90 says, 'Look how old I got!'
Ma maintains a critical stance on certain matters, and the grandchild who lives with her gets the brunt of all her siblings' and cousins' shortcomings. When she protests, Ma replies, 'It's the same name!'
Any joking at Ma's expense is likely to raise a disapproving stare and the wry comment, 'Amazing how much mirth you can provoke.'
We finally persuade her to walk to the park and she walks two miles without signs of tiredness, loving the flowers she may no longer be able to name and the look of the park.
She repeats a number of times, 'I love the green!' We certainly love her.