Kim's late Grandad had dementia with Lewy bodies. Read about his diagnosis, how their family coped with care and why Granda will always be Kim's hero.
Writing and sharing a story about how you or a loved one has been affected by dementia can offer some relief for both writer and reader. Alzheimer's Society welcomes Your Story submissions from anyone who wants to write about life with dementia. Although we read and appreciate every contribution, unfortunately we're not able to publish them all. If you'd like to share your story, email it to [email protected], along with a few details about yourself. Or, carry on reading this week's entry below.
This week, Kim shares her story about caring for her Grandad who lived with dementia with Lewy bodies.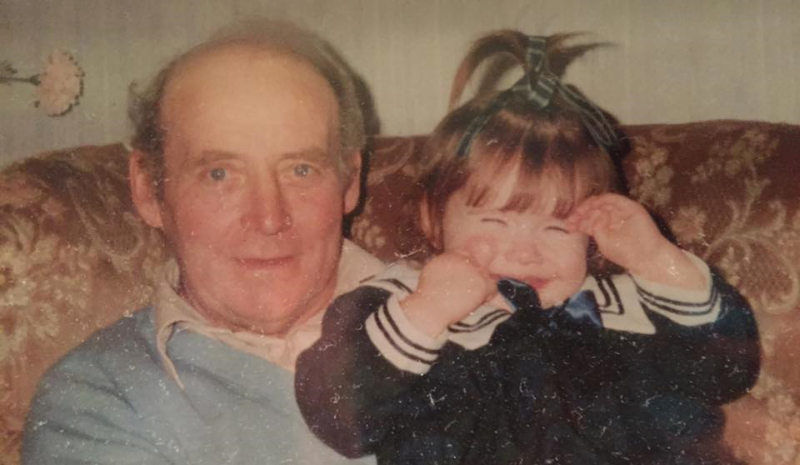 My Granda always was and always will be my hero.
He was diagnosed in 2009 after we noticed he had become forgetful and disorientated. A later diagnosis was made of dementia with Lewy bodies, meaning his body mimicked the symptoms of Parkinson's as well as the dementia.
Initially, it was just the short term memory loss and slight disorientation that we had to deal with. This eventually developed into the late night regressions into his former life in the Navy and would think he was on a ship.
Then came the falls. I remember one particular fall, he had fallen in the bathroom and had become trapped behind the door. My Grandma had called the support line to get someone to come and help us get to him. In the meantime, he shouted out to me and asked me to sing to him, I had no idea what to sing!
I was in the midst of hysteria at this point worrying about how we would get to him and all he wanted was me to sing his favourite song - My Way. Suddenly, I heard a rustle upstairs and the bathroom door burst open with my Granda singing 'I did it my wayyyyyy.'
He kept his sense of humour right to the very end.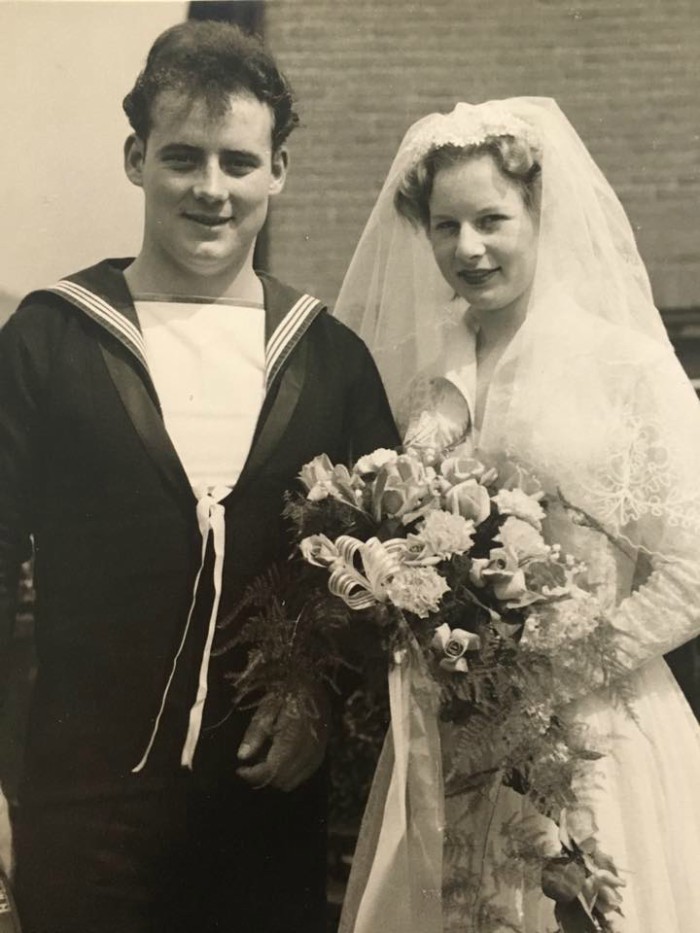 ​
Kim's Granda in his Navy uniform, on his wedding day
Moving Granda into care
Eventually, we had to move him into a care home as it became too much for my Grandma to cope with. By this point, he was confined to a wheelchair and would only speak in whispers.
The big strapping man whom I could always rely on had become a frail, small man who was now relying on us and the nurses in the care home. The nurses were amazing with him, especially as he wasn't the easiest man to look after. Always thinking he knew best and that he could get up and walk around. I used to spend my free afternoons sitting talking to him and feeding him ice cream. He was always partial to a McFlurry and, if I didn't take one, he would refuse to talk to me the whole time I was there! Sometimes, he would end up with 2 or 3 in a day if my grandma and mam also visited.
The last time we spoke
We were lucky that he never forgot who we were but we did have to watch the man we loved disappear in front of our eyes.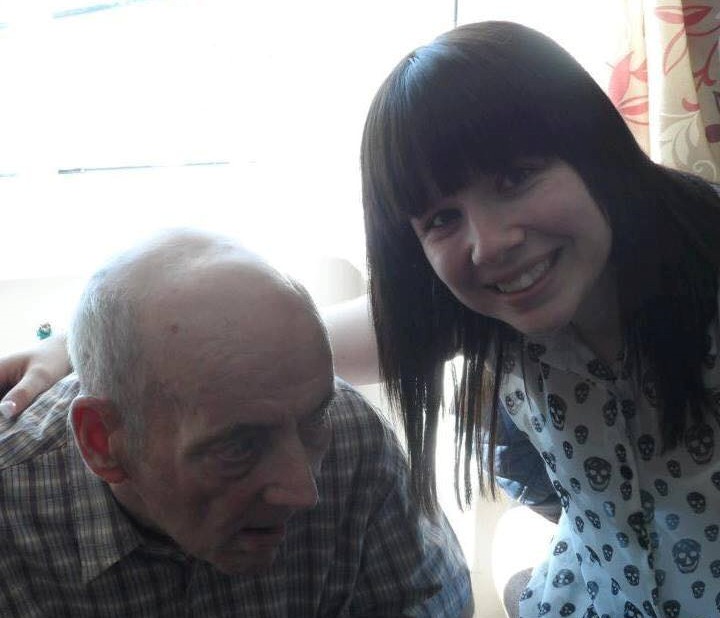 ​
Me and Granda in 2012
I remember the last time I spoke to him, he wished me Happy Christmas on Christmas Day 2012. I wished I had known that would've been the last time I was going to speak to him as there is so much I would've said.
He passed away in his sleep on New Year's Day 2013.
My Granda was the closest I had to a dad growing up so losing him was like losing my dad. People say time is a great healer but 4 years on, my heart still aches thinking of him.
So much has happened in the last 4 years that he has missed, I got married last year and would've loved to have him walk me down the aisle.
I like to think he was there watching as he is whenever anything big happens. I hope I've made him proud.