Kathy's father-in-law and brother developed Alzheimer's disease. She's doing Memory Walk to raise awareness and essential funds for Alzheimer's Society.
When Kathy's father-in-law and brother developed Alzheimer's disease, the Alzheimer's Society magazine helped her cope. Now, Kathy has organised a Memory Walk to raise awareness and essential funds for dementia research. This is her story.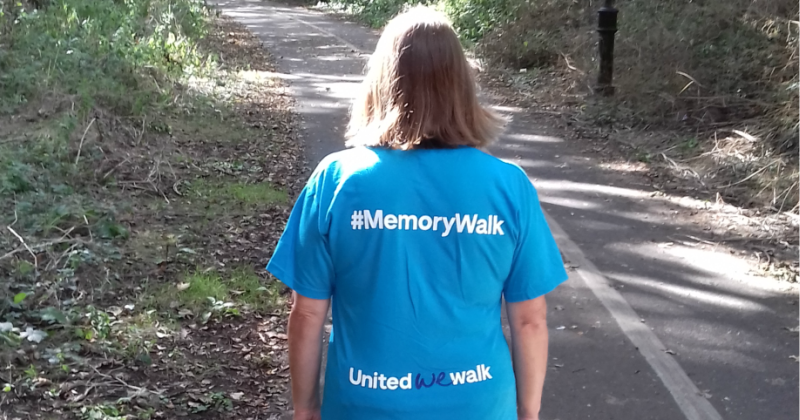 ​
Kathy is ready to take part in Memory Walk
My late father-in-law was a kind and generous man. He never really understood that he had Alzheimer's disease. He used to say, 'Yvonne has a better memory than me, ask her', if he couldn't remember. (Yvonne was my mother-in-law.)
He managed really well on medication for 20 years before he started to get more agitated. If my father-in-law got annoyed we'd ask him about one of his favourite topics.
He loved to talk about his first job as a gold beater in London, or his father's bicycle shop in the East End. He'd start talking, and we'd enjoy listening to him. He'd easily forget his other worries and what had upset him. Sometimes he would finish the story and immediately start from the beginning again. But it kept him happy, so we just pretended we had not heard the story before.
My father-in-law still thought he was taking care of the garden, even at 87, as he had always had a beautiful garden. Memorial gifts for my father-in-law went to Alzheimer's disease research. We hope there will be a cure for future generations.
Kathy's brother and his dementia diagnosis
My brother has early-onset Alzheimer's. He is in his late 60s. He was a special needs teacher all his life and loved to coach sports teams. Up until last year, my brother was helping out at the local school. It seems he didn't agree with the teachers and couldn't remember his teammates. Sadly, they didn't want him to go back for the next term. He also had to give up driving as he was getting lost more often. Now he spends a lot of time in the garden.
I have tried to encourage my brother to get involved with the local services from Alzheimer's Society. But since he doesn't believe he has an illness, he rejects this idea. My brother says he only has short-term memory problems. Every person is different and there are many types of dementia. What works for one person may not work for another.
With my brother, it's much better to get him outside walking and let him tell you his stories as you walk. My brother is physically healthy and has a lot of energy for his age. He has always done a lot of camping, walking, fishing, anything outdoors. We often hear him tell the same stories of things that happened on his walks or of the rope swings he made. I am hoping he will come to stay so I can keep him busy.
Suggestions of ways to cope
It's important to read the Alzheimer's Society magazine, Dementia together, books and information sheets. They will give you a better understanding of what a person with dementia is going through.
You may be able to cope a bit better when you know why they behave as they do. For example, they might become frustrated or frightened because they don't know what is going on. It's very difficult to be patient if you face challenges 24 hours a day, seven days a week.
Try to find time for yourself and your friends. Share the load with other family members, carers, or a day centre.
My Memory Walk
I joined Memory Walk because I value the support I get from the Alzheimer's Society. I want to let people know there's support out there and raise funds for the Society so they can carry on their good work.
The Memory Walk I have organised will be held on 23 September. We'll meet opposite Lancaster Castle John O'Gaunt Gate, near the back of the Storey Institute. We'll leave at 1pm. It is a one mile circular path, mostly off roads. There will be pauses to reflect on memories that you might like to share with a fellow walker.
Enjoy the simple pleasures of the world around us. Be prepared to listen, smell, and consider the weather, be it a warm sunny day or a damp and cool one. You can donate online to support my Memory Walk using JustGiving.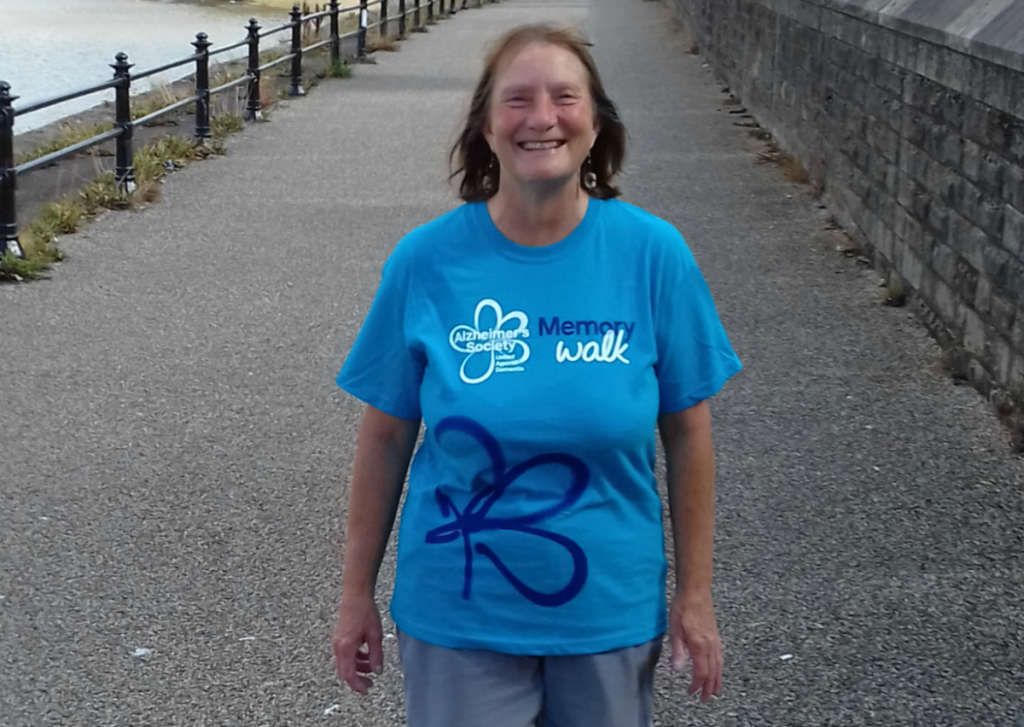 ​
Kathy preparing for Memory Walk
Next steps
All ages and abilities can unite together to raise money to defeat dementia by taking part in Memory Walk. The walks are spread across England, Wales and Northern Ireland and each walk will take on a different route, either through a city, woodlands or a park.
Learn more about organising your own Memory Walk. It'll be Your Walk, Your Way.