By taking part in Memory Walk, and joining over 100,000 walkers united against dementia, you can help fund vital research. Read Kate's personal experiences.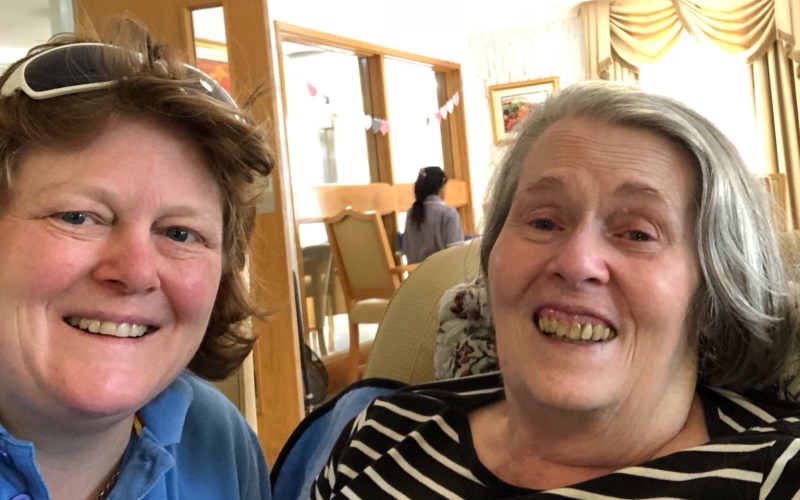 Receiving a diagnosis
Mum was diagnosed with Alzheimer's disease a few months before her 65 birthday – over eight years ago now. When she was first diagnosed I knew nothing about dementia or Alzheimer's. It would be a couple of years before I discovered Alzheimer's Society in Wandsworth.
I wish I knew then what I know now! It's so important to me to continue spreading the word about the Society. I want to help people understand that even with a dementia diagnosis, you can still enjoy things.
Mum, for the first few years, certainly did and still does to some extent now. After Mum's diagnosis, there was very limited information available to her. She was sort of patted on the back and told to go to her GP if there were any problems, which was very frustrating.
Living with dementia
Mum's Alzheimer's is now at a very advanced stage. She's no longer mobile and her communication skills are very limited. I go and visit her several times every week never quite knowing what to expect. I feel there are three types of visit.
There's the silent visit when Mum is in her own world. Her eyes don't focus at all and whatever I say or do, I am never sure if Mum knows if I am there or not. Regardless, I chat away, give her lunch that she will always eat and tell her I love her.
The second type is the agitated visit. This is rare but usually if Mum has a cold, is getting an infection or has a pain, she rubs her hands together or on her head. She'll be quite agitated and distracted and loudly repeats words in her own language. But, she will usually eat, and does calm down when she sees me.
The third type of visit is the best; the smiley one as I had this week. I walk in and her eyes look straight at me. They are sparkling blue. She bursts out laughing and says "Lovely" in her own voice - my mum's distinct voice, not the 'Alzheimer's voice', which is muttering. I cannot describe it, but there is a difference. We have chats about nothing and everything with Mum in her own language. I show her, as I always do, photographs and she really enjoys it – but this type of visit we just laugh, smile and I get to see 'my mum'. It is just the best and makes my journey home much easier.
Memories from my first Memory Walk
The first walk I did for Alzheimer's Society was a Memory Walk in Battersea Park. Mum was living in Battersea with her partner and dog when she was diagnosed with dementia. She and her partner loved walking along the River Thames, so this one appealed to me. Primarily, I walked for Mum. But I also walked for all those I have met through my volunteering with the Society, both people with dementia and their carers.
Volunteering as I do for Alzheimer's Society, I see first-hand how important the work of the dementia support workers and advisors is. The day itself was a beautiful, sunny, warm early-autumn day. The walk was well-organised. Upon arrival, there were stalls with various local bits of relevant information or advice.
This was very useful to me at the time as I was beginning to look for carers for mum. There was simple warm-up routine before the walk and the opportunity to remember who and why we were walking.
My favourite part though was showing my mum my medal and telling her I had walked for her. It was also great to be part of a special day raising awareness together with others.
The bigger the crowd of people, the more the impact as you walk round a city or town. Memory Walk is a good opportunity to meet up with other people – to know you are not alone in the fight – caring for someone with dementia can be a very lonely time. It is also an event that someone with dementia and their family can take part in together. It makes it a lovely day to create more happy memories.
Next steps
• Become a volunteer for Alzheimer Society's and learn about opportunities to support our fight against dementia.