When two men named John signed up to Alzheimer's Society's Side by Side programme, they never expected to be paired with someone they'd already worked with.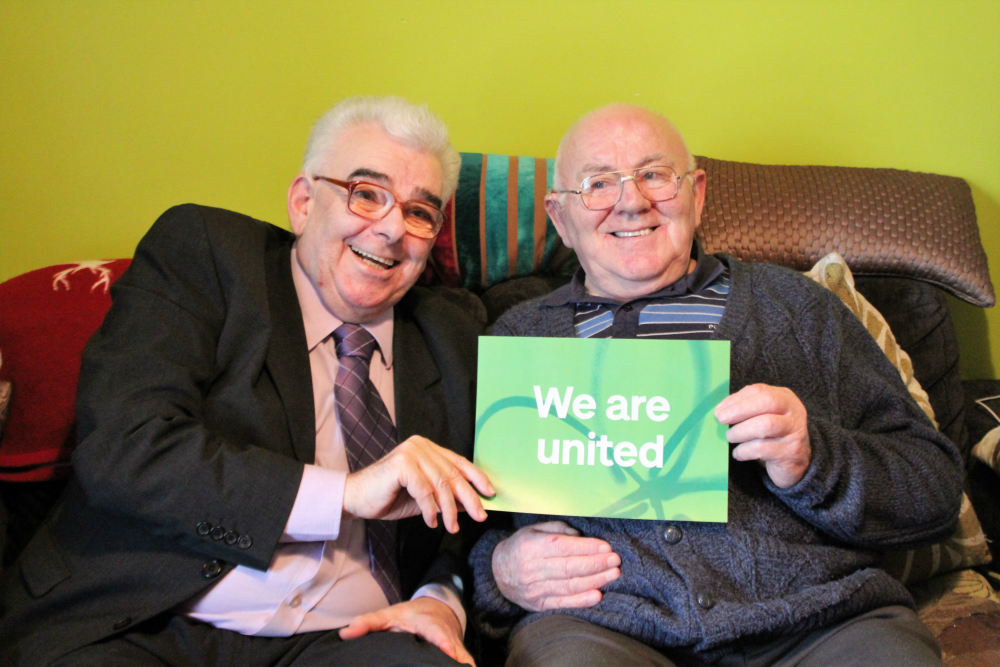 John Campbell and John White
When two Newry men both named John signed up to Alzheimer's Society's Side by Side programme – one a volunteer, the other a man with dementia looking to resume his hobbies – they never expected to be paired with a person they'd already worked side by side with.
So when John White met up with John Campbell, he was surprised to find they recognised each other.
It didn't take long to work out both had worked at Newry Steam Laundry in the 1960s, and soon they were reminiscing about old times.
What is Side by Side?
Launched in response to the loneliness and isolation so many people with dementia report experiencing, we set up our Side by Side service to reconnect people with dementia with their communities and favourite pastimes.
From joining a local club, going to the football, or just going for a stroll in the park, we pair people with dementia and volunteers with shared interests.
Piloted since 2014, Side by Side now has a waiting list of people in Newry and surrounding areas waiting to be paired up.
John and John's story
John, who had found himself with time on his hands after his retirement, signed up as a Side by Side volunteer after hearing a talk about the programme. He was matched with a man who lived nearby and coincidentally was also named John.
We love to share old times stories and great craic together.
When they met, he looked familiar, and it didn't take long for them to work out they had been colleagues at Newry Steam Laundry from 1965 to 1969. 'When he said where he lived the penny dropped. His father was the bread man, so I'd known him then and then we worked together.'
The two hit it off again straight away, and find plenty to talk about on John's weekly visits. 'We talk about history and politics and football. Luckily we both support the same teams – Liverpool, Celtic and Down. And we reminisce about people who we used to work with in the laundry and the things we used to get up to. We love to share old times stories and great craic together.'When John Campbell recovers from a broken ankle, John White will take him to Mass, something he has been missing.
'The diagnosis was a bit of a relief'
John Campbell's daughter Majella Campbell said her father has been showing signs of dementia for a few years, but was only diagnosed with Alzheimer's disease and frontal lobe dementia in October.
'The diagnosis was a bit of a relief to him, as he knew what it was – knowing something was wrong, but not knowing what was very stressful,' she said.
She said her father always looks forward to John White's visits. 'Going down memory lane brightens up his day,' she said, adding that it makes her father much less isolated having a visitor who isn't family, and gives her mum a break and "a bit of alone time'.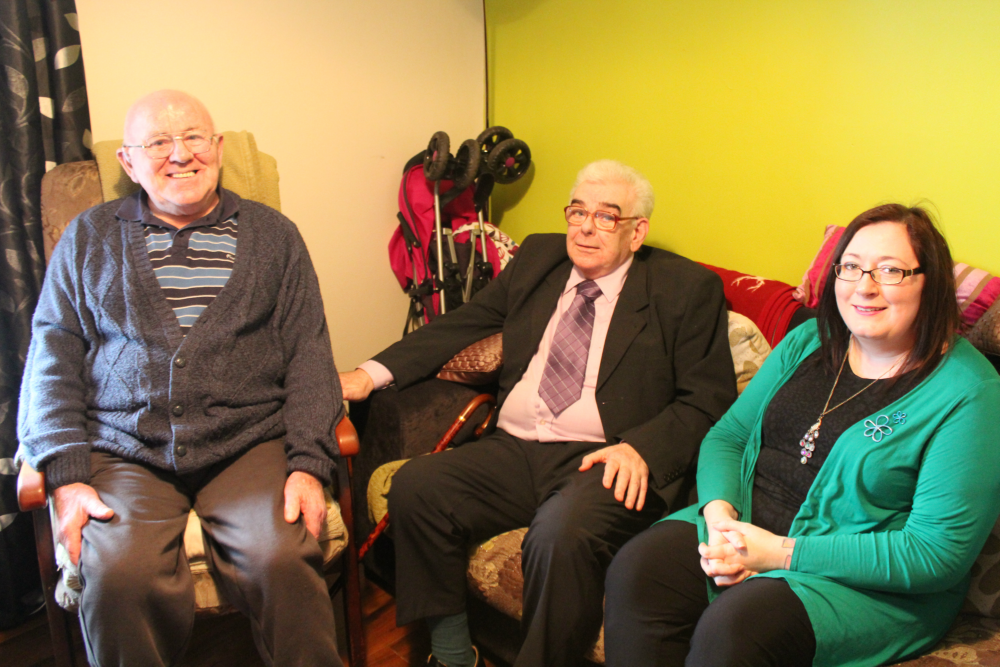 ​
'I get great satisfaction out of it'
Alzheimer's Society Side by Side Manager, Hazel Haworth said:
'We want to ensure that every person with dementia in Northern Ireland has the opportunity to access Side by Side. We need more volunteers to enable people with dementia to stay connected and help to reduce feelings of loneliness that may be felt after a diagnosis.'
'Volunteers are crucial to the success of this service and can range from providing support once a week to once a fortnight at a time that works for the volunteer and person with dementia.'
'It might be taking a walk in the park, a visit to a café or a chat over the phone. It sounds simple, but it can make a huge difference to someone's life.'
As for John White, he would recommend becoming a Side by Side volunteer to anyone who has a caring nature.
'I get great satisfaction out of it. I love seeing John. It's great to see him smiling and laughing. It gives the family a break and helps them too.'
'I'm enjoying doing the Side by Side visits so much I am talking to Hazel about taking another person on as well,' he said. But he's not banking on such a blast from the past next time!
Could you help someone with dementia this Volunteers' Week?
This Volunteers' Week (1-7 June), we want to thank all the incredible volunteers making a difference to people affected by dementia every day. If you'd like to support someone living with dementia and help them continue doing the things they love, take a look at the opportunities in your area.