Ahead of The Scout Association's A Million Hands Big Moment in spring 2018, we hear from Bruce Moore. He is a Dementia Friends Champion, who recently held an Information Session with young Sea Cub Scouts.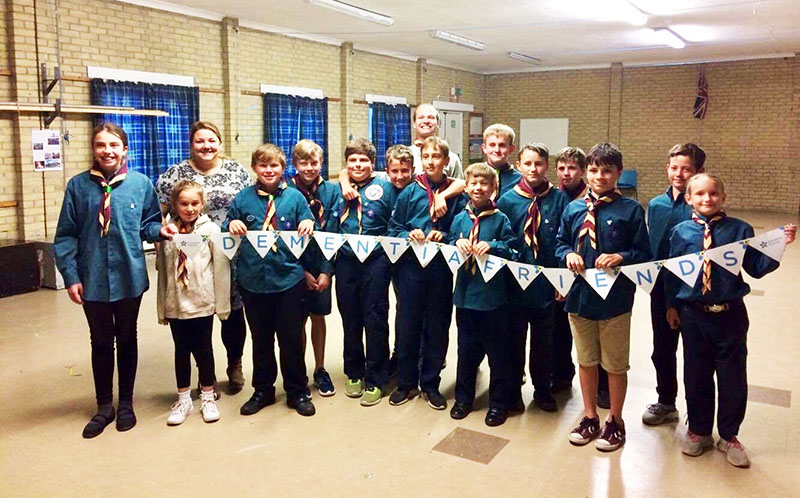 ​
W.C. Fields famously said, 'Don't work with animals or children'.
I wouldn't suggest trying to get your cat or dog to become a Dementia Friend. But after a recent experience with a group of Sea Cub Scouts, I would recommend Dementia Friends Information Sessions for young people and children.
My experience with Dementia Friends
I became a Dementia Champion a year ago. I work for a housing association that is a dementia-friendly organisation. It provides housing and care for older people for whom dementia is a particular worry. This lead to my delivery of Dementia Friends Information Sessions to staff and also to older residents. They may feel concerned about dementia themselves or may have a neighbour living with the disease.
I have also delivered Dementia Friends Sessions beyond my work environment to my family and also for a local Women's Institute. The WI group were even kind enough to donate a huge number of fantastic twiddle muffs they had knitted.
Invitation to volunteer
When I got an email asking for volunteers to run a Session with a group of Sea Cub Scouts, I thought nothing of volunteering.
I am so glad I checked out the highly recommended guidance on delivering Dementia Friends Information Sessions to young people. This resource provides a wholly different Session plan from the normal adult Sessions. It also provides lots of great suggestions for how the Session can be made relevant, fun and participatory.
Beginning the Cub Scouts Information Session
I arrived to find 20 young Cub Scouts full of energy, dashing around the Scout hall, noisily playing games. Once the Akela - the adult leader of the Cub Scouts - called them to order, they all gave her their full attention. She explained what they were going to be doing and how understanding dementia would help towards their Community Scout Badge. Over to me!
Following introductions, I got the Session going by asking the Cubs (who were sitting nicely on carpet squares on the floor) to work in pairs. I asked them to think of all the things we use our brains to do. There is a long list in the resource pack, but I admit I thought they wouldn't get many of them other than loss of memory. How wrong I was!
The Cubs were so enthusiastic and came up with suggestions covering almost every possible function of the brain. This provided a great platform for the follow-on discussion. We discussed the consequence of dementia taking away abilities.
Further activities with the Cub Scouts
We then did an exercise about the steps involved in getting dressed. The Cubs were quick to spot that the printed list from the resource pack didn't include putting on any socks. This lead to another fantastic discussion about the steps and brain faculties required for something simple, like getting dressed.
The session uses the Bookcase Analogy. But to prepare for this, I asked the Cubs to think about the type of memories I might have as an 80-year-old. I asked about memories of recent things I had done, of being a grand-parent, parent and young person.
There was a clear consensus from the Cubs that older people's favourite thing to do is visit garden centres. Also, parents exist to serve their children, it seems.
However, I had to point out that if I was aged 80, there wouldn't have been smartphones or the internet when I was a younger person.
This really made the Cubs think about how the reality of someone living with dementia could be very different. The Cubs clearly understood the message. They learned that even if someone doesn't recognise or remember, they could still have positive, emotional memories.
Committing to being a Dementia Friend
All the Cubs were very positive and made some good commitments and suggestions of things they would to as Dementia Friends.
I really enjoyed the Session. It is so important to involve young people in creating a dementia-friendly society.
The Cubs were so enthusiastic and stayed engaged in the topic. They didn't have any of the reservations or hang-ups that some older people have about dementia.
Hopefully, by helping younger people learn about the condition, they will grow up to create a society where dementia is better understood. People will more readily live positively with dementia.
Next steps