Read our Talking Point volunteer Shedrech talk about how the online support community helped her and how she plans to help others living with dementia.
Talking Point is our online community for anyone affected by dementia. Read about how Shedrech (username: Shedrech), got involved as a volunteer moderator.
I'd probably have laughed out loud at one point if you'd told me I'd be supporting hundreds of people from my sofa on an evening, but that's exactly what I do.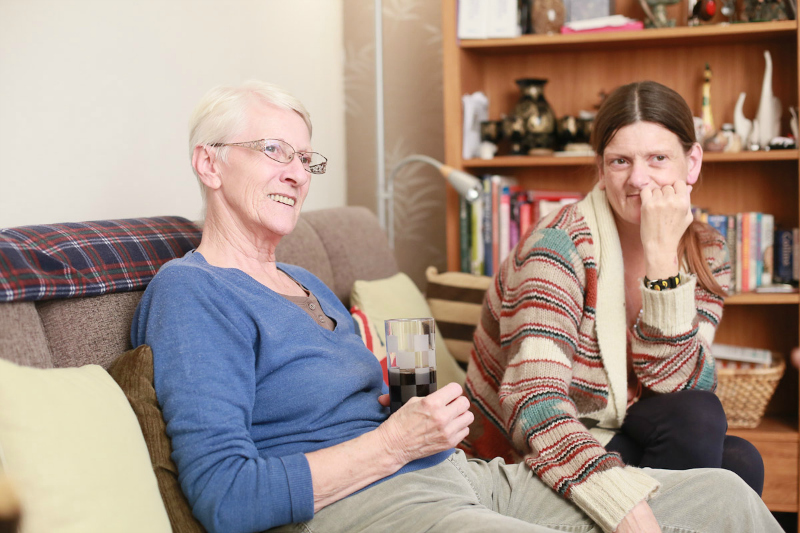 ​
Four years ago, my Dad was diagnosed with dementia – out of the blue. I did what most of us do nowadays and searched on the internet for information about Alzheimer's. I had no idea what it would mean for him or for our family,
I found Alzheimer's Society website and Talking Point, the online community. Here were people, carers and those with dementia, telling it as it really is. What a relief and, oh my, what an education. It took me a while to join Talking Point because I wasn't sure what to say, but it seemed rude to be gaining the benefit of what members were writing without being a named presence.
At first I felt I had little to offer, but then I realised that even that experience was something I could share. No-one has the answer to any problem or concern but we all offer our own take on things in the hope that it helps. That – I've realised – is what being part of a community is all about.
Moderating a 'safe space'
As a volunteer, I know now that the safe space on Talking Point – no abuse, no selling false hopes, no trolling or dodgy 'cures' – is down to the oversight of the volunteers and staff. Also new members were made welcome by regulars and volunteers. This positive culture means that people naturally respond thoughtfully whether their thread was about something that crops up a lot or a new issue.
A few people told me that what I wrote helped them, which surprised me. I think I've picked up more than I realised caring for my dad, dealing with the medics and his changing needs –we all learn a lot, quickly when we're dealing with dementia. When the carer role felt overwhelming, I started to contribute more – I think, giving myself advice by responding to the situations others found themselves in.
Then a volunteer contacted me privately to ask if I'd be interested in the volunteer host role. What a compliment; and what a vote of confidence. I hesitated as I wasn't sure what was involved in the role – how would it work? Also, I didn't think of myself as a typical volunteer…
I started to take a closer look at what the volunteers did on Talking Point – I'd seen the volunteer titles before – 'host' and 'moderator' but hadn't thought about it. They respond to new members and join in on discussions with everyone else, sharing their own experience of dementia. I can do that, I thought.
Learning the ropes
I found out that spotting and welcoming new people was vital. It's not easy pressing 'send' on that first message – I remember how much courage it takes to dare to tell others your concerns and ask for help. You join Talking Point in a whirl of emotion, overwhelmed with a situation you never expected to encounter, in dire need of information or just to hear 'I understand'. No one wants to be met with silence.
I also had questions about how much time I'd need to give, so it was good to hear that I could log on and chip in whenever I had a spare moment. I also discovered there was a volunteer area where we could support each other – online. We all give a fair bit of time each week but aren't tied to the laptop, which wouldn't be healthy!
Learning the ropes came with a little training and some phone calls. The staff and volunteers also met in person which was a great chance to put names to words on a screen!
For me, it's been a privilege to be part of the team that watches over Talking Point. I have gained real confidence from being a member of the community.
I learned so much that enabled me to care for my dad at home, then find him a care home to move into; and also look to my own needs as a person not only a carer. It's great to repay all the generous members of TP by being a good volunteer host. Well, I do what I can!
Talking Point
Visit our online community to get advice, share experiences, connect.