In 2017, dementia was placed firmly on the agenda and we couldn't have done it without your help. We look back at the year's dementia campaigns.
Rosie Leatherland, Public Affairs and Campaigning Officer, talks us through a year of campaigning for people affected by dementia.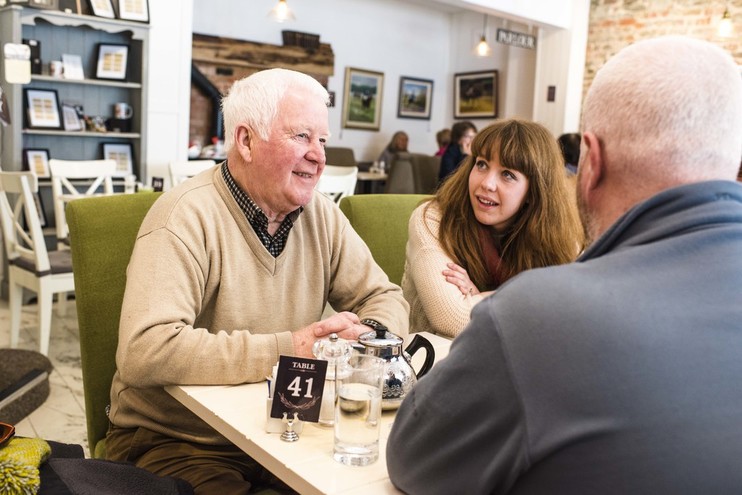 2017 was a year that dementia was placed firmly on the agenda and we couldn't have done it without your help.
From dominating the snap election with the dementia tax debate to confirming Government commitment to consult on a long term social care solution; there has been plenty for us to campaign on.
So what have we achieved this year with the support of our fantastic campaigners? Here are just a few of the highlights.
The year in dementia campaigns
Spring
The year began with our refreshed dementia statements, first launched in 2010 to capture the aspirations of people affected by dementia.
Grounded in human rights law, the statements are the basis of a rallying call to improve the lives of those affected and to recognise that they shouldn't be treated differently because of their diagnosis.
A key change to the revised statements was moving from 'I' to 'We', which represents the collective voice of people with dementia.
We also produced an ambitious and innovative piece of research, 'Turning Up the Volume: unheard voices of dementia'. Working with pollsters Ipsos MORI, this project was the largest ever conversation with people affected by dementia to hear about their daily life. We also asked the general public about their beliefs and attitudes towards dementia. The ground breaking research represents our ambition to connect with as many people living with a diagnosis of dementia as possible.
Over the border, the Welsh Government funded us to hold consultation events so that hundreds of people with dementia had their say in the Welsh Dementia Strategy. Thanks to our work, the Dementia Statements also form part of the Strategy, influencing Welsh Government for years to come.
Summer
In June of this year, the General Election took an unexpected turn when the Conservative Party announced their policies on social care in their manifesto. Dubbed the 'dementia tax', the policies shone a light on the catastrophic costs people with dementia and their families pay for their care.
We launched a petition to end the dementia tax, which over 68,000 of you signed. This led to meetings with the key Government Ministers leading on the social care reforms, as well as Jeremy Corbyn, leader of the Opposition.
We have been working with parties of all colours to ensure that the issues people with dementia experience when accessing and paying for care are at the centre of the debate on social care.
Autumn
In autumn this year we took our campaigns on the road to Conservative and Labour Party Conferences.
We hosted an event at each conference highlighting the grave challenge that people with dementia currently face in just getting the basic support they need from a complex and disjointed health and care system. MPs from across the country attended both events, including Shadow Home Secretary, Diane Abbott and Secretary of State, Jeremy Hunt.
Winter
This December we launched an investigation into Delayed Transfers of Care.
Due to social care funding cuts, people needing support at home or a care home place are being left stranded in hospital.
As people with dementia are the predominant users of social care, it's not surprising to hear they are greatly affected, but shockingly we found they are waiting in hospital for twice as long as someone without the condition. There's still time to join our campaign which will run well into the New Year.
Looking forward to 2018
What a year it has been! Looking ahead, next year will also bring plenty of opportunity to campaign for change for people affected by dementia.
The UK Government's consultation on social care for older people in the summer is a key moment for us to ensure people with dementia receive quality care at a fair price.
We will also be continuing to campaign in the many communities of people affected by dementia who are not gaining the support they need, purely down to where they choose to live.
Our Dementia Friendly Parliament project also continues, building on a successful 2017 in which we inducted all Permanent Secretaries of Government Departments and the Prime Minister herself, who we met with in her constituency early in December.
I visited the excellent @alzheimerssoc in my constituency this morning, meeting service users and their carers. I was pleased to become a #DementiaFriend, an initiative aiming to create a climate of kindness and understanding about dementia. pic.twitter.com/QoO52UlLbl

— Theresa May (@theresa_may) December 8, 2017
Thanks for uniting with us
Thank you for uniting with us over the past 12 months and making a real difference for people affected by dementia. We couldn't do it without you.
Read more about our campaign to fix dementia care