Alzheimer's Society's Side by Side project aims to help people with dementia live the lives they deserve. Three of our volunteers share their experiences.
We want people with dementia to live the lives they deserve, and Side by Side volunteers can help make this possible. The project pairs a volunteer with a person with dementia based on their shared interests.
We hear from three of our volunteers about their experiences.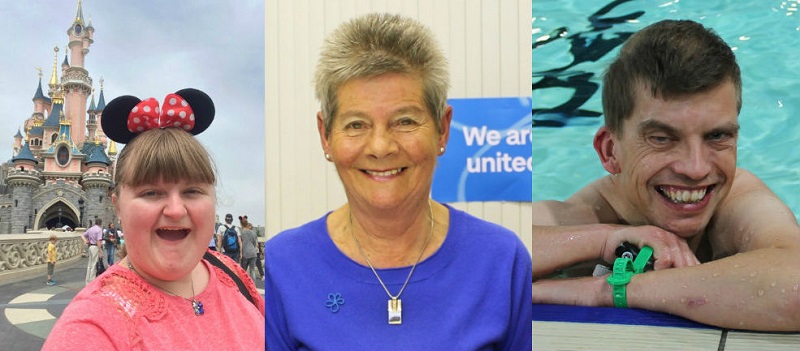 Above: Elizabeth, Ruth and Adam.
Elizabeth
Liz, who is 26, has been a Side by Side volunteer with the Society since November 2016. She supports a lady who lives in Anglesey and feels isolated. She says 'I had wanted to do something with Alzheimer's Society for a long time after two of my close relatives had dementia.'
Liz says her experience so far with Side by Side has been rewarding, fun and insightful, and that visiting the lady she supports is the highlight of her week.
'To see the person with dementia that you are supporting smile and enjoy your company is a marvellous thing in itself. Together, we have been able to build a lovely relationship. The relationship is something I will keep with me.'
Liz adds that services such as Side by Side are important to help regain confidence, to stop loneliness and to help people still enjoy life regardless of what dementia throws at them. This project promotes a positive message about dementia.
'Having dementia can be a tough, scary and unfamiliar experience. I have had many great times with the person with dementia that I support and hope to have much more. Side by Side has shown me and can show many others that life can continue beyond dementia. In particular, it promotes the message there is a person behind dementia. In my case, I have found there is a wonderful person who has made my experience with Side by Side a really great one, for which I am truly thankful.'
Ruth
Ruth says the reason she volunteered with the Society was to give a purpose to her life after her husband died from dementia.
She was paired with a gentleman who enjoys being out and about, but because of his dementia, he is no longer able to do this alone. Ruth takes him out once a week to a local shopping centre, where he can browse the shops, and buy DVDs from an exchange shop where the staff know him quite well, which he enjoys. He also loves coffee, so they usually end up having coffee twice during the outing.
Ruth says 'I am very well supported in my role, both one-to-one and support in groups. The training was very comprehensive and is ongoing. My line manager is always available for advice and support when needed.'
'I find it very rewarding whenever my client tells me how much he's enjoyed our weekly outgoing, and how much he is looking forward to the next one. His wife tells me that he talks about it all week. I also like knowing that it allows his carer to have some time, knowing that their loved one is safe and enjoying themselves.'
Adam
Adam says he benefits as much from the weekly get-togethers as former bus driver John, who was diagnosed with dementia when he was just 57. The two enjoy regular swimming sessions at Gosforth Leisure Centre's pool.
'I have a great aunt who has dementia so I know how isolating the condition can be,' says Adam. 'I've always had positive experiences volunteering and, for me, setting aside a couple of hours a week to spend with John is not really a big commitment. In fact, he's a pleasure to be with. I get to see him smiling every week and also the smile on his wife Anne's face when I take him home.
John's wife Anne has never been keen on swimming, and says they're lucky to have someone like Adam who shares John's interest. It also means she can have some time to herself while they're out.
Adam adds 'I've always liked swimming but it's a habit I got out of, so having this regular arrangement with John acts as my motivation to do something active. In fact, it's like having a gym buddy. The only problem is I can't keep up… he's a much faster swimmer than me!'
Could you help someone with dementia to keep doing the things they love?
Side by Side is a flexible way to give your time and really make a huge difference to someone's life. You can volunteer on weekdays, evenings and weekends, in person or over the phone.