In part one of our blog series on how we fund research, Faye Boswell explains how we make sure we fund the highest quality dementia research.
Alzheimer's Society is dedicated to improving the lives of people affected by dementia.
We are the leading UK charity investing in research into both care and cure for dementia. Over the decade, we're committed to spending £150 million on cutting-edge research.
With no new treatments approved for 15 years, research is essential to bring the best care and treatments to people with dementia as quickly as possible.
To make sure this happens, the Society's Research & Development team work hard to make sure that we only fund the best research ideas.
What we fund at Alzheimer's Society
Competition is high, on average we fund only 15% of the research applications we receive. We fund research relevant to all forms of dementia and receive applications from researchers working at UK universities, research institutes and NHS trusts.
Researchers can apply to one of two streams:
1. Care, Services and Public Health (CSPH) research
This can focus on quality of life for people with dementia and their carers, improving care home services and understanding dementia risk factors. Within each stream, we offer over 13 different types of awards. We support researchers through all career levels, from undergraduates and PhD students, through to world-leading experts.
2. Biomedical research
This can include finding new ways to diagnose the condition or testing existing medications to see if they could treat dementia.
What is the process for grant applications?
The Grants Team at the Society run the grant funding rounds. There are two major funding rounds a year and each takes six months, so we are kept on our toes!
After an application round has closed, we first find experts in the relevant field to review the applications and assess the quality of the science. In a typical year, we ask around 600 researchers from over the world for their expert opinion. All of them give up their time for free to support our programme.
Members of our Research Network, who are volunteers with experience of dementia, also review the applications. This helps us to know which projects will have the most impact for people with dementia and make sure that our research is kept relevant to their needs.
You can find out more about the Research Network's role in part two of this blog series.
How do we make the big funding decisions?
After the review process, the applications are prepared for the Grant Advisory Board meetings.
The Grant Advisory Board is a group of over 30 dementia research experts who meet at the final point of each round. We have separate Boards for Biomedical and CPSH applications. The members of the Board receive all the applications beforehand so they can come prepared for a lively discussion. At the end of the meeting, the Board will decide which applications to recommend for funding.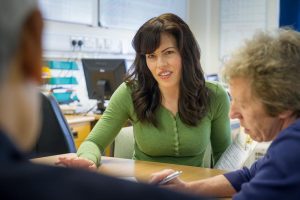 ​
What happens at the Grant Advisory Board meeting?
The Board meetings typically take a whole day. An assigned speaker from the Board, who has a similar area of expertise, introduces an application and kicks off the discussion.
The Board will pick out the best proposals by asking some of these questions:
Is there a need for research in this area?
Has it already been carried out elsewhere?
What potential impact could it have for people affected by dementia?
What do the comments from the Research Network and expert reviews say?
Does it represent good value for money?
Is the research team capable and experienced enough to carry out the research?
Are their methods good?
Will it contribute towards our aim to improving the lives of people affected by dementia?
After discussions, which are often very complex and passionate, each Board member anonymously votes on how fundable they think the application is.
The final scores decide whether the application is successful or not. We take lots of notes in these meetings to ensure that both successful and unsuccessful applicants receive feedback.
Just as we are finishing this round and notifying applicants of the good and bad news, we will also be organising the next round. This means we will already have a new batch of applications to read and the whole process begins again!
What happens next?
We work with successful applicants to support them and to monitor the progress of their grants. Grant holders submit regular progress updates to us. Then, we assign monitors from the Research Network to each project. They are able to give the researchers useful insight and new ideas from people with experience of dementia.
The Research & Development team also work to monitor the impact of our funded research to make sure research translates into real world practice. This ensures people can directly benefit from the results.