Keith Oliver is a retired headteacher living with dementia. Last year he set out to create a dementia-friendly cinema club with a difference.
Last year retired schoolteacher Keith Oliver, who lives with dementia, teamed up with friend Liz Jennings to create a dementia-friendly cinema club with a difference.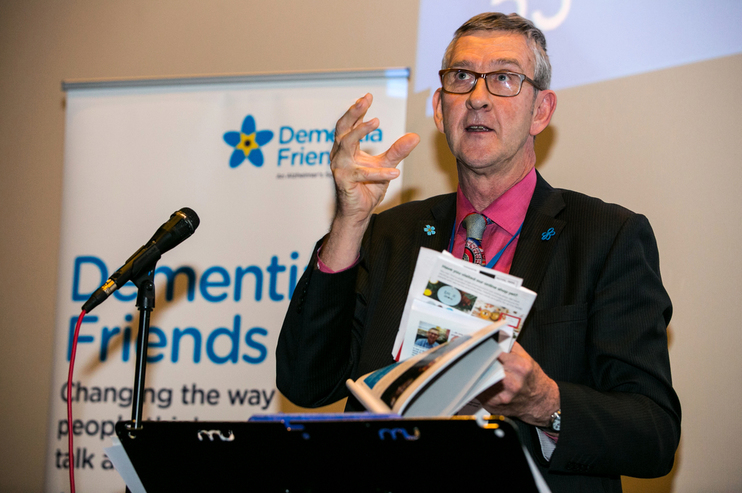 ​
Keith speaking at a Dementia Friends event
The spark of the idea came after Liz attended some 'Senior Screen' showings in Kent. The cinema offered cheap tickets, but she soon noticed that no one else from the dementia community was attending.
Keith had also attended showings in the local area and met with Liz to discuss a plan. They saw an opportunity to create a safe environment for people living with dementia to re-engage with cinema and their community.
Supported by small grants from both Alzheimer's Society and Innovations in Dementia, Keith and Liz planned six screenings. They scheduled the films between 10.30am and 1pm, which Keith says is an ideal time for people living with dementia. Not only were attendees often sharper in the morning, it was convenient for local transport and allowed them to get away before lunch.
Challenging dementia stereotypes
Keith and Liz wanted to challenge stereotypes of 'dementia-friendly' by only showing films made in the last six years. They used the Forget-Me-Nots group in Canterbury to help pick the itinerary, giving them a choice of 15 films from different genres. The most popular six were then chosen for the programme.
Next, they formed a working group to design how the programme should run. This included Keith's wife, Rosemary, and Frances, a representative from the local university where they hoped to recruit volunteers to run post-film discussions. Keith felt it was key that their core team be representative of all who they were hoping to appeal to through the club.
Films shown were The King's Speech, Paddington, The Way Way Back, The Monuments Men, A Walk in the Woods, and Mao's Last Dancer. Keith says the latter challenged "every stereotype" about people living with dementia. As a film half in Chinese and half in English, and which included flashbacks, it is easy to think people with dementia would find it too confusing. But viewers resonated with the powerful story, and this was the most popular film of all. The discussion afterwards was varied and rich.
Generating discussion
Keith says the post-film discussions were particularly important. Not only did they offer the group a social activity, it also gave people with dementia an opportunity to really engage with cinema and each other.
Liz planned and facilitated the discussions using PowerPoint to provide visual prompts. Each discussion group was also supported by either a Psychology or Film undergraduate from a local university, or a local adult volunteer.
Instead of concentrating on plot, the discussions aimed to draw on the emotions the films provoked. For example, the King's Speech raised questions about dementia as an 'invisible disability' compared to the King's very visible one. For its part, Paddington brought up issues of family dynamics and even provoked debate about refugees and the movement of people!
Returning to the cinema
Originally Keith wanted to hold these screenings at a local cinema, but despite their willing, issues such as licensing, cost, and accessibility meant it was not possible. A church hall and a community centre played host to the group instead.
After the six screenings were over, Keith got back in touch with the Odeon to let the manager know how well the programme had gone. Whilst visiting, he noticed that the film Eddie the Eagle was being advertised, and thought it would be a great seventh film!
Odeon were very supportive, allowing the group to have a private showing. They added subtitles and adjusted the lighting and volume so the audience was comfortable. They also provided a room so the group could have the all-important discussion after the film. For Keith, having a screening at a cinema was a fitting end to the programme. He hopes it shows people living with dementia that they can and should continue to visit the cinema and enjoy film.