Hilary Oxford is a Research Network volunteer who recently attended the Alzheimer Europe Conference in Copenhagen, here she shares her highlights.
One of my strongest beliefs is that people living with dementia should be involved in shaping the research that happens into the condition.
As one such person living with dementia, I spend much of my time championing this cause all around the world.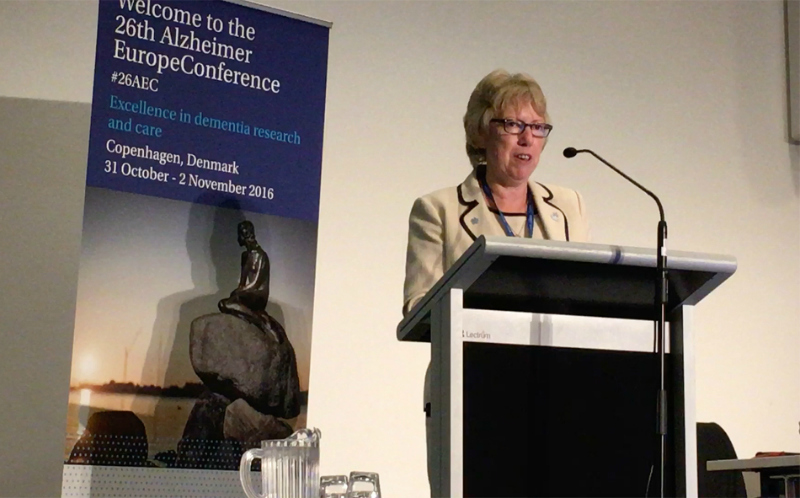 One recent event I attended was the Alzheimer Europe Conference in Copenhagen, Denmark. This is a wonderful conference filled with information on activity on research into dementia causes, treatment and care from Europe and beyond.
One of the best things about this conference is that the organisers went out of their way to ensure that the 30+ people with dementia who attended with their supporters were able to participate fully throughout the conference, for example by providing a quiet room, optional separate quieter eating areas and reserved seating in the sessions.
Having shipped Tilly (our little Westie) off to stay with her boyfriend Rocky, my husband Peter and I arrived in Copenhagen, catching up with our friends during the day and spending the evening preparing for the European Working Group of People with Dementia (EWGPWD) meeting that was being held on the Sunday.
I am very sad to be leaving the group, but also very happy that my fellow research champion Chris Roberts is taking my place. This group makes sure that the activities and projects that Alzheimer Europe is involved in reflect the views and priorities of people with dementia. It now includes representatives from over ten countries, making it relevant for people affected by dementia all across Europe. The meeting included a discussion session on a subject close to our hearts, involving people affected by dementia in research projects as advisors not just as participants.
A royal welcome at Alzheimer Europe Conference
The conference was opened Monday evening by HRH Princess Benedikte of Denmark, followed by welcomes from the Danish Health Minister and a lovely Danish lady diagnosed with dementia who gave an insightful perspective on her life.
The theme this year was 'Excellence in dementia research and care'. As part of the conference, I had been asked to participate in a roundtable discussion on 'Making dementia a European priority' in my role as a member of the World Dementia Council. Many other organisations were represented, including the World Health Organisation and European Commission.
I do not particularly enjoy panel discussions these days (but know they are good for my brain!) and was getting fairly worked up ahead of it, so appreciated the quiet room to calm down in. As always, I hadn't a clue afterwards as to what I said, but did make some notes on the others, who all made promising statements on dementia in Europe that should hopefully start to drive governments into taking actions.
Tuesday lunchtime, saw Princess Benedikte attend the symposium run by the EWGPWD. She is an elegant, lovely lady who stayed on to talk to us, generously giving us her time and attention.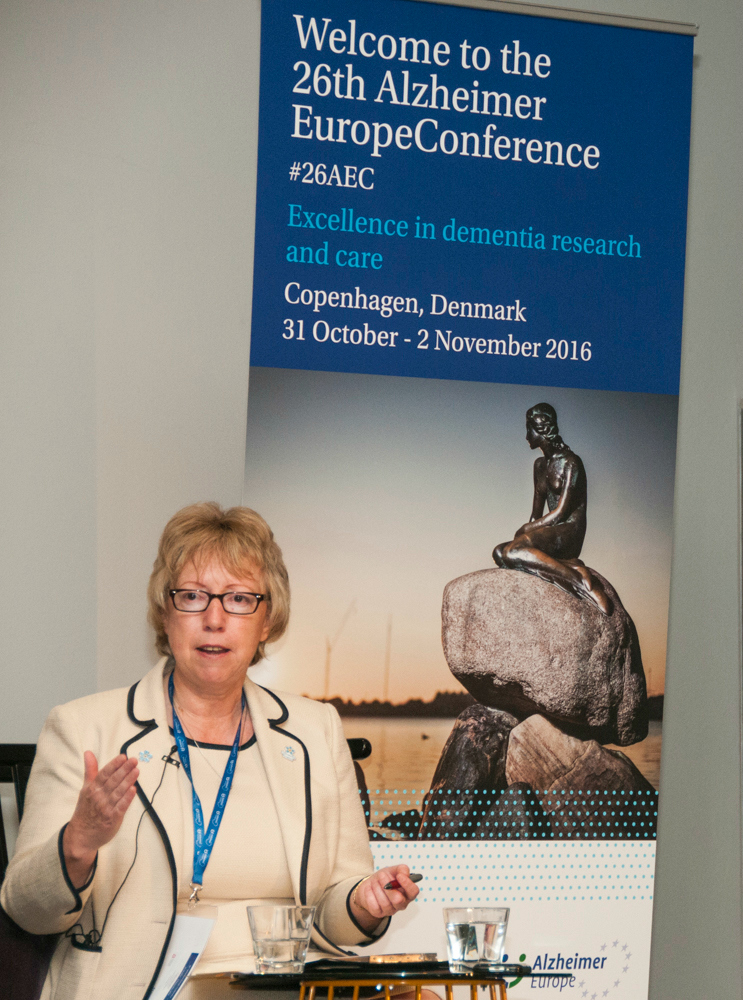 Involving people affected by dementia
I was also asked to chair a session on 'Involving people with dementia', which included a great talk from the Alzheimer's Society's Research Engagement Manager, Anna Grinbergs-Saull.
Another interesting talk in this session came from Chris Russell from the University of Worcester who spoke about 'experts-by-experience tutors', who are people with dementia employed and paid on the same terms as other guest lecturers - at last recognition for and acknowledgement of their invaluable contributions.
Another focus of the conference was how to prevent Alzheimer's before it gets a grip on our brains. This included discussing the many ethical implications that come with this type of research, such as telling people they are at risk but who may never develop it, which may lead to unnecessary worry and taking unneeded treatments with possible side effects.
Other issues raised included that as focus shifts more towards identifying and treating people who are in the earliest stages (or even intervening before the condition has developed) are we losing sight of the search for treatments for those in the middle and later stages?
A real sense of hope
Once again, it was a well organised conference that covered a wide variety of subjects - it left me with a real sense of hope as so much is happening.
The understanding of the brain is improving; with the diversity in the approaches to tackling the research and care problems, good just has to come out of it. I will keep pushing for that good to come sooner rather than later and through actions not just the talk.