Every year, dementia researchers around the world come together at the Alzheimer's Association International Conference. Here are this year's highlights.
At this year's 'Alzheimer's Association International Conference', or AAIC, we were thrilled to see over 5,600 researchers at the Excel Centre in London.
Our Research team was in the thick of it, learning more about many different aspects of dementia research and discussing the latest news and views with other experts. Below are just a few of the team's highlights from the conference:
Detecting the earliest signs
A key theme of this year's conference was how to better identify the people who are most likely to develop dementia in the future. This is important because the people affected can then be enrolled into relevant clinical trials aimed at preventing the condition or treating it at the early stages.
Many discussions at this year's AAIC focused on biological signals called biomarkers that can offer up clues to someone's risk of dementia. Several researchers are focusing their attention on finding signals related to the two hallmark proteins for Alzheimer's, called amyloid and tau. You can find both of these proteins in the cerebrospinal fluid using a lumbar puncture (also known as a spinal tap) during the diagnosis process. However, lumbar punctures can be uncomfortable so researchers are working to find better procedures that can spot amyloid or tau.
Recent advances in a brain-scanning technique called positron emission tomography (PET) mean that researchers can now see who has deposits of amyloid in the brain. Evidence presented at the conference show that these scans can help to make a more accurate diagnosis. PET scans that can detect the tau protein are also now used in research. Some researchers even suggested that in the future we'll be able to make a diagnosis of Alzheimer's disease from the results of brain scans, even before symptoms develop. While these scans hold promise for the future, they are not yet ready for use in routine clinical practice and performing them is very expensive.
Leading researcher Simon Lovestone (recently knighted in recognition of his services to neuroscience) gave a plenary talk on the use of 'big data' to spot early signs of dementia and how this can speed up research in important areas. Combining information from healthcare records and existing research studies in new ways can help researchers answer questions without having to start a new study from scratch. This can include using data from a large number of people who have had amyloid scans and also given blood samples, to understand whether blood tests can be used to detect amyloid in the brain.
Working towards GREATness in dementia care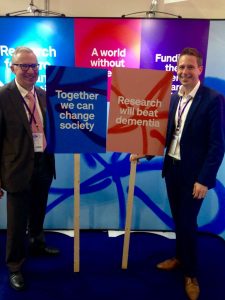 ​
The importance of dementia care research is increasingly being recognised by AAIC, and this year several talks and posters focused on how to improve dementia care. One of the most exciting announcements from the conference was about the results of the GREAT trial. This trial was run by researchers at the University of Exeter and focused on discovering whether goal-orientated therapy could help people with dementia to live better. The trial participants worked with an occupational therapist to set goals and work out the best ways to be able to reach them. At the end of the study, the researchers found that the people who had received the therapy were able to achieve their goals when compared to a group of people who had not received the therapy.
Alzheimer's Society funded an initial small test study for this therapy to make sure the methods were acceptable for people affected by dementia. We are now funding the next stage of the study, where the researchers will work with healthcare professionals to put the therapy into clinical practice.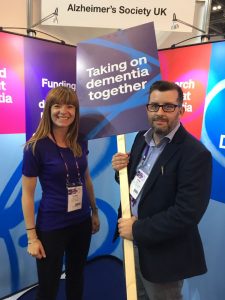 ​
Lifestyle factors and risk reduction
As well as searching for potential cures for dementia, many researchers are focusing on how we can prevent the condition from developing in the first place. While age and genetics remain the biggest risk factors for dementia, an increasing amount of evidence indicates that changes to lifestyle could help some people to reduce their risk of the condition.
One of the biggest news stories from the conference was the publication of a study from the Lancet Commission that had examined a large number of people and identified possible risk factors. The researchers found that there were nine factors that could reduce risk, including taking plenty of physical exercise, treating hearing loss and reducing social isolation.
Another exciting development from the conference was the announcement that the FINGER study is expanding to become a global prevention initiative. The FINGER study was started in Finland and aims to help people to improve their memory and thinking abilities through a number of different lifestyle changes. This includes helping people to do more exercise, eat a healthy 'Nordic' diet and do 'cognitive training' exercises.
The initial results from FINGER showed that people were able to stick to the programme despite having to make a large amount of quite intense lifestyle changes. The participants also showed improvements in their memory and thinking abilities when compared to those on a 'standard guidance' programme. Therefore, the researchers behind FINGER are hoping to roll out this promising programme to other countries to see how it would work on a global scale. Currently they are developing four new sites, in the US, UK, China and Singapore. With a few tweaks (for example, finding out whether Singaporeans could stomach a Nordic-style diet), the researchers in each country hope to be able to use this exciting approach to help people across the world to improve their memory and thinking and potentially even reduce their risk of dementia.
Positive about the future
This is just a tiny snapshot of the huge body of work that was discussed over the five-day conference. It is always great to hear the results of collaborations and discussions and we left feeling positive that this huge number of researchers are uniting to share thoughts, data and expertise and will continue to work together to make dementia a thing of the past.