We're proud to wear the forget-me-not flower as our official logo. Read on for the stories behind three forget-me-not tattoos from our supporters.
The forget-me-not flower has long been associated with dementia, which is why we're proud to wear it as our official logo.
Since launching our new brand earlier this year we're grateful to have received glowing feedback from our supporters, as well as messages from people who wear the symbol on their skin. Read below for the personal stories behind three forget-me-not tattoos.
1) Anna Howard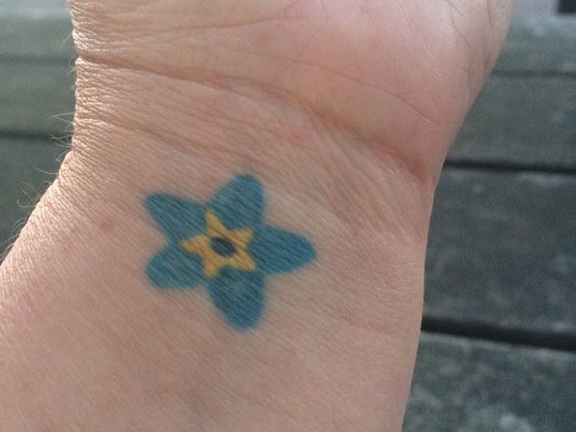 ​
When my uncle was diagnosed with Alzheimer's disease, watching my hero fade away was truly devastating. I wanted to do something to help others and the families that suffer silently too.
First I cycled from Surrey to Brighton, then from Hampton Court Palace to the Thames Barrier. I also took part in Memory Walk and became a Dementia Friend.
Just over 3 years ago I met Edie Cook, who I call 'my Edie', and who sadly is a victim to Lewy body dementia and had to be placed in a care home. Despite the cruel disease I have learnt so much from her, so when I turned 40 I wanted to do something that nobody would expect of me... I had a tattoo!
I sat in the tattoo parlour sweating from head to toe, telling the staff I hated tattoos and I shouldn't be having one as my mum would tell me off. The staff were quite amused, and also slightly baffled as to why I was there.
However, I knew I had chosen something very personal to me... the Dementia Friends logo. People often ask me what the forget-me-not tattoo means – it's a really good talking point and helps to raise awareness. The tattoo is part of me now, and a constant reminder of my uncle—my hero—that I lost, and my Edie who's still here.
2) Samantha Robson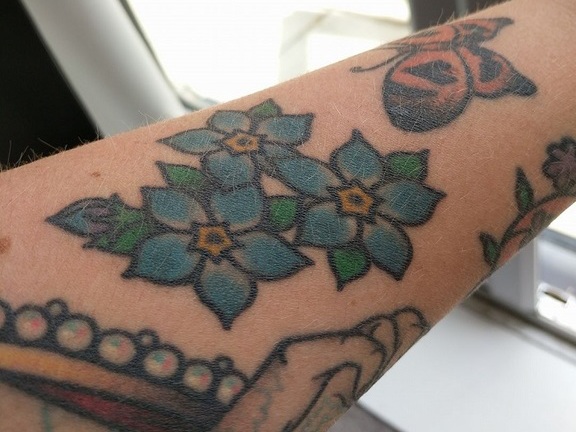 ​
My forget-me-not tattoo was done around September 2016. It had been 2 years since my granddad Frank had passed away, having suffered from vascular dementia over a period of eight years.
It was incredibly hard losing him over that time and when, in September 2015, we found out my other granddad was suspected to have vascular dementia it hit us all pretty hard.
I had always known the forget-me-not flower was used by Alzheimer's Society as a symbol, and, having quite a few tattoos already, I couldn't think of a more perfect way to honour my grandparents.
My forget-me-not tattoo is a constant reminder of the memories I have of them, and also adds that extra bit of meaningful beauty to my arm. Whenever people ask about my tattoos it's the first one I talk about as it brings me so much joy being able to talk about them both.
I like to think that even though they lost their memories, I will carry them around with me – from the stories they've told me to the experiences we've had together over the years.
3) Dianne Burgess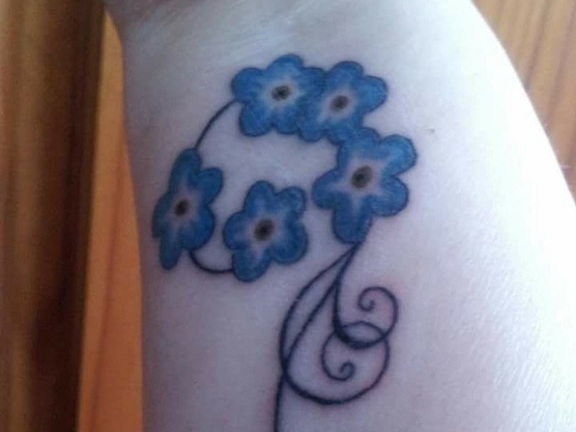 ​
I got my tattoo in 2013 as a Mother's Day gift from my eldest daughter, Michaela. The in-joke was "to mark me for life"... It was a design I had seen at a few tattoo parlours and I finally got the courage to do it – literally on a whim.
It was some time after that we realised it was the Alzheimer's Society logo. My forget-me-not tattoo means that much more to me now, as my dad had Alzheimer's and vascular dementia.
It was only made clear to the family the day after my Mum died suddenly in 2005 with an abdominal aortic aneurysm. Dad was admitted to hospital with a bad panic attack and afterwards a hospital social worker explained his condition.
He couldn't be left alone in his sheltered housing flat 20 miles away, so it was decided he would go in to residential care. We carefully chose a care home near to us and dad had just over two happy years there before passing away in 2007.
By another coincidence, my youngest daughter now works in the care home.
My tattoo helps to keeps dad's memory alive.
--
Unsure about tattoos? You can also wear the forget-me-not as a pin badge in support of Alzheimer's Society, available from our shop.