Alzheimer's Society and the Dementia Friendly General Practice Team have developed a new 'toolkit' to aid GPs in being as dementia friendly as possible.
Wendy Prestney, Project Support Officer, Central England, discusses the ongoing success of our Dementia Friendly General practice project.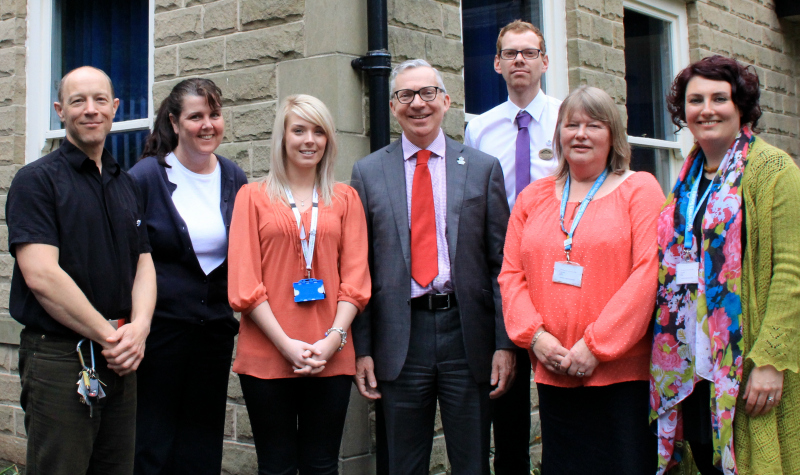 It's all smiles, and sleeves rolled up, as the Dementia Friendly General Practice team ready ourselves for the next phase of this exciting project.
We started our Dementia Friendly General Practice project in Derbyshire, 18 months ago. We wanted to address two key issues:
One was that people living with dementia and their carers often report having bad experiences when they visit their GP.
Another was that many GP practices have said that they would like to be more dementia friendly but are often unsure how to do this and feel overwhelmed.
A successful combination of innovation and evaluation
With the help of the Alzheimer's Society Research team's Innovation Fund and the Strategic Clinical Network, we were able to set up an initial test phase in Derbyshire. This was to find out whether we could develop a toolkit that would include a set of guidelines for GP practices, enabling them to work towards becoming dementia friendly. We wanted the toolkit to be flexible and easy to use as well as being effective.
Now that the initial test phase has been completed, evaluated and celebrated, the word of mouth effect has led to us receiving more and more interest in Dementia Friendly General Practice. We are working with another 20 GP Practices across Derbyshire and are about to start a roll out of the toolkit across Nottinghamshire. There is also interest beyond the East Midlands and across the whole country!
The Institute of Mental Health (IMH) at the University of Nottingham helped us to evaluate the pilot. Gathering robust evidence from the beginning of the project was key to making sure that we provided accurate messages and could translate what we found into good practice. The work with IMH explored how feasible the toolkit would be to use in "the real world" and informed the final product.
The evaluation report is soon to come out and we are very happy with the preliminary findings which conclude:
That a significant number of changes that require little in the way of resource but can really have a big effect can indeed be adopted by GP practices. It can even happen within a relatively short period of time!
Information sessions focusing on applying awareness of Dementia Friends to General Practice are instrumental in getting staff to be interested and enthusiastic.
Putting these changes into practice could help many other sets of patients as well, not just those with dementia.
The toolkit was developed with the help of people affected by dementia, Clinical Commissioning Group commissioners, health care professionals and Alzheimer's Society, is in its final "tweaking" stages and we hope that it will soon be available more widely.
Helping GPs to be more dementia friendly
It was also particularly heartening to hear back from one of the GPs involved in the pilot after receiving their recent Care Quality Commission (CQC) visit report:
'We were very happy with the element of our CQC feedback that emphasised the responsiveness and patient centred nature of our services, undoubtedly by our dementia friendly practice work. In the older people and mental health domains these were especially credited'
- Dr Walker, GP, Derbyshire
In working collaboratively with GP practices we were able to develop a united partnership approach to this very real issue. We are also thrilled that we have been nominated for a Dementia Friendly awards for 'Innovation of the Year' in light of our work!
As the prevalence of dementia increases in our community there is a real thirst in some GP practices to do something different for people affected by dementia and to move beyond the medical approach and into a support service approach. Alzheimer's Society is poised ready to respond to that growing thirst.
Read our Aiming Higher report, which includes a survey of how GPs feel about medical and social support for people affected by dementia.