Find out more about the nominations for the Dementia Friendly Awards Outstanding Contribution of the Year 2016 at Alzheimer's Society.
This is the third post in a regular blog series in the lead up to the 2016 Awards ceremony on 30 November.
The Outstanding Contribution of the Year award will be presented to an individual, team or organisation that uses every opportunity to champion the rights of people affected by dementia, significantly impacting and making a difference through their contributions. Here are the three finalists in this category.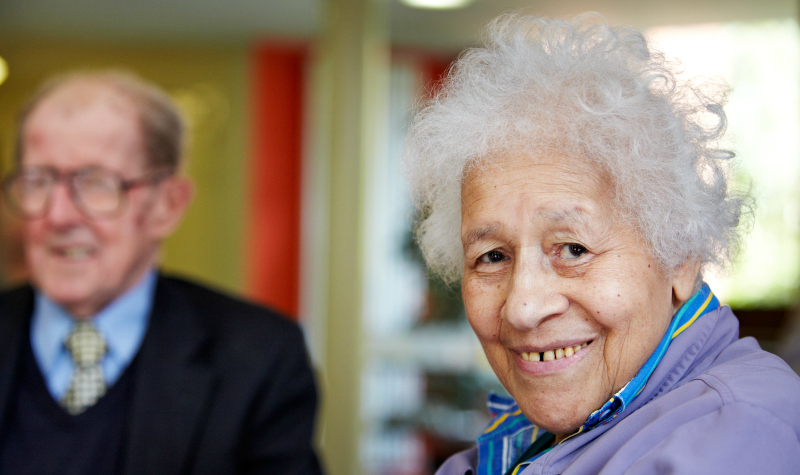 Robert Bird, Sandra Tyrell, Elaine Storey, Beth Brown, Rachel Hale, Sara Hale - volunteers for Alzheimer's Society
For children living in families affected by dementia there is very little education available through schools about their relative's condition.
The Dementia Friends movement gave this group of volunteers the opportunity to develop a session to take into primary schools across Wakefield and deliver a Curriculum based (PHSE) session after which all of the pupils and teaching staff became Dementia Friends. This session was piloted in 2014 targeting Key Stage 2 pupils (years 5 & 6) and over the last two academic years has reached over 800 pupils and 59 teaching staff.
In 2015, when a class was asked at the beginning of the session if they knew how they could help someone with dementia, only 17% of the students said yes. After the session this increased to 91%.
Their knowledge of how they could help someone had been broadened and is reflected in the comments below:
'I would take people to places they like so it will help them remember. Be patient and remember that they can't do things as quickly as us. Remind them who you are, comfort them and don't get mad if they repeat things.'
As a result of these sessions the group know of at least one family who started to take their daughter back to see her grandma once she had told them, 'Grandma will still recognise me with her emotional memory and it doesn't matter she can't remember my name'. This shows the ripple effect of the sessions, we are taking information into people's homes without actually being present.
Beth Britton
Beth Britton has been a hugely innovative and inspiring campaigner, consultant, writer and blogger on dementia since her father passed away in 2012 following 19 years living with vascular dementia. Beth has used her personal experiences of caring for her father (her caring role began when she was 12-years-old) to transform the dialogue around dementia and influence positive change.
From starting her D4Dementia blog in May 2012, Beth's work has gone on to encompass a variety of advisory roles, including for the UK government in the planning and delivery of the G8 Dementia Summit. She has advised the Department of Health on dementia post-diagnostic support, and is a signatory on the DH PDS Declaration, and has worked with PHE, NICE and CQC.
Other notable highlights in Beth's portfolio include being an Ambassador for BRACE, receiving a standing ovation at the Alzheimer Europe Conference following her presentation on her father's end-of-life care and training GPs. She is currently engaged in working on a 3-year project with MacIntyre to create pioneering resources to help support people with a learning disability and dementia.
Andrea Sutcliffe, Chief Inspector of Adult Social Care, CQC, who has worked with Beth says:
'Beth's passion to improve the lives of people living with dementia shines through everything she does. Her personal experience, commitment and understanding challenge us all to do better.'
Nick Conrad
The BBC Radio Norfolk presenter's grandmother Audrey has dementia - and he has taken it upon himself to improve the lives of people affected by dementia by raising the profile of the condition throughout Norfolk. Nick's overall aim is to make Norfolk the first ever dementia-friendly county.
'Nick's Norfolk Challenge' - is his own take on the Prime Minister's Challenge on Dementia 2020. He inspired his breakfast show listeners to become Dementia Friends, and in one week, 1178 people in Norfolk did so. He talked people through the Dementia Friends film and the signing up process live on air.
When Angela Rippon phoned in, she threw down the gauntlet and challenged him to extend his campaign to Norfolk schools. He was quick to rise to the challenge, and during Dementia Awareness Week, he started part two of his mission: to inspire students and teachers to become Dementia Friends.
Within the first two days, 26 schools signed up to have a Dementia Friends assembly to create our next generation of Dementia Friends.
Debbie Foster, Alzheimer's Society Operations Manager for Norfolk and Suffolk says:
'With some of the highest listening figures for any regional radio programme in England, Nick has certainly helped to spread the message that if we had more Dementia Friends, the easier it would be for people with dementia to live their lives well and independently while being understood and supported by their community.'