The fantastic finalists for the Dementia Innovation of the Year at the Dementia Friendly Awards 2016 include Gatwick Airport, a LiveWell Hub and local GPs.
The finalists for the Dementia Friendly Awards 2016 were announced last week, and we'd like to pay tribute to all the fantastic individuals and organisations that made the shortlist.
This is the first in a regular blog series over the coming weeks to showcase the finalists in each category, leading up to the Awards ceremony on 30 November.
The first category we're focusing on is Dementia Innovation of the Year, so read on to find out how people across the country are coming up with new ways to improve the lives of people affected by dementia.
LiveWell Dementia Hub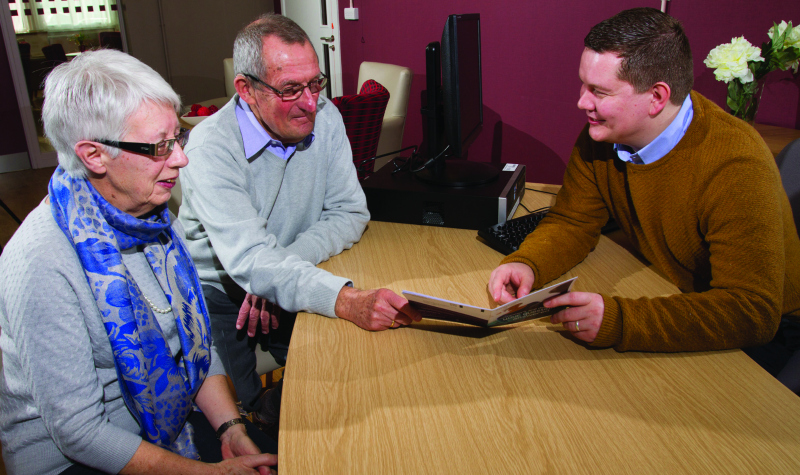 The LiveWell Dementia Hub (the Hub) was opened in May 2015 to provide a one-stop-shop for dementia in Stockton-on-Tees. By bringing together information and local dementia services in one place the Hub acts as one point of contact, enhancing the quality of life and independence of people living with dementia and carers across the borough.
By working in partnership with a range of local organisations, the Hub is able to maintain an up-to-date record of all groups, activities and care services in the borough. This means that information about all local services can be reliably accessed from one place. The Hub also provides a venue for a number of different organisations. This allows people to access complementary services within the same venue or during the same visit (for example an Alzheimer's Society's Dementia Advisor is available at the same time as the NHS memory service). The Hub hosts a full timetable of activities and support services based on what people living with dementia and carers have highlighted as important.
This includes social groups, cognitive stimulation therapy, a local Dementia Voices advisory group, carers' support and education sessions, talking therapies and memory clinic appointments.
The co-location of different services and local information at the LiveWell Dementia Hub has:
Made it easier for people to access a range of support provided by different organisations
Created an on-going flexible information service - people can access support when it is appropriate for them
Improved the referral process between organisations, making it easier, quicker and more personal for the service user
Helped professionals develop a greater understanding about the work of partner organisations Facilitated effective joint working in response to the needs and wishes of people living with dementia and carers
Central to the work of the Hub and its partners is the voice of people affected by dementia. People with dementia and carers are invited to be part of the steering group and encouraged to provide regular feedback.
The Hub is a really good place for people to meet. You can meet other family members and talk about your problems and sometimes solve problems together. It is nice to know we can come in anytime and talk to colleagues for help. We thank you for this service you provide, it is very helpful. - Family who use the Hub
OCS and Gatwick Airport Limited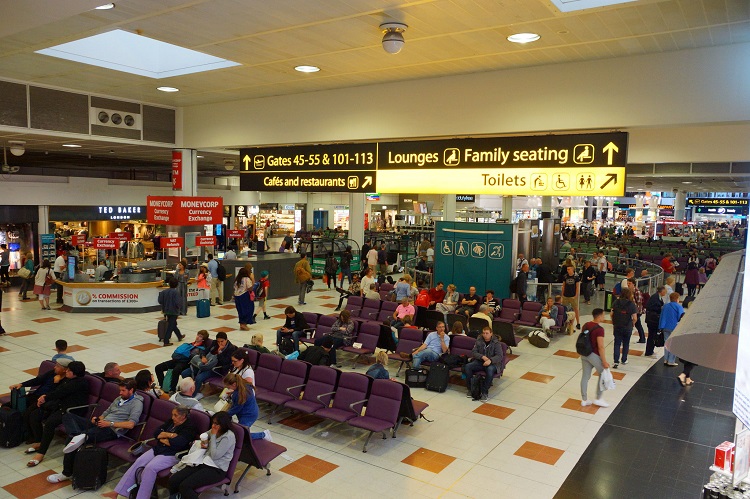 Photo by Chris Sampson licensed under CC
Navigating your way through a busy airport environment can be a challenging experience, but for passengers with hidden disabilities such as dementia, it can often be a daunting task. To address this challenge and enhance the assistance provided to passengers with dementia, Gatwick and OCS teamed up to introduce a range of innovative, airport-wide measures aimed at establishing Gatwick as an internationally recognised dementia friendly airport.
It became apparent that there was a need for a simple and discreet way of identifying passengers with dementia and other hidden disabilities in order to provide more proactive assistance. OCS set about working with other leading UK charities to develop a lanyard that could better support the needs of passengers with hidden disabilities.
The lanyard was formally launched in May 2016 during Dementia Awareness Week. To date, over 1800 lanyards have been provided to passengers and initial feedback has been incredibly positive. It allows passengers:
More time to prepare for check-in and security
To remain with a family member or guardian
Assistance with directions and the stages of travelling through the airport.
In addition to this, 50 airport employees from wide ranging teams were trained as Dementia Friends Champions. This cascaded into multiple Dementia Friends information sessions for existing employees. Dementia Friends information sessions are now included as standard on induction training for new employees.
OCS followed this by introducing a NVQ Level 2 Dementia Care training package for a select group of the assistance team.
It is so busy and noisy at Gatwick that I have been put off a bit. I think this lanyard is a brilliant idea. I like that people don't know I have dementia so this would be good for me but the people working at Gatwick will know I need a bit of help. - Member of a local Alzheimer's Society service user review panel
Derbyshire Dementia Friendly General Practices
(Buxton Medical Practice, Bakewell Medical Practice, North Wingfield Surgery, Creswell Health Centre, Adam House Practice, Edam Medical Centre, Brailsford and Hullond Medial Practice, Willington Health Centre)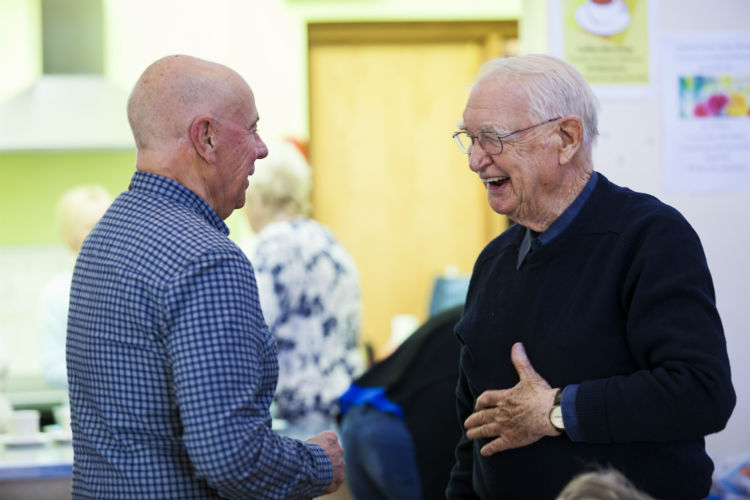 People with dementia and their carers often report poor experiences in Primary Care, specifically in General Practices. Many health professionals lack the training, guidance or support to provide specialist dementia care, and General Practice environments and internal processes can, unintentionally, discriminate against people with dementia and their carer. For example, they may be noisy, busy and over-stimulating which can be stressful and disorientating. The systems used can seem complicated e.g. appointments and prescription ordering, leaving vulnerable people with cognitive impairments excluded and potentially at risk.
Over the past year a team from Alzheimer's Society have worked alongside eight General Practices in Derbyshire to look at what changes can be made within Primary Care settings to enable a patient to feel less intimidated.
Using this information the team were able to produce a toolkit to be used within a General Practice setting to ascertain the knowledge staff had around dementia and the support available for a patient with a diagnosis of dementia:
All the Practices received Dementia Friends Awareness session
A recognised Dementia Champion/Ambassador is now situated in each Practice
Changes to signage in and outside the building and clear directions to help people with dementia navigate around the premises.
Changes to care planning and consent forms
Many of the practices went on to instigate Local Dementia Friends sessions for the public, raising awareness of the work they had carried out within the Practice.
At all stages of the pilot, discussion was maintained with people with a diagnosis of dementia, who were actively involved before the implementation of the changes and after the work had been done. This allowed the team to note how significant the changes were for a person with dementia and their carer.
The toolkit and resource pack is a product of the collaborative work carried out with the Practices over the last year. The document is now available to be sent to a further 20 Practices in Derbyshire awaiting the opportunity to move forward in becoming Dementia Friendly. The toolkit has also raised interest from the Department of Health in Whitehall and it is hoped that it can be used to a wider audience in future.